Thanks to the Internet and the huge wave of new media that came with it, we now have unparalleled access to the world around us. However, there is still one area in this ever-growing digital landscape that languishes as much now as it did when the print press was considered 'cutting edge'. Even with resounding calls from The Royal Commission on Aboriginal Peoples, The United Nations and others, we still don't have a single news platform that fully covers the world's Indigenous Peoples.
It's time to change that.
In 2016 we're turning Intercontinental Cry--the most prominent online indigenous rights publication in North America--into such a news platform.
By donating and sharing this crowd funder with your friends you can help us make it happen!What is Intercontinental Cry?
Intercontinental Cry
 (IC) Magazine is an independent publication that was founded over a decade ago in response to the marginalization and misrepresentation of Indigenous Peoples on the internet. Based in Canada, the United States and Mexico, we offer time-sensitive and groundbreaking investigative journalism as well as cutting-edge analysis that you can't find anywhere else. We also produce our own documentary films and publish our own magazines.
Our goal since day one has been to provide the international community with access to the frontlines of the world, to help support those who face systemic human rights abuses and to learn from those who are making great strides in the arenas of climate justice, food sovereignty, agriculture, conservation, human rights, international law and even media.
That's why we are seeking your support—to make sure that we have at least one news platform in the world that fully and accurately covers everything that's going on, no matter whwere it's happening.
There's been a lot of talk about change over the past few years. By helping us to raise $23,000 we can bring some.Our plan
Since our last crowdfunding campaign 12 months ago, we've been hard at work building up IC's organizational foundation so that we can do things right the first time. We teamed up with the 
Center for World Indigenous Studies
(CWIS), a 501(c)(3) based in Olympia, Washington. As the world's premier indigenous think tank, CWIS has a long and proud history of supporting Indigenous Peoples, making them an ideal partner in this work.
Not long after that, we assembled an
impeccable team of editors
: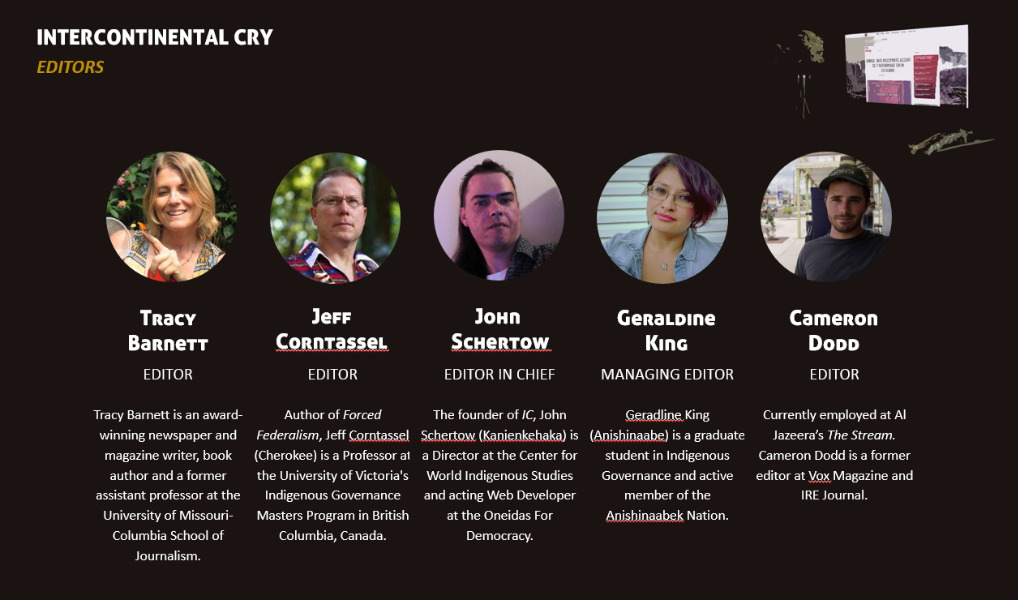 Then, we designed a 
three-year plan
to turn IC into a successful and sustainable news platform that will service both the English and Spanish speaking communities.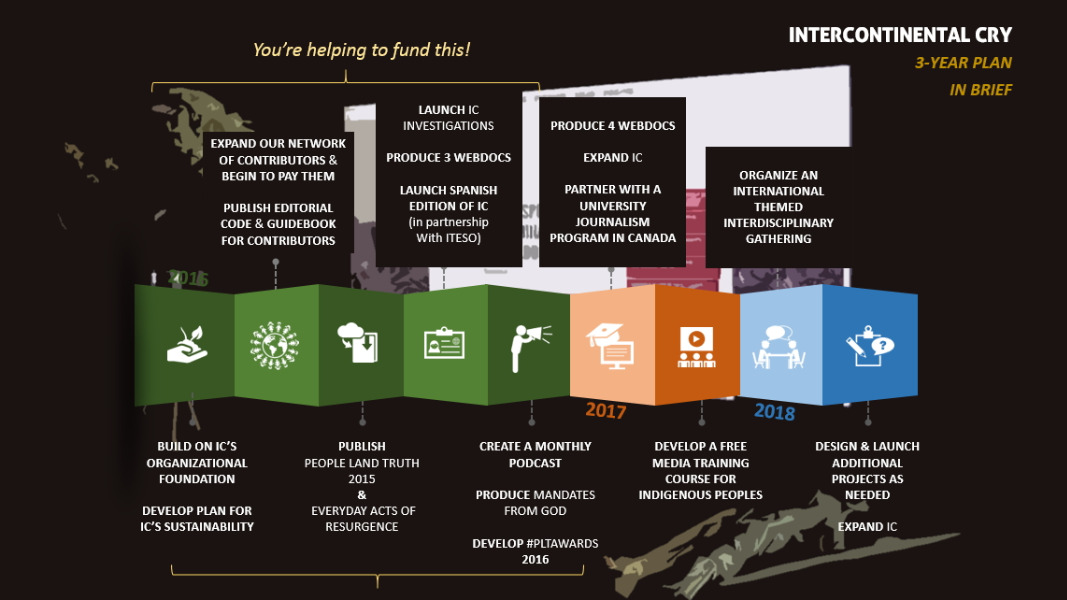 Phase One of our plan focuses on:
1.
      Expanding our network of contributors and offering fair pay for a minimum of 15 pieces of investigative journalism per month
2. 
     Launching IC Investigations (ICI), an unprecedented investigative journalism program that will specialize in producing interactive documentaries (aka webdocs) using the multi-media platform Klynt (klynt.net).
3.   
   Starting a monthly news desk-style podcast to help bring more exposure to stories that get pushed to the margins.
4.  
    Developing IC Español in partnership with the journalism department at ITESO  (The Western Institute of Technology and Higher Education at Universidad Jesuita de Guadalajara).
All told, the cost of Phase One weighs in at about USD$209,000.
We only need to raise a little over 10 per cent of that to get things started
. The rest will come from a combination of sources including monthly benefactor donations, ethical advertising, magazine sales, socially responsible foundations, and one more fundraising campaign half way through the year.
Our gift to you
We have some great gifts lined up for everyone that helps us to get moving on this three-year journey. A donation of $25 will get you early access to the upcoming online magazines 'Everyday Acts of Resurgence' and 'People Land Truth 2015', $50 will get you an associate producer credit in our first investigative webdoc  and $125 will get you a stunning handcrafted necklace by a Wixarika (Huichol) aristan. It only gets better from there.  Larger donors can get a personalized 10-minute video from an indigenous community, group, or protagonist that we work with in Central America. And one lucky person can get an original painting from the Wixarika.
Whether you decide to pick up a necklace or become an associate producer, the most important thing is that we get this work started. Our plan is designed to address a specific set of flaws, limitations and weaknesses in the global media ecosystem.
Your pledge, no matter how small, will help us to ensure that we can address them right.
Here's
how your money will be used
: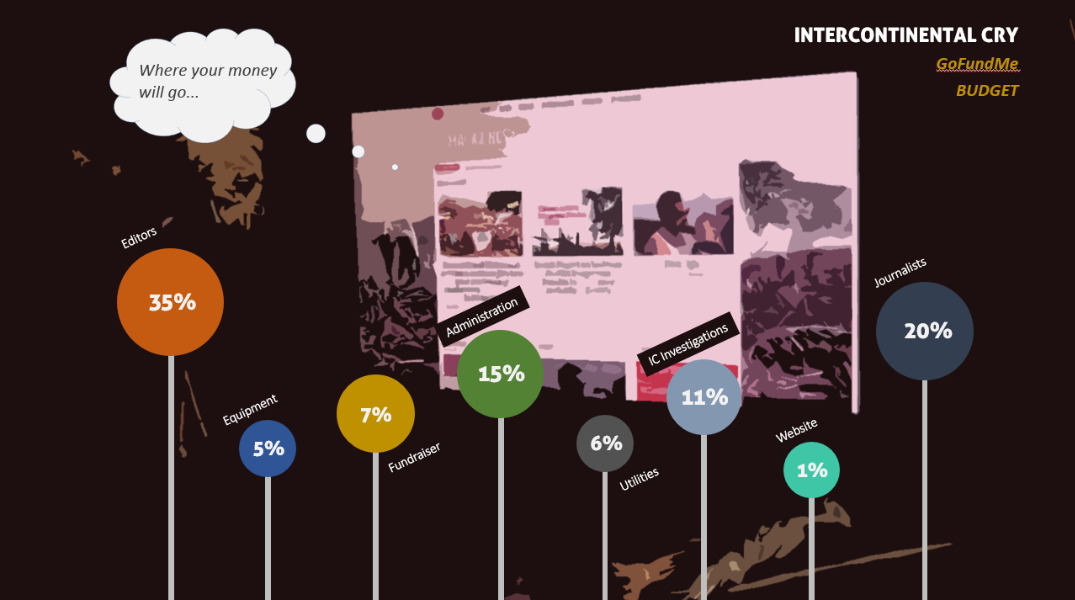 A perilous lack of journalism
Despite the overwhelming quantity of stories now available to us, when it comes to Indigenous Peoples, there is a perilous lack of coverage.
We showed just how bad things were in 2013, after digging into the archives of seven leading alternative news outlets. A whopping 95% of the stories we covered at IC were nowhere to be found.
Some more research we carried out in 2014 showed how many stories usually fall through the cracks. We found that, on average, there are thirty to ninety major events per month that should receive a veritable hurricane of global coverage.  However, more than 80% of the time, these events only get covered by one or two journalists, most of whom work at local newspapers. Odds are, you just passed by one of those stories in your twitter feed without even noticing.
There are real world consequences to this. When human rights abuses and environmental crimes are allowed to take place in silence, lives are lost, communities are displaced, rainforests are razed to the ground--entire histories are buried—and no one ever hears about it.
With almost no institutional funding available for Indigenous media,
we have to bring an end to the media's entrenched refusal to keep us fully informed 
by creating the news platform that doesn't yet exist.
Spread the word!
If you can't afford to contribute to this campaign, you can still help by letting your friends know that we're raising funds! Share this page on twitter and facebook and any other social media network you like. And then share it again! Word of mouth is a huge part of crowdfunding, so the more often you tell your network about us, the more it will help us reach our goal.  
Paypal donations
GoFundMe doesn't handle paypal donations anymore, but, if you would prefer to donate via paypal, we've created
a special page on our website just for you
.
Organizer
John Schertow
Organizer
Olympia, WA

CENTER FOR WORLD INDIGENOUS STUDIES
Registered nonprofit
Donations are typically 100% tax deductible in the US.