The Fiber Seed: A New Yarn & Trade Show
The Short Version
The Fiber Seed is a Hand dying yarn company in Tampa,FL...  We are  family owned & operated and looking to grow our business.  We work directly with an American yarn mill that makes our yarn base.  Along with an environmentally safe, small batch, hand dying production process we bring something different to the market.  
You won't find us in any large chain store because we are considered to be of high grade in the yarn industry, therefore you will only find us in your Local Fine Yarn Shop...  Like the Knit 'n Knibble here in Tampa.  Just starting out, we are currently in 6 fine yarn shops in 6 different states.  We have the ability to get into, on the average, 20 stores per state, but to accomplish that we need to get to a trade show for exposure...
  Our goal of $8000.00 will allow us to:
 
1.) Develop a new line of yarn, made in an American mill, that we want to debut this fall.

2.) Provide membership dues and traveling expenses to The National Needle Arts Association Trade Show in Phoenix, January 2015, which we need to be at to become nationally recognized. 


The Fiber Seed Story
We began in the kitchen and obsession with yarn. A one sink, stove with two working burners, no room for the microwave kitchen. With a hank of wool and a couple of Kool-Aid packets Lindsay became a mad scientist, mixing packets to get colors you wouldn't believe could come from a childhood drink mix. At that point the "dye bug" bit us. We wanted to dye more yarn and pass it around to our friends like you show pictures of your kids. Lindsay set out to do more than show off her yarn, she knew she wanted to be a hand-dyer. Since then, she has created 3 yarn lines with over 100 vibrant color-ways, employing that Art degree she longed to show off.

In 2014, the one-woman show became a "we". "We" consists of Lindsay-the creative and production side, Jordan-the office side, and our newest addition Reece a.k.a. "the baby"- our little sales rep.  We are a small family business with big dreams for the future.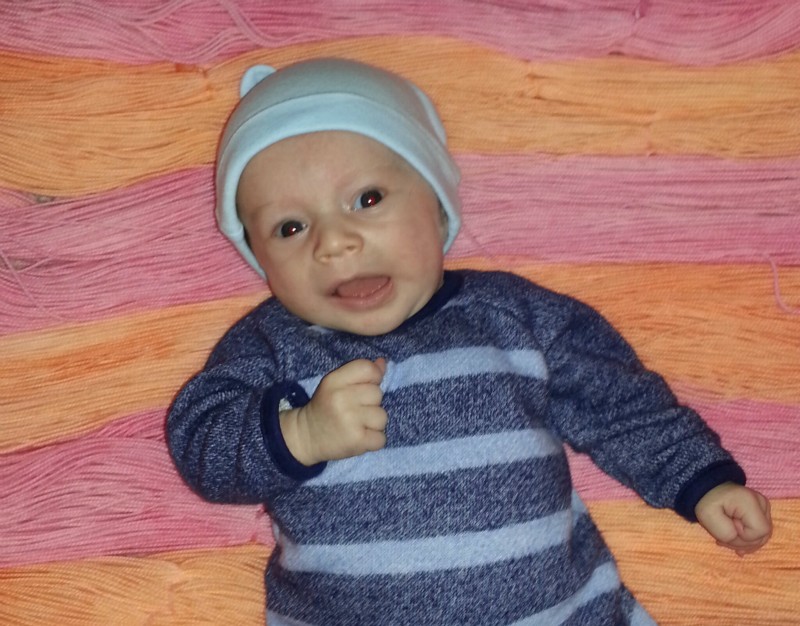 Reece, beginning his sales job, at the young age of 6 weeks, starting with our sock yarn, Sprout... what a ham.


The Fiber Seed Philosophy
No harsh chemicals, no heavy metals.
We aspired to be distinct, to be the multi-colored sheep... so to speak. We wanted to bring a naturally derived, artisan yarn to the fiber arts community, to revive the art of hand-crafting a natural product that revitalized peoples creativity. At our core is the belief that vibrant color, amazing yarns, and nature can live in a symbiotic relationship - one doesn't need to be sacrificed for the other. We make a hank of yarn worthy of one's investment of time. We use American milled yarns to support the making of domestic goods, to build this company with the hands and confidence of and in the American people. We searched out an American made dye with vivid color that follows our philosophy: No harsh chemicals, no heavy metals, low impact on the environment. It conforms to the Organic Trade Association's standards for Organic Fiber Processing.  With small batch production we give every hank of yarn our personal touch, which guarantees the distinctive quality and continuity of our product. As with our product, the service to our retailers follows the same principle - We service with a personalized touch. All orders are completed speedily as to be considerate to the end consumer, the local yarn shop near you.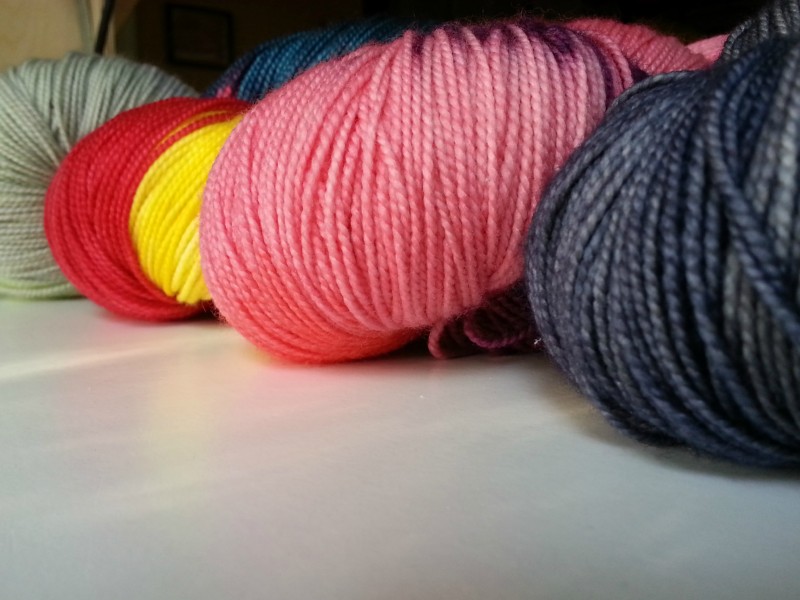 Just a small selection of colorways, in our sock yarn, Sprout. We have over 75 colorways in this line.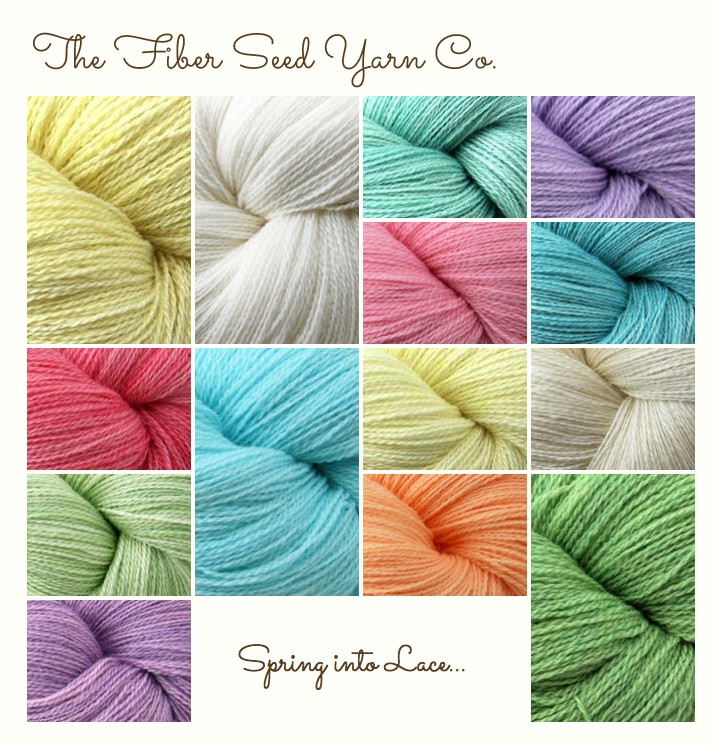 A small selection of our two lace weight lines 
Seed Lace - 100% Super Fine Merino Wool in over 30 colorways.
Silky Seed Lace - 50% Fine Merino Wool, 50% Silk in over 30 colorways.


Where We Are
We don't run the business out of the kitchen, but we still run out of the home in Tampa, FL.  We converted the dining room of our bungalow into a dye studio. Here is where all the magic happens and high volume orders roll out the door.  We have a drawing of the dream dye studio on the wall that we are working toward.  But that's why we are here to work toward and achieve that goal.


What We Are Asking For
We've run the numbers and to make our first mill run of the new worsted weight line of yarn, 100lbs worth, will cost $2250.

The remaining $5750 of donations goes towards membership and registration fees, booth fees, promotional materials and travel expenses for the trip to The National Needle Arts Association (TNNA) Trade Show in January 2015. Going to TNNA will allow us to sell to numerous retail shops on a national scale in one central location... something that would cost much more to do on our own.  It's three intense days of showing everyone in the needle arts that we have a product that will increase sales for their small business and provide their customers with yarns that will prove they are more than worth the time and money that the customer puts into furthering their craft.


What We Are Offering:

Red - 
Get a social media shout out... this means our gratitude to you posted on Facebook, Twitter, and at the end of our campaign our blog.

Orange - 
Get a social media shout out - & - a handmade/handwritten thank you card.

Yellow - 
Get a social media shout out, a thank you card - & - a set of 6 stitch markers.

Green - 
Get a social media shout out, thank you card, set of 6 stitch markers - & - one half hank of our 100% superfine merino lace weight 'Seed Lace' in the color of your choice.

Blue - 
Get a social media shout out, thank you card, set of 6 stitch markers - & - one FULL hank of our 100% superfine merino lace weight 'Seed Lace' in the color of your choice.

Indigo - 
Get a social media shout out, thank you card, set of 6 stitch markers, one FULL hank of our 100% superfine merino lace weight 'Seed Lace' - & - one half hank of our 50/50 fine merino wool silk blend lace weight 'Silky Seed Lace' in the color of your choice.

Violet - 
Get a social media shout out, thank you card, set of 6 stitch markers, one FULL hank of our 100% superfine merino lace weight 'Seed Lace' - & - FULL hank of our 50/50 fine merino wool silk blend lace weight 'Silky Seed Lace' in the color of your choice.

Bronze - 
Get a social media shout out, thank you card, set of 6 stitch markers, one FULL hank of our 100% superfine merino lace weight 'Seed Lace' and one FULL hank of our 50/50 fine merino wool silk blend lace weight 'Silky Seed Lace' - BOTH in the color of your choice - & - a t-shirt The Fiber Seed logo on the front. (size selection available, first come first serve)

Silver - 
Get a social media shout out, thank you card, set of 6 stitch markers, one FULL hank of our 100% superfine merino lace weight 'Seed Lace' and one FULL hank of our 50/50 fine merino wool silk blend lace weight 'Silky Seed Lace' - BOTH in the color of your choice, a t-shirt with our logo - & - one hank of our sock yarn Sprout and a sock project bag.

Gold - 
Get a social media shout out, thank you card, set of 6 stitch markers, one FULL hank of our 100% superfine merino lace weight 'Seed Lace' and one FULL hank of our 50/50 fine merino wool silk blend lace weight 'Silky Seed Lace' - BOTH in the color of your choice, a t-shirt with our logo, a hank of Sprout with a sock project bag - & - 2 hanks of our new worsted line, when it comes out, in the color of your choice.

Platinum - 
Get a social media shout out, thank you card, set of 6 stitch markers, one FULL hank of our 100% superfine merino lace weight 'Seed Lace' and one FULL hank of our 50/50 fine merino wool silk blend lace weight 'Silky Seed Lace' - BOTH in the color of your choice, a t-shirt with our logo, a hank of Sprout with a sock project bag, 2 hanks of our new worsted line, when it comes out, in the color of your choice - & - 10 hanks of our new worsted weight line, when it comes out, in the color of your choice.


Our Gratitude
We want to thank everyone that has ever helped us or will help us on this amazing journey we are on.  With you, our dreams will become reality. 

Lindsay & Jordan English