NEW STRINGS FOR NEW BRIDGES
GOAL: To fund the purchase of instruments for the New Bridges Elementary School music program in Crown Heights, Brooklyn. 
The Why
During my elementary education, I was gifted an instrument of my own. I was privileged to continue my music education well into my adulthood because of this generous gift.  Also, I was lucky enough to receive a music education, all expenses paid, which fostered my creative expression at a young age. I remember finding my home in the middle school orchestra, and the elated feeling moments before we all sat down to perform a concerto. Music has been a lifeline throughout my entire life. I found myself in those classes. I learned the ragtime rhythms of Scott Joplin, and the vocal stylings of Billie Holiday and Ella Fitzgerald. Through Louis Armstrong I learned that the voice is an instrument, and that an instrument can sing a melody.
As a privileged, relatively successful white musician I owe my career to the black musicians and artists who came before me. I would like to do everything in my power to give back and enable young black students to reach their full potential in becoming the music leaders of tomorrow. So, when I learned about the New Bridges Elementary School and its phenomenal music teacher, Alice Tsui I knew I needed to start this Go Fund Me campaign.
The School
Tsui, who the kids call Miss Alice, is a founding member of New Bridges which is an elementary public school, in the heart of Crown Heights in Brooklyn, NY. It is comprised of 450 students, 68% of whom are Black and 23% of whom are Hispanic; more than three-quarters come from low-income households. In addition to an academic focus, the school has an integrated arts program that features Miss Alice's music courses. The time spent in this school is crucial. It gives students a safe and encouraging environment to nurture their artistic curiosity. The arts integration program has made students more driven and instilled a desire to learn, even in a rigorous academic environment. The kids can choose electives on their own by the third grade. Putting this choosing power in the hands of students is invaluable as it gives them the freedom to study what they like. Some students choose Dance, some Physical Education, others choose Music.
The Music Program
Each day, Miss Alice engages her students in a curriculum that solidifies music as an invaluable tool for growth and community building. They learn indispensable skills that will follow them later in life, no matter what they choose to do. The kids begin the music program during Pre-Kindergarten. As they move through the curriculum, the kids grow as musicians and as creative individuals. What begins with learning rhythm techniques progresses into reading sheet music and blossoms ultimately into playing an instrument by the third grade. By the fourth and fifth grades, they can perform in various string ensembles. Miss Alice's classroom can hold approximately 40 kids and instruments at a time. In total, about 100 students require instruments of their own to participate in her string instrument program. But what if there were no instruments?
The Problem
Socioeconomic status affects the lack of participation by students in music programs. Even within the same school district, there is a disparity between schools in lower-income neighborhoods and those that are in more affluent neighborhoods. A school whose students can afford to buy their own instruments and benefits from healthy donations from parents does not need as much funding as a school with students and families that cannot afford to do the same. Yet, they receive the same amount of funding.  This is because the school system follows a very flawed one-size-fits-all approach. Ongoing budget cuts have also put music programs under a great deal of stress. With more budget cuts looming, the New Bridges music program will have to rely heavily on donations just to scratch the surface of its funding needs.
The Ask
Most of the instruments currently used at New Bridges are in total disarray. Some are broken, chipped, missing pegs, missing strings, or have frayed bows. Others are inexpensive and of poor quality with an inevitable expiration date. Miss Alice has told me that the lack of higher-quality instruments affects her ability to teach her students because they cannot tell if they are getting better. I want the kids at New Bridges to find themselves through music just like I did. My goal is to help Miss Alice secure the funding she needs to purchase new or gently used high-performing instruments for her students.
I hope you will join me.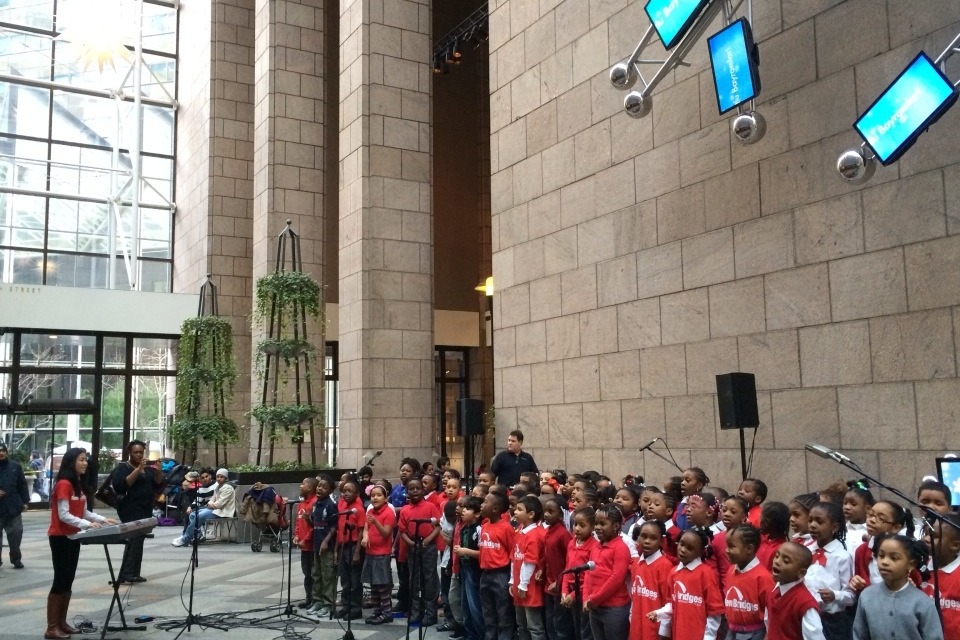 Organizer
Julia Piker
Organizer
Brooklyn, NY
Friends of New Bridges Inc
Registered nonprofit
Donations are typically 100% tax deductible in the US.