Hello,  my name is Christine and I have a story to share with you that I hope will touch you in a very generous way!  My best friend is Kimmie Foriska her husband's name is Robbie Foriska. They are the nicest people you could meet and have been through a lot in the last few years, NEVER asking for anything. But now the time has come to put their pride aside and ask for help that they need.  I am pleading with you to read this letter that I had to BEG Kim to write!   Please know that if they did not desperately need it they would not be asking. Thank you from the bottom of my heart <3
LETTER FROM KIM:
My husband is a very sick man. He needs a new liver; let me start from the beginning. Both Robbie (My husband ) and I grew up in a  small town in  upstate NY called Nicholville, not far from the Canadian border. Our Mothers played on the same softball team and we played on the same baseball teams from peewee to Little League. My mom was also his Boy Scout leader and my brother Kirby and Robbie were close friends. I always had a crush on the brown hair brown eyed cutie.  He was 3 years older than me so never paid me any attention.
So as life moved on as it always does, we grew up.  Robbie joined the Marines, moved away, got married and had two girls Jessi and Amy. I got a job and married. Years down the road, with the help of Facebook, we reconnected as I did with many other classmates. Robbie and I would send each other an occasional "Hi" and wish each other well.  More years pass and both of our marriages end in divorce and through the help of Facebook again Robbie contacted me. He was now a Post Master for the US Post Office in Poughkeepsie, NY and I was working at SUNY Potsdam. I lived just a few miles from my  childhood home. He asked if he could come visit me and I agreed! We hit if off immediately and then we fell deeply in love. He was everything I had and could hope for in a man!!! He had a very long travel every week so we could see each other.  So after a lot of discussion and contemplating and because we couldn't stand to be apart any longer, I made a huge decision to move to Poughkeepsie with Robbie. I left behind a lot, my family, my job, my friends.  Not everyone agreed with my decision, BUT I knew I had to do whatever it took to be with the love of my life.  We knew we wanted to be together forever so on June 27th, 2015 in Potsdam NY we were married at a small but beautiful ceremony. I will never forget the day, I felt so blessed!
As I said before Robbie is a sick man. He is fighting many battles, Cirrhosis of the liver, fibromyalgia, neuropathy, and a double knee surgery that went wrong, the replacements they put in were too small, causing constant, everyday pain. Because of one battle he needs surgery and because of another battle he can't have the surgery…Because of one battle he needs medication, but because of another battle he can't take the medication, it is like a vicious circle, and a constant struggle. Everything came to a head last July when his liver, kidneys, heart and lungs decided to all fail at once, the doctor in the ER said he wasn't going to make it and I was so scared. The man, my dream, that I just married one short year ago was going to die. Every day he was in the hospital and laid there on total life support,  I would sing  "You are my sunshine my only sunshine" in hopes that he would hear me and it would help to make him better.  God heard my prayers and after weeks of being in the hospital, he got to come home. BUT he was very weak and needed constant care.  Robbie's mom flew up from Florida to be with her son and to help us out, so I could return to work.  His life right now consists of pain, sleeping a lot, and visiting doctors. Bottom line is Robbie needs a new liver. Without it he is facing death. I just can't bear the thought!!!
We have to travel to doctors' appointments a lot. We are grateful that Westchester Medical, where we meet with the liver team often is only an hour away. We are very thankful to have this hospital and staff on our side! He has been meeting with this liver team for a while and now he is on a liver transplant list. I was willing to give part of my liver to Robbie and I went through many tests. All of the test said I was a match and I could give 60 % of my liver to save his life. One last test was the MRI. The MRI showed that my liver was too small. I couldn't go through with the surgery, and I don't think I have ever been more disappointed in my life-I soooo wanted to help save my husband's life.
The other hospital that Robbie goes to almost weekly is our local hospital-Vassar Brothers Medical Center. There we met the most wonderful, caring doctor, Dr. Stuart Weinburger. He has a heart of gold! Dr. Weinburger is Robbie's gastroenterologist.  Because we are there almost every week, for a procedure called paracentesis (removing fluid from the abdomen) and other procedures, I have gotten to know the staff here as well. We are also grateful to know the staff at Vassar, they are always nice and hospitable with big smiles on their faces.
 I just don't know how we are going to manage this at all. Never did I think I would be in this situation or be writing this plea. But here I am and this is such a real struggle. Robbie has not been able to work since July 2016 and my job at SUNY New Paltz is the only income we have at the moment. We have had to sell Robbie's truck and motorcycle  and I have had to sell my motorcycle, we  are in the process of selling other household things just to make ends meet. My family lives in Upstate NY and his mom lives in Florida so I am the one who brings him to his appointments as he is not able to drive. So I have to miss work at least once a week sometimes more. We are running out of options and are asking for your help for travel expenses, hospital bills and everyday expenses. We will be forever grateful for any donations you can make. 
Thank you
Kimmie and Robbie Foriska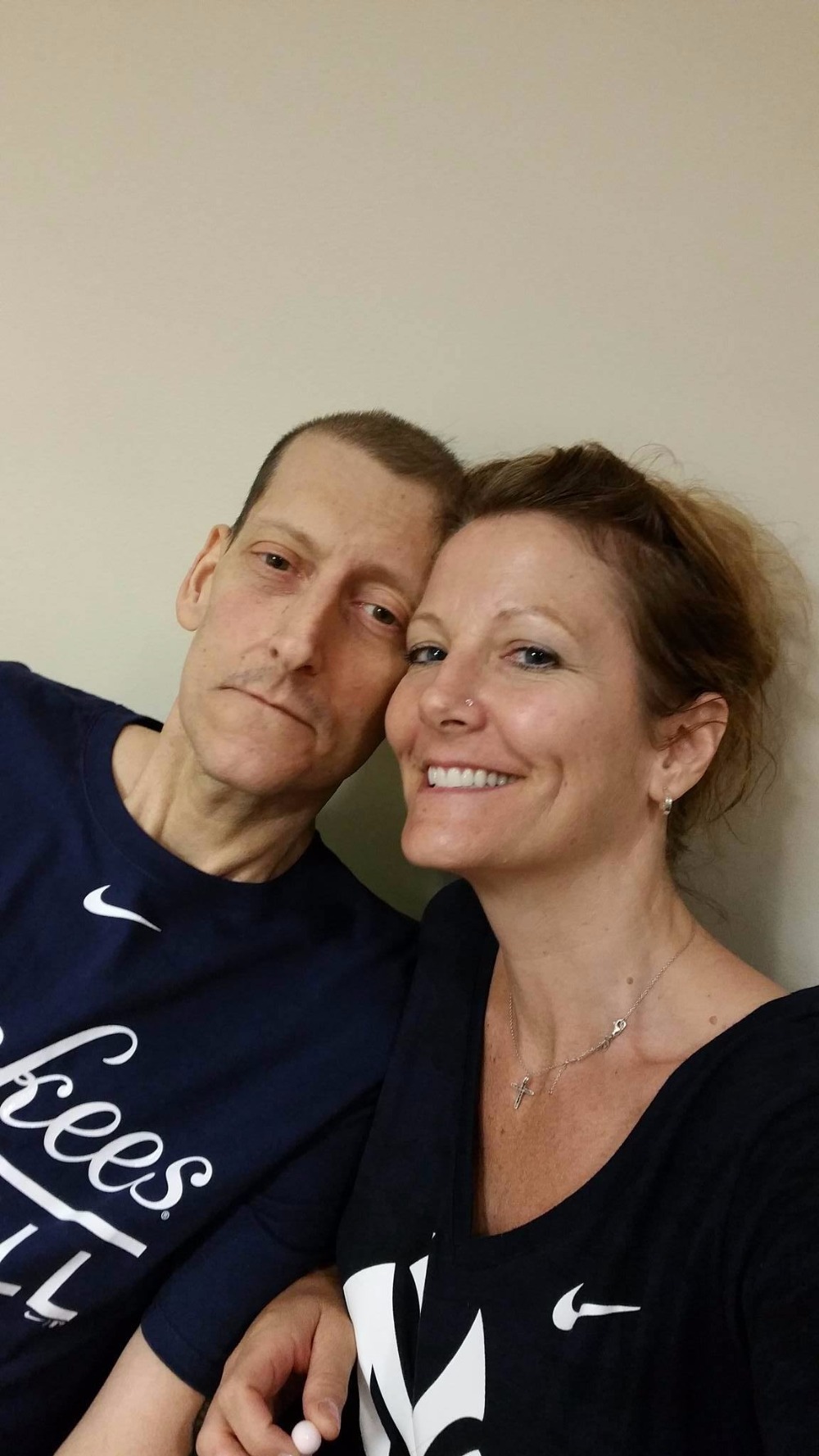 Organizer and beneficiary
Christine Mose Shantie 
Organizer
Saint Regis Falls, NY