Harm - (Feature Film)
£50
of £10,000 goal
Raised by
1
person in 6 months
HARM -
Michael has a secret he is ashamed of and he doesn't want anybody to find out. His relationship is violent.
THE SCRIPT
I have received many original screenplays from unpublished writers that dream of seeing their script turned into film. I have chosen this particular screenplay because I became so engrossed by the story and couldn't put the script down. It tells the story of the toxic relationship between Michael and Jessica and covers the very sensitive subjects of domestic violence and mental health but I think the writer handles it perfectly, and when you think you know where the story is heading, the writer pulls the rug from beneath your feet. The subject matter is still currently a bit of taboo but getting this film out there will create debate on the matter and get people communicating about the problem this film tackles. 
NAH THEN FILMS
South Yorkshire was reported as being the 5th poorest region in Northern Europe. This is an astonishing fact, especially when it is in the same country as, and only about 170 miles north of, the richest region in Europe.
However, we still produce some amazing people and talent. 5 of the players in England's 2018 World Cup squad were from South Yorkshire. Musicians Arctic Monkeys, Pulp, Def Leopard, Joe Cocker, Human League and Bring Me the Horizon all hail from South Yorkshire. Actors Sean Bean, David Slade, Judy Parfitt, Diana Rigg, Dominic West and Brian Glover. Monty Python's Michael Palin, the first British astronaut Helen Sharman, dance brand Gatecrasher and Billionaire entrepreneur Lord Graham Kirkham, all from South Yorkshire.
So as you can see we already have some amazing people from South Yorkshire that we know of. There is also a lot of talent yet to be discovered, hoping for their opportunity, wanting to show off their skills. This is why I have set up Nah Then Films.
I am a producer of independent films and I created Nah Then Films not only because of my passion for movies but because I want to discover new local talent and be a stepping stone for the budding directors, writers and actors, the film crew, make-up artists and music composers. All who want to be a success in this industry but have not yet been be given their chance. 
Your funding means so much. It would help get this film made which would kickstart a new business which would kickstart the career of so many people South Yorkshire as we grow as a company and produce more and more films.
It would also showcase Sheffield and it's surrounding areas because it is a fantastic city that has everything. Thousands of trees, a famous music scene, amazing street art, Yorkshires biggest indoor and outdoor stadiums, 2 famous theatres, 2 top universities (Nick Park studied here), it's up the road from the Peak District (where they filmed Judge Dredd and Princess Bride), steel, Henderson relish, ales, bars, clubs, moors, trams, old factories, new business offices, fancy architecture, gardens, vintage shops, a massive shopping mall, poor areas, wealthy areas, Grade II listed buildings and a recognisable sky line from one of its famous 7 hills.
BUDGET


I have put a budget of £10,000. This would allow me to produce this film and everyone be paid at least minimum wage. I wouldn't have to ask the crew for favours and only offer payment if the film makes a profit. It will pay for everyone's time and all their expenses up front. The profits from the film will go towards producing another movie and help get the face and name of new directors, actors, film crew and writers out there.
I am funding the pre-production myself. I am already in talks with a director that got his masters in Filmmaking last year at Sheffield University and has already made an award winning documentary. Hopefully I will be announcing him soon.
For updates and other news. Please see the links below.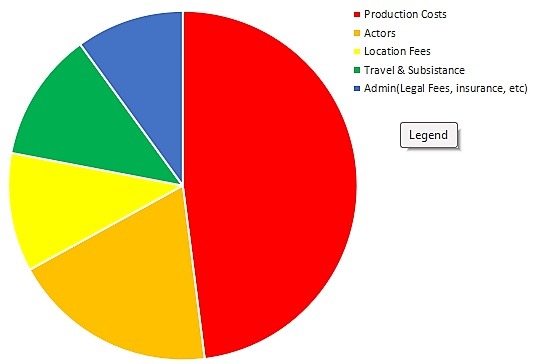 facebook.com/nah.then.films 

http://nahthenfilms.co.uk/ 

twitter.com/nahthenfilms

instagram.com/nah.then.films/ 

Or email me at nah.then.films@gmail.com
+ Read More