Flood Victims Fund - Nahar Relief
In 2017,
 42% of total land was flooded,
1
Million households were
destroyed
,

1.5
Million Domestic animals
died
and
20
 thousand
Schools closed
.
Currently, there is a severe flooding crisis that has been occurring in Bangladesh. The situation has deteriorated adversely,
over 26 districts and 10 million people
have been affected. Moreover, according to weather forecasts in Bangladesh, the overall flood situation may worsen in coming days.


NAHAR
is planning to firmly stand beside these flood victims with
a long term plan and solution
to "
Lift them Up
".

We will support
each family with a $100
to ensure that they have 
emergency medicine, immediate food supply , drinkable water
 until the flood has ended, and education scholarships for children who are still in school
Bangladesh is a land of rivers. It has more than 310 rivers and tributaries. During the monsoon season, from June to October, average rainfall varies from 1200 mm in the west to 5800 mm in the northeast leading to rising water levels in the rivers and extreme flooding of about
1.73 Million square km
in area. 
The "
North American Humanitarian Aid and Relief- NAHAR
" has worked in these affected areas to reconstruct their
lives
.
Since, 2012, Nahar 
have been sending emergency relief through our local partners.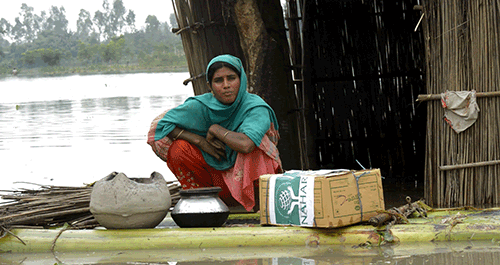 We invite you for your generous donation.
Your helping hands will keep them smiling forever!
"Believe in Allah and His Messenger, and
donate
from what He has entrusted you with. So those of you who believe and
donate will have a mighty reward
."        
Surah 57:  Ayah 7


During this time NAHAR has distributed emergency relief among the flood victims in Sirajgonj, Rangpur, Dinajpur, Lalmunirhat, Sylhet and Kurigram. However,
more emergency relief is required for the victims
.
We highly appreciate your generous donation. Again, please remember to
make dua (prayers) and donate through
www.naharrelief.org
or
send money order/check to:
2668 Pitkin Ave. Brooklyn, NY 11208.
North American Humanitarian Aid and Relief (NAHAR)
Organizer

North American Humanitarian Aid and Relief Inc
Registered nonprofit
Donations are typically 100% tax deductible in the US.