4 girls 
Our engagement party 


Hello my name is ChaRita Jones
First I would like to say I dreaded doing this , we tried to figure it out on our own with barely any resources. I have reached out to Red Cross, Beyond Housing, United Way with little to no help.
On November 19 at approximately 3 am my oldest daughter fell out of her bed. We rushed to see what happened. And in the midst of trying to figure out what made her fall out the bed. My other daughter begin to become incoherent and was having a seizure. Then my third girl came out the room and fainted as well. Basically all three of the girls where passing out and incoherent. I was weak and confused.
I called 911 and we was all rushed to the hospital for carbon monoxide poisoning. The normal level in a home should be 30 but per St Louis County Fire Department and the Gas company our levels in the house was 405. Basically not to many people wake up from carbon monoxide poising especially with those deadly levels.
And the same night the fire chief and gas company advised no one can live there until the house is up to the right code, and proceeded to put a lock on the gas meter.
All 6 of us had to get on oxygen for about 6 hours until our levels dropped.
Fast Forward after countless hours trying to contact my Landlord , when we finally reached her advised her what was told to us. She paid for ONE NIGHT IN THE HOTEL FOR MY FAMILY OF 6, And was told she was going to get it fixed.
Next day, once she figured it was all fixed we went back to the house waited on the Gas company and again, they told her she needs to replace the Furnace and water heater. And that's when the nightmare truly begun.
I quote "I'm not paying for another night in the hotel, and I'm not replacing the furnace " Says the Landlord.
Now everyone I spoke with legally and via my resources was told because our rent was paid up until March of 2022, she has to provide us with some type of support and she hasn't.
So I come to you as humbled as possible, for some help.
We had to buy a storage to put a 4 bedroom 2 bath house in, and not to mention the hotel and food expenses we have. And still to this day , we still have to stay in a hotel until we get another house.
I truly believe that it takes a village.
At the moment, we are seeking help for
Hotel/Housing
Storage
Food
Legal Assistance
AND NOT TO MENTION WE HAVE A WEDDING COMING UP JULY 2022
We greatly appreciate it, and anything can help .
 Rusted pipe with holes she tried to fix
Locked gas meter 
moving out the house into storage
fire crew police and ambulance the night of 
me, hooked up to oxygen  
The original notice that the gas was off and things needed to be repaired ,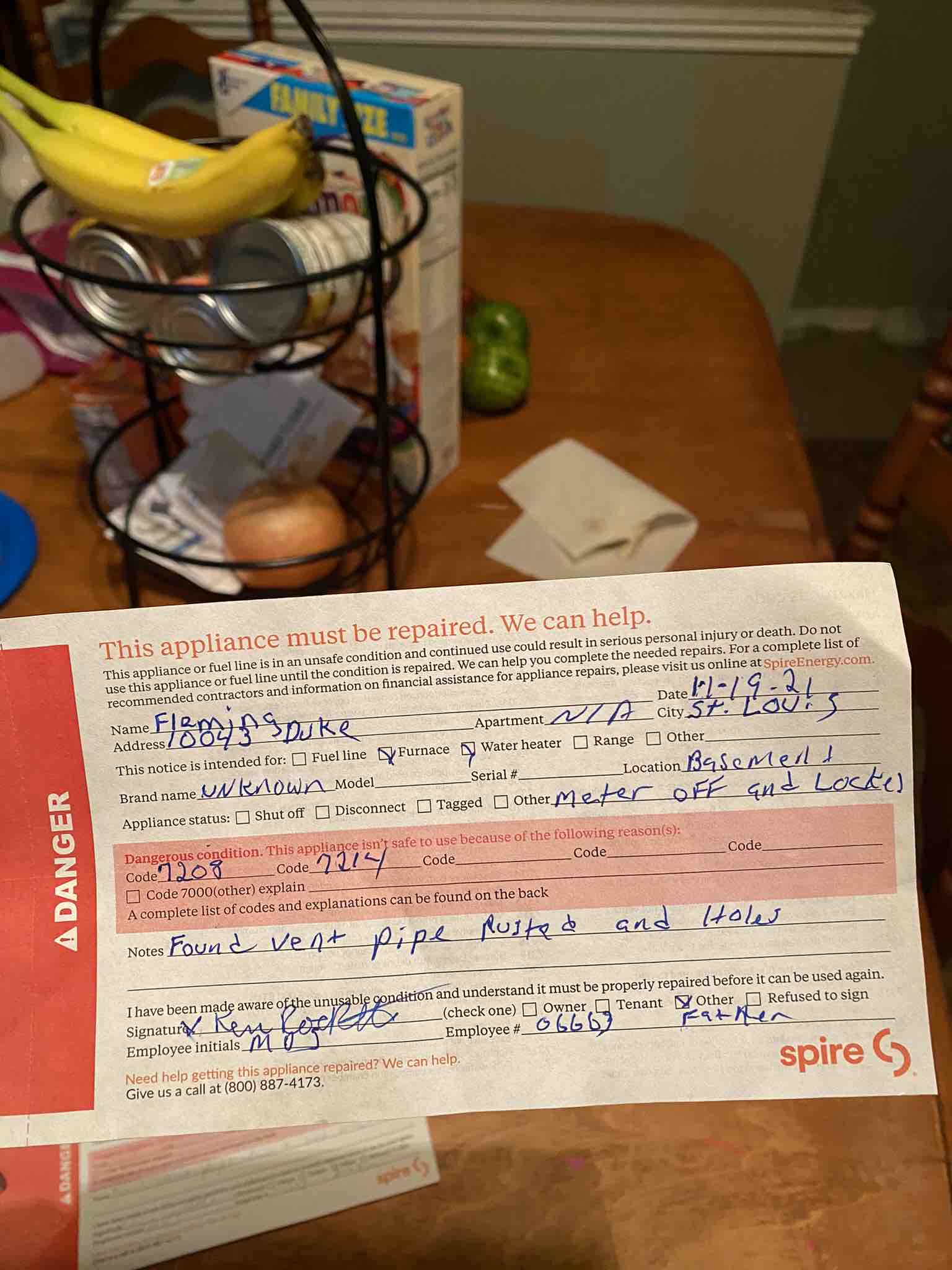 *Update
Just wanted to say Thank you and 
Keep the Prayers coming! 
ChaRita
Organizer and beneficiary
ChaRita Jones
Organizer
Saint Louis, MO
Sylvester Fleming
Beneficiary