What's it like to have vision loss at a relatively early age?

"One of the most difficult losses I've experienced since my vision loss has been not being able to see faces of the people I love, especially my grandchildren."
Hello. 
My name is Doug Oliver. I live in Nashville with my wife Ann. Thank you for taking a moment to read my story! 
About 10 years ago, I was diagnosed with
Malattia Leventinese
(a rare "juvenile" form of inherited macular degeneration, leading to blindness).
 At age 44, this had a major impact on my life, and still does.
But, the most difficult loss for me, is
not being able to see the faces of the people I love. Especially my grandchildren, while they are growing up.


"How My Three Grandchildren Appear To Me"
"My Eyes Need You"
In late April, I was selected to participate in the
SCOTS Clinical Trial
 a U.S. full-treatment, privately-funded clinical trial that will use stem cells taken from my own bone marrow and insert them near the damaged areas of my eyes. 
The trial costs
$21,600
. The reason for this is that the U.S. Government still limits funding of research using stem cells, even though the treatment I'm receiving
uses only my own
stem cells.
"Clip From Steven Levy, MD -- S.C.O.T.S. Director"
YOU REALLY
CAN
HELP treat my blindness... and potentially contribute to the healing for many others.
If you are interested in the science behind the treatment study, here is a link to the trial's inititial findings in 
Neural Regeneration Research Journal
, published just this week.
Please,
donate
what you can, tape a 
poster (click here) 
and
share
 this campaign with your friends...
Thank you.
With Gratitude,
Doug
P.S. Here's some recent coverage my story has received, as well as my selection letter for the treatment trial.
Nashville Affiliate Fox 17 Coverage Of My Story
My Selection Letter: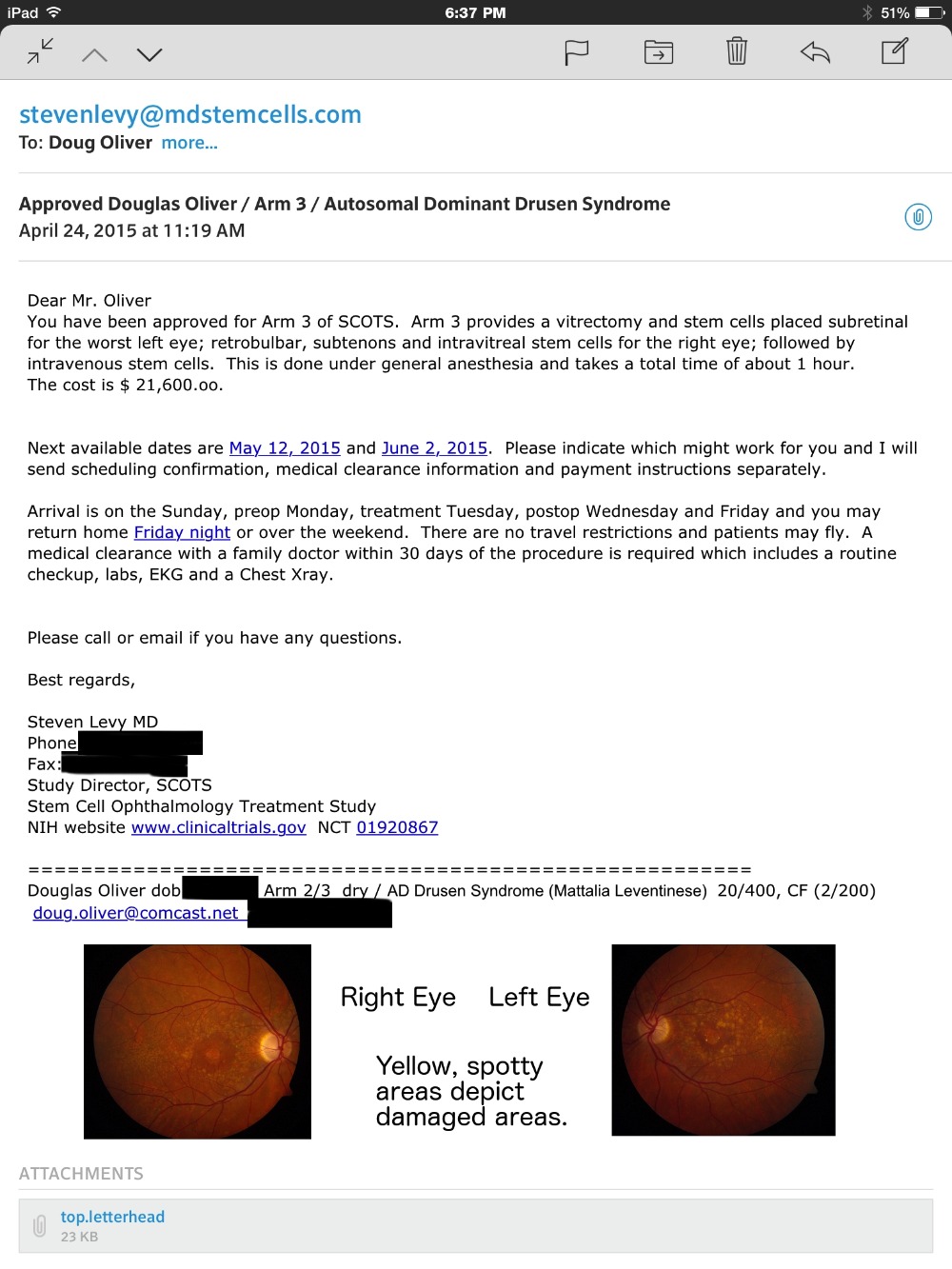 Organizer