My name is Jamie. I need a little help. I am currently leaving an abusive relationship and need a little additional financial support to be able to adequately provide a stable and supportive new home and life for myself, and my two daughters. Zohie is 6, and Evrin is almost 4.  
First and foremost, a  little information about me and why I'm reaching out to the climbing and outdoor education communities. I started rock climbing in 1999  with my sister at in indoor gym (shoutout to PRG OAKS), 3 times a week, as a way to get exercise and have fun. I am 5'1" and around 100 lbs.  I was never really picked first in gym class. Seeing myself as physically capable wasn't something I saw myself as being. The moment I tried climbing, I felt STRONG. And that being so small and flexible was actually an advantage.
(PRG Oaks March 1999)
I continued to climb indoor and outdoor just for fun,  with whatever friends I could "rope" into coming with me for the next 15 years or so. I even dabbled with trying to open a rock climbing gym in the town I live in. I loved introducing people to climbing and showing them a new way to work out, and that people of all different sizes and physical capabilities could still come together, challenge themselves physically and mentally, and get outside together. 

(Chapel Pond Slab, Oct. 2011)
My "professional" rock climbing and "rigging" career began in 2016 when I was hired for a bat relocation project in Jonesboro, Arkansas. Presumably, because of my androgynous name and the digital hiring process. Through that experience I learned that I really LOVED TEACHING  rock climbing and rigging, and obtained my American Mountain Guides Association Climbing Wall Instructor Certification. I then applied for a job at Cornell Outdoor Education, and was the FIRST person ever to apply with an AMGA CWI.   I now work for Cornell Outdoor Education as a rock climbing instructor and a tree climbing instructor. I teach a lot of different classes (6 this semester). I also get to work special programs, like the first ever grant funded adaptive program, which measured the growth of efficacy and confidence gained through rock climbing for a  research project, and added additional value to an already incredible program for adaptive needs.
(The student I worked with is shown at the 3:10 mark. )
I also work facilitating summer camps and rigging the rope systems for camps. I help out at our challenge course, wash the climbing holds, work the front desk during open climbing hours, and whatever else I can do to try to make myself valuable to the community. This summer, helping kids manage their fears and challenge themselves helped me emotionally grow and gain the courage to finally get out.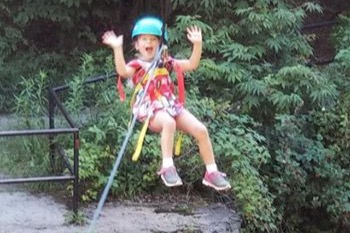 (Zohie on a tyrolene traverse system I built for summer camps.)
Rock climbing and teaching rock climbing has given me the self worth, community, and confidence to leave my abuser. I am an Outdoor Education success story.  (The Outdoor Education Philosophy) I have 2 degrees. A Paralegal A.A.S. and a Business Management A.A.S. from Broome Community College. I am one semester away from having a Sports Management A.A.S. as well. I would like to go back to school for an Outdoor Education B.A.S. 
(An anchor I built as a Site Manager for Outdoor Odyssey at Shanty Cliffs in the Adirondacks.)
The "nitty-gritty":
Life hasn't been very "fair" to me. To save myself from reliving the trauma, the short story is:
I was born into poverty. And into an abusive household.  I am a survivor of sexual, physical, emotional, and psychological abuse and neglect. My biological father moved to Florida when I was 12. My home life became more abusive and a new baby further financially strained my step-dad and mother. The situation became so dismal, that my sister became my legal guardian when I was 15. My best friend and the love of my life died shortly after.  I've been more or less, on my own since I was 18. I don't have a "family" or a "home" that is safe or healthy for me to go to or to take my children. My biological father passed away last year.   Reasonably, with the amount of trauma I experienced as a child and young adult, I developed some unhealthy patterns of codependency. 
I was the perfect "target" for a narcissist (with an enabling mother who has a lot of power in our community and a lot of resources) who swooned me and told me all the perfect things, and we had 2 kids. During the first pregnancy  he began emotionally, financially, psychologically,  and mentally neglecting and abusing me. Subtly, passive aggressively. I didn't have a support system to help me validate my emotional needs. And I began to doubt myself from the gaslighting.  After our second child was born,  I was left in such dire situations, that  it became clear it was abuse.  I was left without food while breastfeeding.  He moved in with his mom to finish an unnecessary semester of college and to build a drone; leaving me with post partum depression and anxiety, a 2 year old, a 4 month old, and a broken leg in winter.  
I was left so tired the kids were in unsafe situations. I was left without car seats for the kids or car keys. Every aspect of my life was dictated and controlled. Every moment I was told I was worthless and ugly, in front of my daughters.  When I attempted to leave 2 years ago he withheld our children for 2 months, got me evicted, took my car,  and did everything he could to destroy me. He never had a job. And I'm now about $10K in credit card debit from buying diapers, clothes, food, and all other basic necessities for our children and for the child he has from a previous relationship.  His mother bought him a house while he was withholding our kids, and with more promises I was lured back in. Beaten and financially destroyed, I didn't think I had any other options. I would at least know my kids had a roof over their head and were safe. But it wasn't long before the abuse began cyclically escalating. 
 My job at Cornell Outdoor Education saved me from being systematically broken, but instead able to see that I'm a good person worthy of love and kindness. And allowed me to find the courage to finally break free of the abuse.  
(Rappel Stations off the stadium in my 
Selk' Bag.)
Broome County NY is very poor and has VERY limited, overburdened support systems. All of the domestic violence shelters are currently full.  So...I need a little help to get "on my feet".  I don't have a "full-time" job at Cornell Outdoor Education. The position I have doesn't make me eligible for emergency funds or employee benefits that would help with emergency situations. The pay cycle is also challenging because I won't get paid until the END of the semester. I am STUCK living 45 miles away from Ithaca, because my kiddos go to school in Vestal, NY. My commute and parking fees are around $100 a week alone.  I'm currently "real" job hunting but would like to finish teaching this semester. I honestly need the environment and the support network at COE to be able to mentally and emotionally navigate this life change. 

I have a $1200 bill at Broome Community College that has to be paid before I can go back to school. 

I need to be able to rent an apartment in my kids school district until custody is finalized with the court system (next court date is Sept. 12) which cost between two $750-$1000 a month.

 I need to be able to sell my SUV and find a more fuel efficient vehicle to cut down on expenses.  It currently needs a few minor repairs.)

I would like to obtain my AMGA CWI provider certification, which would allow more opportunities at COE. 

Any funds donated will go to providing myself and my kiddos the stability to help end the familial cycle of abuse.  I am terrible at asking for help and it is very challenging for me to ask. 

I most graciously accept any help right now. Even just a hug or a kind thought for us goes a long way.

Organizer