Emerson Rose Methylmalonic Acidemia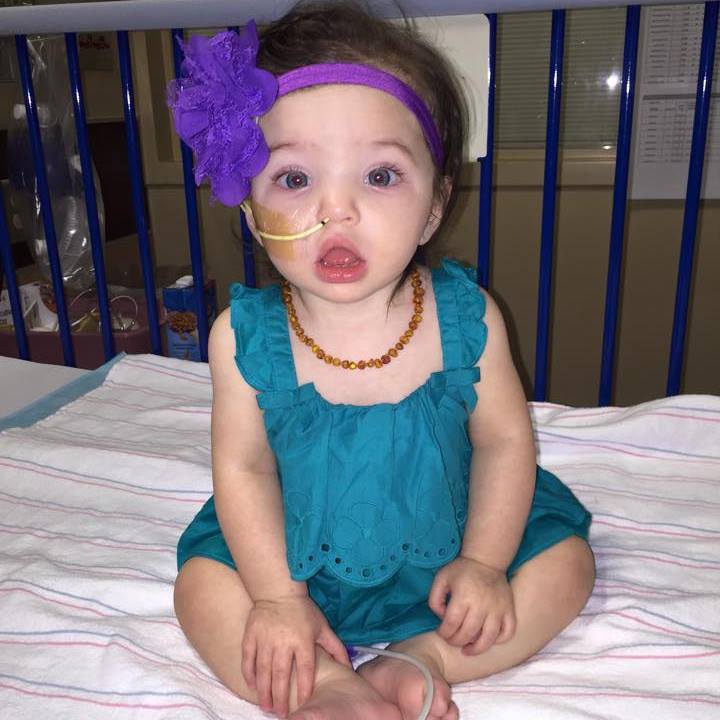 We are a military family that is currently stationed at Ft.Huachuca, AZ. We (Brad and Kara) have four chilldren, two that live in Delaware, Payton-9, Olivia-7, and two that live here with us in Arizona, Liam- 4, and Emerson- 11 mts. 
In January of 2015, Emerson got what we thought was a stomach virus that left her dehydrated and lethargic. She then developed RSV, a respiritory infection that is very dangerous for babies, which led to pnemonia. She had several trips back and forth to the hospital, followed by a couple days in Diamond Children's hospital in Tucson. After a couple days of "getting well" at home, I (Kara) was noticing how Emerson was still not nursing very much, still lethargic, and not producing very much urine. I was also noticing that the developmental delays I had been slightly noticing were becoming more pronounced.  At first the delays were written off by her pediatrician as a result of being so premature, and that eventually she would "catch up". 
I decided to take Emerson back to Diamond Children's in Tucson after a couple of days of not much urine output at all. She had lost more weight. There were a lot of unexplainable symptoms. At this point doctors were performing all sorts of tests, Emerson got a surgically placed Gtube on 2/20, and after ten days in the hospital we got disturbing news that she had a metabolic condition called Methylmalonic acidemia, where her body can not break down proteins. This is something she will struggle with lifelong, and is potentially fatal. There is a link included that explains more of the details that we do not yet understand.
This is only the beginning, as now we will learn the severity of her case and exactly what to do next.  Each case of MLM is a little different depending on the mutation, and the current condition of the body.  Just figuring out HOW best to treat her will be a long process, and much of it will be spent driving back and forth to Tucson Diamond Children's (77 miles), and even further to Phoenix (190 miles).  
The main expenses that we are already facing are travel expenses (gas, lodging, food, and vehicle maintenence) from our home at Ft.Huchuca to our treatment, and for childcare expenses for our four year old, Liam.  We have a ton of doctors, geneticists, and therapists appointments over the next few weeks and months. The doctors are currently saying at least once a week trips to Tucson and/or Phoenix, but maybe more, especially at first as we figure all of this out.
This journey will be for the rest of Emerson's life, and we don't know what all it will entail as of yet. We are relying on God, and we know that He knows exactly what this road will look like. She's perfect to us.  We know that we only get to borrow her for a time, just like our other children, because they are all His children and He establishes their path.
Thank you for all of your help, and please continue to pray for Emerson and us as we figure out what is going on and what the next step is.
Lashes Of Love for Emerson Rose 
Organizer