There once was a young boy who dreamed of flying... 
His Father flew, both Grandfathers flew, and his Great Uncles flew!  This boy devoted his childhood to building model airplanes, watching old movies of John Wayne as a pilot, and occasionally travelling with his Dad from city to city; sitting in the cockpit with all those buttons and knobs and funny little TV screens.  As he got older, this aspiring pilot began to focus on the goal of flying F-16 jets in the Air Force; maybe even be a part of the daring Thunderbirds Air Demonstration Squadron!
In Junior High School, the young boy discovered devastating news.  His eyesight had gone bad.  There weren't enough tears to fix, refract, or refocus his eyes when he found out that in order to fly in the Air Force he needed perfect vision.  He would never be able to fulfill his dream.  All he had ever wanted was unmistakably out of his reach. And, his family couldn't afford to pay for private lessons and try another angle of approach to flying.
Obviously, that boy was me.
Looking back, I realize things happen for a reason.  The things I have done and experienced instead of flying jets has transcended my expectations of my life.  I am so grateful for the friends, family, and mentors I have met and collaborated with who all contributed to the Art I found, came to master, and love.  Living the resilience of shifting paths, which I have done multiple times, has given me an appreciation for the extraordinary possibilities in life.   We all but have to want to try things; to explore; to dare.  I dared, and brought Art to tens of thousands of people.  That is quite a humbling and proud feeling to know.  I spent 11 years in the Army National Guard because I wanted to do my part to protect my friends and family...because I could.
Now, once again, I am at a crossroads.  I am ready to begin another exploration. Out of the blue (so to speak) I came to the realization that if I really wanted to, I could still fly!  It really only comes down to funding.  I decided to splurge and treat myself to an introductory flight lesson, not knowing if it would even be something I could wrap my head around at this point in my life.  I did it because I wanted to fulfill my childhood dream.  And, I did.  I flew an airplane for an hour.  I learned to do small turns and big turns, climbing and descending.  When the lesson was over, I was beside myself....and speechless.  The instructor's mouth was moving and sound was coming out of him as he brought my lesson to a close in the lobby of the flight school. I stood there slightly paralyzed and felt like Jello as he commented on the possibility of me pursuing more lessons. I'm sure I smiled and nodded and thanked him, and probably shook his hand.  And, it wasn't until I was sitting in the car in the parking lot that the emotions overtook me and I wept at the conclusion and reality of fulfilling my dream.  I really don't remember the rest of that day.
Now, I am horrible at asking for money.  Money is not something I have ever had in excess.  I have lived paycheck to paycheck as an artist for almost 30 years.  And, I have been relatively happy with that.  So long as I could buy a drink for my friends here and there, life has been great!  But, now I have found something that could potentially give me the kind of living where I could buy a home or contribute to my cobweb covered retirement fund! At this point I am not interested in being an airline pilot. But, ultimately getting a basic commercial license would allow me to fly for a living. Even with my corrected eyesight, that is something I never dreamed I could do.
So, I am asking for money.  I am asking you to contribute to one more thing that would allow me to fly and take others flying!  Giving would allow me to show others how extraordinary it is to feel the freedom of flight. Or, if that idea is terrifying to you, it would provide an opportunity to be terrified... because then you are really living!  If I can pull this fundraising off I will take anyone flying that wants to go.
Obtaining the various flying licenses (Private Pilot, Instrument Rating, Commercial, Multi-Engine) takes time of course.  One must accumulate a select number of hours to qualify, on top of the education of it all. The Private Pilot license is the biggest one, as you learn all the basics.  And, doing it part time, while working to pay the ol' bills, would take 6 to 8 months.  After that, it would be another 6 to 8 months for the other ratings. It really comes down to renting planes and gaining the hours in the air needed to qualify for certifications and for getting employment.  In the end, once I am certified - even just for Private Pilot - I can fly anyone anytime I can rent a plane!
Here's the breakdown of costs:
Private Pilot License (a license only for someone named, "Private"...who knew!?) $10k -$12K
Instrument Rating (So I can fly in the clouds or low visibility)  $8k - $9k
Commercial Pilot License (So I can earn money flying!) $6k - $7k
Multi-Engine Rating (bigger executive planes) $5k - $6k
The reason there is a range is because of the variability of weather, plane availability (maintenance and different planes cost different amounts), number of hours needed beyond the minimum, and extra costs for ground schools and materials.  For example, the minimum hours for PPL is 40 hours, but statistically students usually take 50 - 60 hours. I figure if there is leftover funds I would use them to gain more hours, thus making me more experienced and more valuable when it comes to getting a good flying job!  I will put all funds in a debit account specifically for my flying career.
I am very fortunate to have the circle of friends, acquaintances, and professional associations I have thus far in my life; from college to the Army to the Arts! If I was ever able to make you feel with my Art, I hope you'll think of it as a gift.  Because my Art has always come from my heart.
Would you please help me make my childhood dream a full time reality with your gift
?  Will you fly with me?

All my gratitude and love!

Private.......Pilot....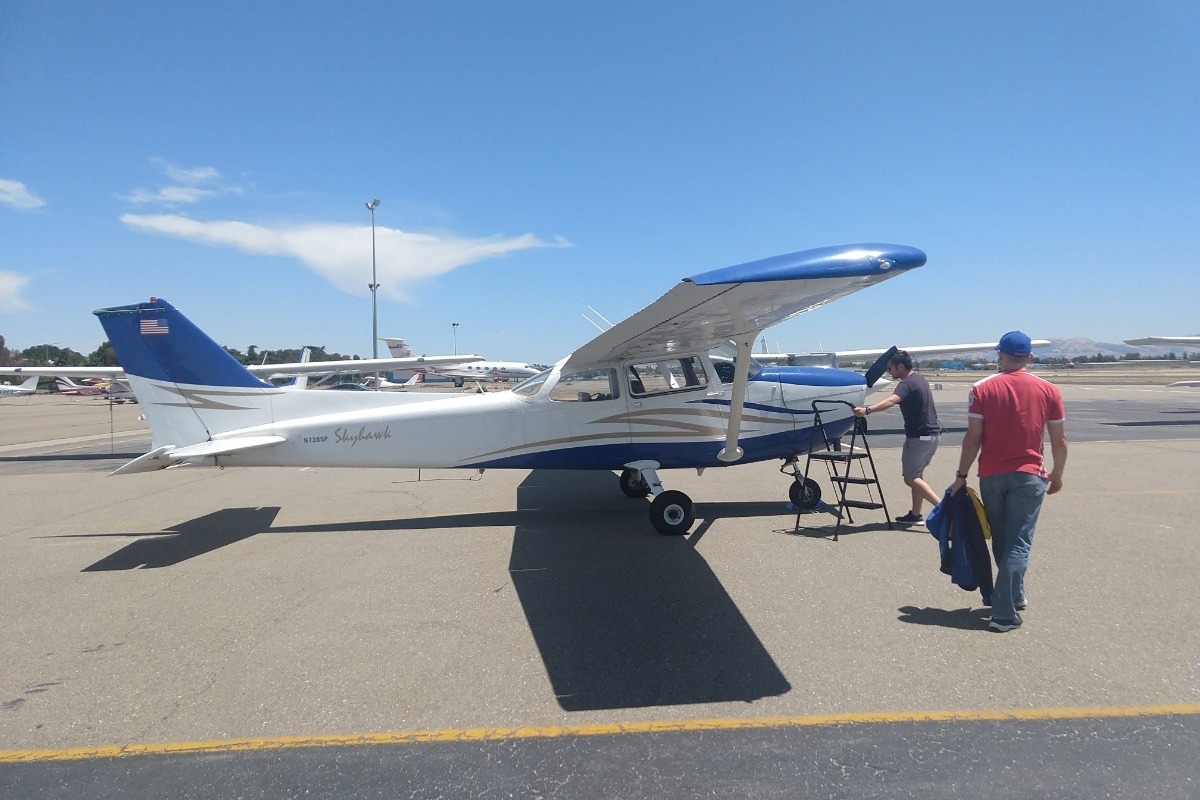 Organizer
#1 fundraising platform

More people start fundraisers on GoFundMe than on any other platform. Learn more

GoFundMe Guarantee

In the rare case something isn't right, we will work with you to determine if misuse occurred. Learn more

Expert advice, 24/7

Contact us with your questions and we'll answer, day or night. Learn more