Several members of Muloma walking the recently purchased 38 acres on St. Helena Island, South Carolina on  June 12, 2021Introduction
From the Mende word from Sierra Leone meaning "We are together", Muloma is an innovative and interactive eco-friendly heritage center that will provide a unique experience in the history of the African Atlantic and its contributions to the American Culinary journey. Located on St Helena Island, the site of the first school for African Americans, Muloma leans into the island's rich culture, steeped in the traditions of the African Ancestors that worked the land. It is with that spirit of learning and teaching that we embark on this journey of self-determination. Muloma Heritage Center will set the bar on how the African Atlantic history, culture, traditions, and foodways are presented to the world!
Muloma site plan 501(C)3 Pending
We have created this fundraiser to help us build the foundation of the Muloma Heritage Center. The funds we raise from your generous support will be used for the construction of the period kitchens and facilities designated for guest services and a welcome center. Funds will also be used for road construction and land clearing in heavily wooded areas chosen for our kitchen and education space so we can welcome guests to the Muloma Heritage Center safely.
We will be incredibly grateful for your support for the Muloma Heritage Center and its mission. Your contributions will help bring our culinary, educational and cultural programming to the region, while at the same time, supporting our efforts to collaborate with the community.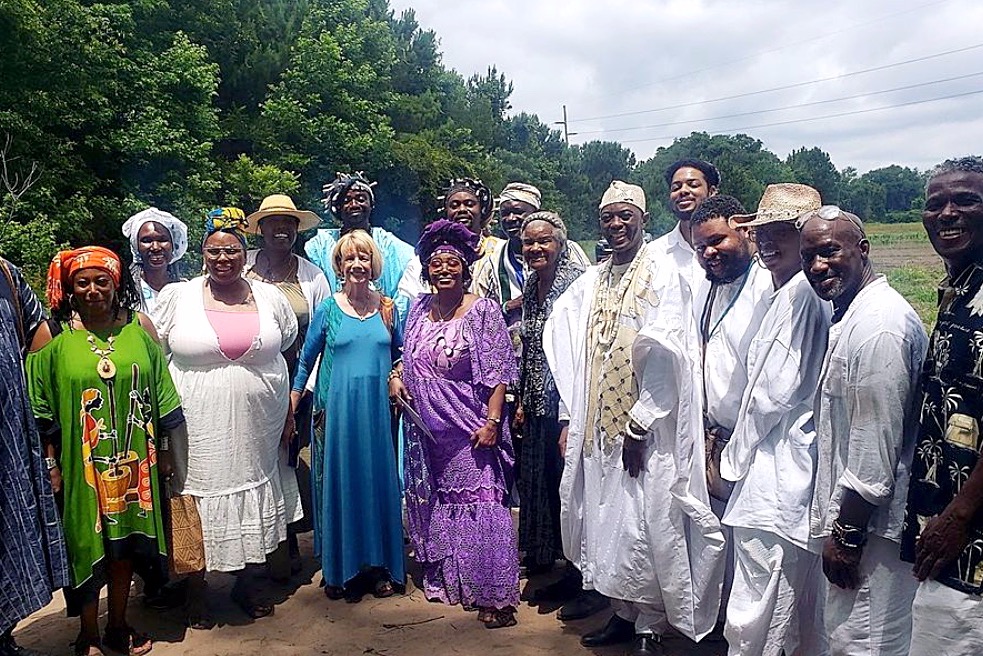 The Organization

Muloma Heritage Center is working at the crossroads of culture, cuisine, sustainability, agriculture, and ecology. Based on 38 acres on historic St. Helena Island in the South Carolina Lowcountry, we are creating a mindful and reverent space where all parts of the Diaspora can break bread and share ideas. Muloma honors the richness of our past and its ties to the present while protecting that legacy and its role in future innovations and evolving stories of African Atlantic culture, cuisine, and traditions.
Gathering following the blessing of the Muloma property on June 12, 2021Mission

Muloma Heritage Center is a non-profit organization that is an educational, culinary and pastoral destination exploring the African Atlantic influence in American culture, and its contribution to American cuisines that creates a bridge between the past, present and future, and establishes a legacy for future generations.
Vision

Muloma Heritage Center will be a place that provides educational and cultural experiences that give reverence to our ancestors. Muloma  will have three kitchens representing the crossroads of African Atlantic cuisine:  the Ancestral Kitchen, the Heritage Kitchen and the Legacy Kitchen. The kitchens are where we will continue to develop a new generation of chefs of the Diaspora who, by gaining a more thorough understanding their history, will be better capable of forging their future in the culinary world. Muloma will also be dedicating a portion of our grounds to traditional gardens, farmsteads and other sustainable horticulture practices.  In addition to supplying  our kitchens, Muloma seeks to support our local community by providing an additional, sustainable local resource of farm goods and produce.Our goal is to rejuvenate interests in culinary  and farming and be a catalyst for career exploration and help to maintain an ongoing legacy for future generations while instilling and building seven characteristics: dedication, discipline, ethics, morals, pride, respect and self-esteem.
ObjectiveCulinary
– Build relationships with culinary schools to work with the next generation of chefs, cooking classes, cooking demonstrations, food history, tastings
Culture
– Educate on the history of the African Atlantic influences to this region
History
– Archiving past and present foodways of the Diaspora
Eco-tourism
– Farmstead, gardens and greenhouse  
Destination
– Weddings, reunions, special events
Community
– Partnerships that enrich and support the local area
Products/Services

Muloma Heritage Center will provide a multitude of products and services, to include:  cooking demonstration, cooking classes, tastings, exhibits, tours, educational programming, interactive hands-on activities, family and youth activities, souvenirs, special events, and lectures.
Markets
Muloma Heritage Center
will be focused on the sustainability of Black food ways with the future generation of Black chefs.  Initially, we will address a segment of the St. Helena market known for its stable, family orientation, and for its willingness to support and patronize local institutions. In addition, we will look to gain support from the Beaufort County and South Carolina community, both its residents and businesses while building partnerships with local organizations, educational institutions, and culinary schools. Once established, we will expand our focus to include the entire regional, national, and international market.
Muloma Heritage Center
strives through food and agriculture to create a unique environment in which people of all ages, ability, and experience can feel free to imagine, create, and welcome an African centered culture. This environment will appeal to a broad cross-section of all families, without regard to cultural, racial, educational, or economic background. The takeaway from a visit to Muloma Heritage Center is that the visitor will better understand the culture and contributions that emerged from Africa and her Diaspora.
Events and Programs
 40 Acres and a Mule Archive: 
Preservation and presentation of the history, traditions, and stories of Black culture in food and farming. It is an archive of Black food ways and the importance of Black farms and tell the story of how Blacks grew, prepared, and regarded food through our ancestral ways to today.

Diaspora Kitchens:
Three kitchens that represent the evolution of Black cooking- the Ancestral Kitchen, Heritage Kitchen, and the Legacy Kitchen. 
Sacred Soil:
A farmstead, greenhouse and gardens with sustainable food cultivation traditions. 

Seeds and Roots:
Establishment of partnerships with the community and farmers of St. Helena Island, Beaufort County, South Carolina. 
Stomping Grounds: 
A gathering place, wedding venue, events facility.
Muloma Partners
Mashama Bailey
BJ Dennis
Adrian Lipscombe
David Thomas
Tonya Thomas
Michael Twitty
Ada Anahgo Brown
Maria Moor
Kaya Vision Potler
Trina Michelle Robinson
Visit Our Website
Become the first supporter
Your donation matters
Organizer
Trina Robinson, Treasurer,
Organizer
Saint Helena Island, SC