I am no longer associated with MHP Paleo and am not directly accepting any donations for this project. If you would like to support this project please contact MHP Paleo directly:

Mission Heights Paleo
Mission Heights Preparatory High School1376 E. Cottonwood Ln.Casa Grande, AZ 85122
I am Robert Gay and I am proud to be the paleontologist at Mission Heights Preparatory High School. At Mission Heights we have the nation's only public high school paleontology program. My students and I have been engaged in research in southern Utah for the past several years, looking at how ecosystems recovered from the greatest mass extinction on Earth and the radiation of new life forms across the globe, including dinosaurs!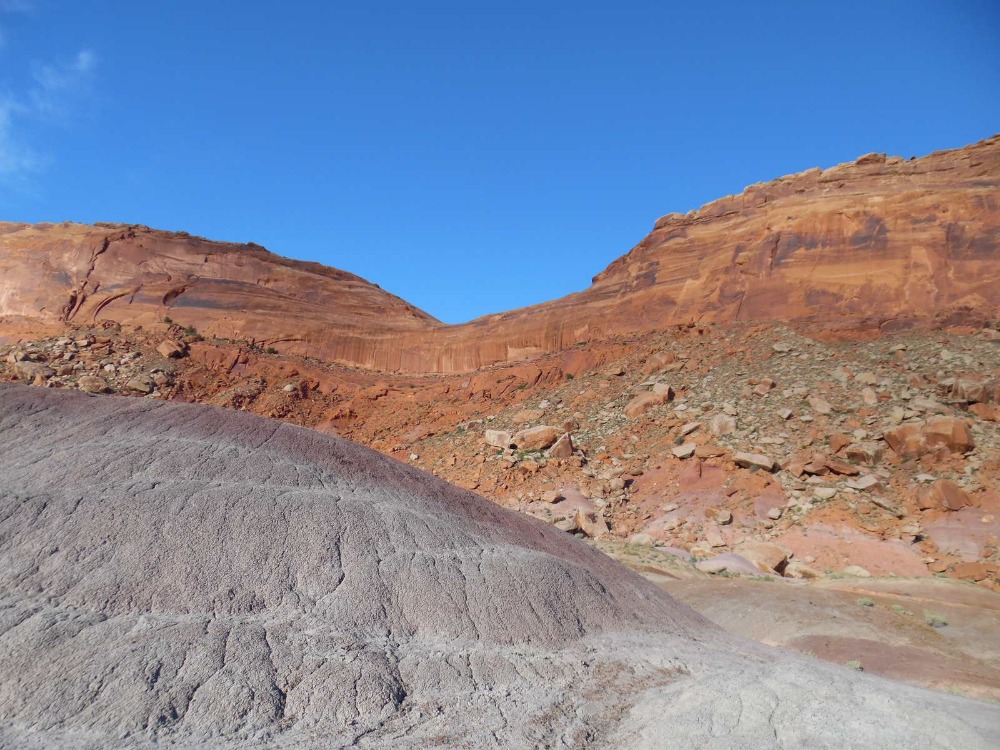 Exposure of the Chinle Formation in southeastern Utah.
This is really exciting work and the results so far are promising. We have identified at least ten types of vertebrates, including some never-before-found in Utah (and at least two of which are new species). Some of our discoveries have already been published, such as 
Gay and St. Aude (2015) - a new occurrence of Crosbysaurus
. Others are availible to the public and are awaiting peer review such as 
Lopez et al. (2015) - an unusual new archosauromorph tooth
. Still others are undergoing revisions and are headed towards publication, such as our new species.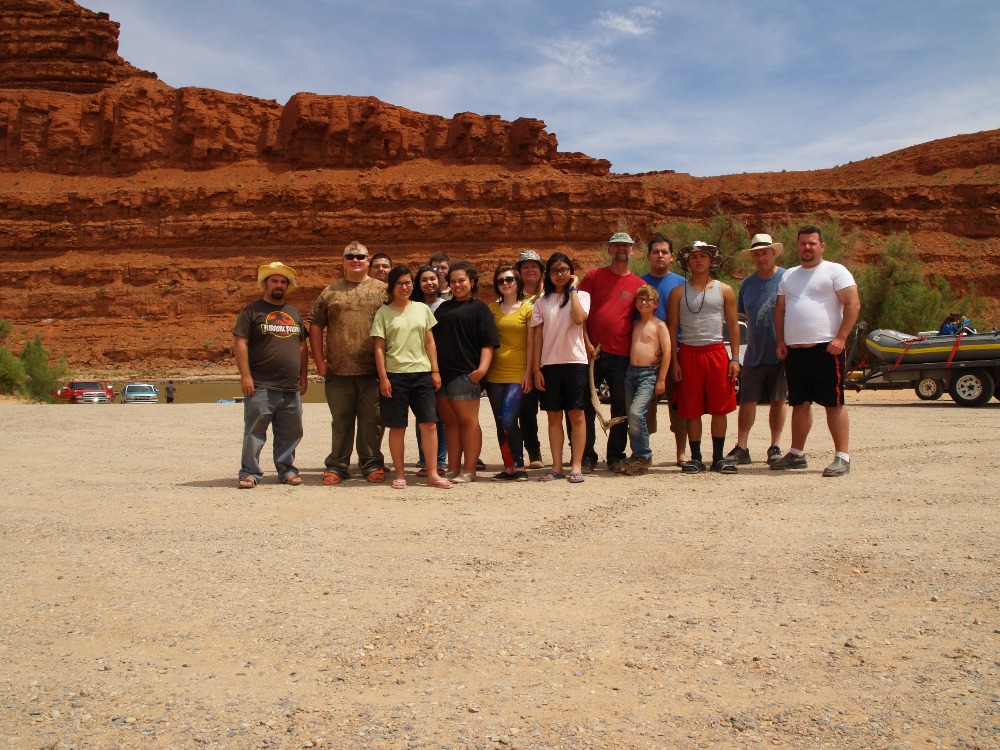 The May 2014 crew at the San Juan River
At the heart of this program are my students. We are engaging students in real-world science by invovling them in all aspects of vertebrate paleontology including discovery, collection, preparation, curation, and scientific description of fossil specimens. Student authorship is important to me, which is why all of our publications from this project have student co-authors. I even had the chance to present 
a poster
 at SVP 2014 in Berlin, Germany describing our work in more detail to an international audience.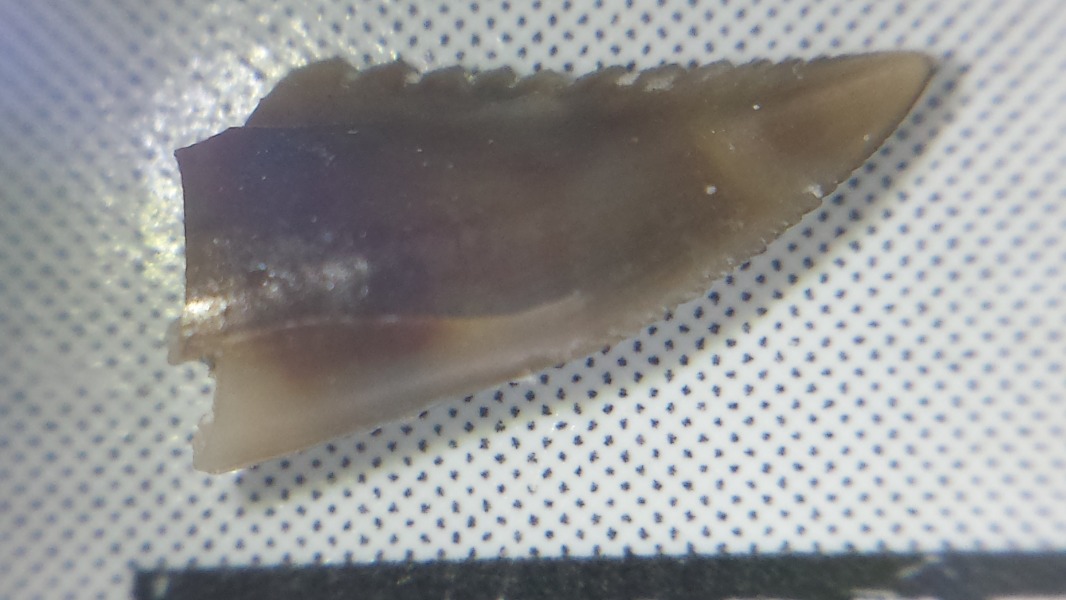 Crosbysaurus tooth found by MHP Paleo student.
Where do you come in? Our biggest single expense every year is renting vehicles. We are located in rural southern Arizona. Our field area is six hours away, longer in a bus. Our school has just finished its 4th year - we do not have small vehicles or an activity bus. When we take students to the field we have to rent vans - an expense of several hundred dollars per trip. This cost comes directly from the students, many of whom can barely afford the low activity fee the school assesses for this, and from teacher donations. Every year I travel to the Museum of Northern Arizona where the specimens we collect are housed permanently. I also travel to conferences to present on the research my students are doing. These travel expenses come directly out of my pocket and are miles on my vehicle.
The purpose of this GoFundMe is to raise funds to purchase a good, low-mileage late-model 4x4 SUV. This SUV would be used by myself to drive to conferences and museums as they relate to our work at MHP Paleo. It would also be used to transport staff and students to the field and transport fossils back to MHP. Fieldwork is conducted at least five times per year with two rented vehicles - having one vehicle that we can use for this fieldwork would save the students and school over $5,000 a year on rental costs. Having our own 4x4 vehicle would enable us to get to field areas where a rented minivan would be unable to go.
The goal of $8,000 is a reasonable estimate based on used vehicle prices matching our criteria in the area. Funds raised in excess of our goal would be used to cover maintanence and fuel for the vehicle. If we raise around double our goal we would purchase two vehicles, eliminating the need to rent any vehicles for the paleontology program.
Want more on-the-ground proof of what we do? Here are some videos created by us showing how the students work, have fun, and understand the past in the field. You can also see the rented/borrowed vehicles used to conduct our fieldwork in them.
March 2015
May 2015
No matter how much you give, every little bit helps us get into the field and understand how life on Earth has evolved. Strange new discoveries await my students. Will you help them get there?
Organizer
Robert J Gay
Organizer
Casa Grande, AZ