Mr NIKOLAY - Raising Funds for the Ukraine Crisis
PLEASE … MORE HOMES ARE DESPERATELY NEEDED IN THE SOLIHULL AREA
£40,000 TARGET ACHIEVED ... ... NOW, LET'S GO FOR £45,000 !!!
THANK YOU TO EVERYONE FOR YOUR INCREDIBLE SUPPORT 
1 SEPTEMBER 2022 - MAYBE THE TIDE IS TURNING; BUT, A LONG ROAD LIES AHEAD ... ... ...
PLEASE … MORE HOMES ARE DESPERATELY NEEDED IN THE SOLIHULL AREA
UPDATE - 16 SEPTEMBER 2022
I have just returned from Ukraine, my seventh visit.
Over the next few days, I will update the text of this GoFundMe platform.
I know what I have written is long; it is as seen through my own eyes; it is harrowing and it is heart-breaking; please take time to read it.
INTRODUCTION
At the start of this crisis, Hungarian friends of mine drove to Tiszabecs, a crossing on the Hungary-Ukraine border; the scenes were chaotic, relying solely on volunteer help; they helped for three days until exhaustion took hold. They went home for a day before, on Friday 4 March 2022, heading to Budapest Keleti International Railway Station; we spoke in a video call; the scenes were the most appalling, the most harrowing, the most hearty-breaking I have witnessed - ever. (The 'profile' photo is Keleti ticket office on Friday 4 March 2022).
The platforms were overflowing with women, their children and elderly relatives, many completely traumatised, penniless; the fear of never seeing their loved ones again; the trauma of no money. They were stranded, unable to even buy a train ticket; most didn't want to remain in Hungary but to reach another part of Europe where they may have family or friends. The three of us were too upset to talk. Pictured below; Keleti International Railway Station:
So, we spoke at midnight when they returned home; I said I ('we') want to help; 'how'; my friends response was 'cash, cash, cash'; there was no organisation; no food, no water, no free toilet; nothing. Whilst aid agencies often do an extraordinary job and individuals help in ways that are inspirational, we sometimes fall into the trap of giving what we think people need as opposed to what people actually need. On the morning of Saturday 5 March 2022, I went to my local Prontaprint; they printed me 150 letters free of charge (thank you Dave; thank you Ruth); I placed them through nearby letterboxes. I could never have imagined a dawn was breaking …
As I write this, just six weeks later (16 April 2022), the fund stands at an extraordinary ...
£ 1 5 , 9 0 9 : 6 9 
As I amend this, just nine weeks later (9 May 2022), the fund stands at an even more extraordinary ...
£ 3 0 , 7 3 3 : 0 0
Thank you to everyone for your incredible, unbelievable, support and generosity; sadly, this money is already spent or committed; if you can, please continue to support the work we do. (At my own expense), I have travelled to Hungary (three times); I have travelled into Ukraine (three times) taking with me what our money has paid for; I have seen with my own eyes. I returned to Hungary (and Ukraine, twice) again on Tuesday 28 June 2022 to further continue our project work; frankly, this time I was shocked.
Mr Nikolay - the name. I am asked by many people - here in England, in Hungary and in Ukraine – for the name of our 'Group'; saying it's Knowle and Dorridge and the broader community in Warwickshire, Worcestershire and The West Midlands doesn't really cut it !!! In Hungary, they all call me 'Mr Nikolay'; I thought this gave everything an identity; at the time, I couldn't think of anything else. I hope it's a name that I, you, we, they can all stand behind.
BACKGROUND
My Father-in-Law was Ukrainian; we have family living in Ukraine; I hold Hungarian residency; I have contacts on the ground in Hungary and, in Ukraine itself. 
I have personally travelled four times to Uzhhorod in Ukraine with food and essential supplies, taking them to the 'Charitable Foundation Saint George Caritas' run by the remarkable Father Peter; on Friday 8 April 2022, I travelled back to Birmingham with 'our' first refugee family, now safely placed in their new home in Knowle; on Friday 6 May 2022 the new 'Learning Without Borders School' (see below) opened in Budapest, funded by our community. We will move forward together, helping where we can; please support the work we do.
I could write for ever; I write notes as I go along, trying to capture, in the moment, what I see, my mood and my emotions; I look back and many of them are upsetting. Allow me, please, to share some of them that try to encapsulate the scenes as seen through my own eyes; long, I know, but many people have kindly said they help to form an understanding.
LETTER FROM BUDAPEST, HUNGARY - SUNDAY 3 APRIL 2022
I wrote the below during the evening of Sunday 3 April 2022 before our first food and aid run into Ukraine the following day:
I begin by wiping the tear that's just fallen to the page; one of a thousand this week. 
On Monday, I arrived in Budapest to see with my own eyes, hoping to help. By 9:30 hrs on Tuesday morning my illusions were shattered; my first meeting was with my friend Mariann, with Enikő from Migration Aid and with Sylviia (read on). The pictures you see on the TV are shocking enough; when you sit here in Budapest and ask a Ukrainian family to tell their story over a coffee, it completely tears you (and them) apart. Never, could I have properly prepared for what lay ahead.
The Hungarian authorities are doing a magnificent job having created a vast transit camp ('BOK', next to the Puskás Aréna) that offers everything. Trains now stop at Kőbánya to the north of Budapest with refugees encouraged to pass through the transit camp; many do but, many still go directly to Keleti International Railway Station (often for onward travel to a more distant destination). Sadly, since the Election in early April, the BOK facility is on the slide. Pictured below; BOK Transit Facility, Budapest:
But, the law in some onward countries is such that passengers must have a seat reservation (3 Euros); the vast majority of refugees have no money. And, the toilet at Keleti costs 200 forints (40p - it's gone up to 250 forints today) but, again, they have no money. And, the water standpipe doesn't always work so there is no water. And, there's no food so they are hungry. They only get these items if they pass through the transit camp; approximately 30% don't; the living nightmare deepens.
On Wednesday, I decided to be a surrogate Ukrainian refugee and to follow the exact path the refugees take into Budapest; I wanted to see with my own eyes. So, I took the transit bus from Keleti and entered the transit camp as a refugee. I hope not to be doing the journey again any time soon; for a start, the smell on the bus; many arriving are so poor and so uneducated they have no idea how to use a flush toilet.
Estimates say over four million people have already fled Ukraine; nearly 500,000 to Hungary; the initial daily surge has subsided; numbers have become more manageable. But, that only tells a small part of the story. My Ukrainian connections tell me possibly as many as NINE MILLION more have fled to the west of Ukraine away from the likes of Mariupol and Kharkiv; they hope to remain in their homeland; but, should Putin move west, another unthinkable human catastrophe awaits to unfold.
On Thursday, we found Liza and Léna, two completely traumatised Ukrainian women, one with a young son, Maxim, plus SEVENTEEN animals (they had an animal sanctuary); they had not a single penny. The husband of one of the ladies (the father of the son) had been shot dead defending Kiev; what can you do, what can you say. The 'system' doesn't provide for such situations; the group wanted to head to Montenegro for sanctuary; together, we hired a minibus and driver and sent them on their way.
Later in the afternoon, I met Edit, a Hungarian lady who has a small table in the Keleti foyer; the station only allows her to stay there because she's been there from the very first day. She and her friends work 02:00 hrs to 09:00 hrs and 12:00 hrs to 21:00 hrs every day providing free sandwiches and water and 200 forint coins for the toilets.
They do this from their own pockets or from friends; they spend 70,000 forints every day (about £150). How she gets the money, I have no idea because they are clearly poor Hungarian people. Yesterday (Saturday 2 April 2022) she spent 50,500 forints (about £120; 102 people) on helping people have access to the toilets at Keleti; I know this because I have the receipt. Pictured below; provisions provided by our community at Keleti International Railway Station; Thursday 7 May 2022:
And, so to Silviia; I found our first Ukrainian family; Mum and Dad and 4 year old son. Their UK visas were granted on the Tuesday; I bought their plane tickets on the Wednesday; (they came home to Solihull with me on Friday 8 April 2022) to begin a new life with their wonderful host family in Knowle. Maybe please reflect for a few moments. Packed in one hour, they fled to the border; their life possessions in one suitcase; their entire life savings in their pockets. They left their dog, they said goodbye (yes, it could be goodbye) to their parents and their friends. I promise you, our community will welcome Serhii, Little Serhii and Sylviia with open arms; they are an absolute delight.
LETTER FROM UZHHOROD, UKRAINE - MONDAY 4 APRIL 2022
On Monday 4 April 2022, I went into Ukraine for the first time; I wrote the below in The Priests' House in Uzhhorod, Ukraine before retiring to bed:
This evening is the most extraordinary night I have ever lived; world without end. After delivering food and emergency provisions in Uzhhorod in Ukraine, we had dinner in The Priests' House; Peter the Priest then took us for a walk around this absolutely beautiful city; we came home, he gave us a bottle of home-made Ukrainian wine.
Gyuri (Peter's brother) and I opened it and, as we began to drink, the air raid sirens started to scream; the missiles soared overhead; a black Tanzanian lady came from her room; a refugee lady who has nothing but insisted we ate her cakes.
A dichotomy of complete confusion. 
When silence returned, Peter the Priest said, come, I will say English mass in the small chapel. I went with Gyuri; the small chapel has four seats; Peter began 'Blessed Brother, Blessed Nick'. 
As Peter took the wine at the end of mass, the air raid sirens exploded again; 'Nick, this mass is for you and the people in your community who have given for our community'. 
Tonight is a night that will remain with me for ever.
Pictured below; our second food and aid delivery to Uzhhorod; Monday 25 April 2022:
UZHHOROD HOSPITAL VISIT - WEDNESDAY 4 MAY 2022
I wrote this immediately I returned to the car after visiting some of the sick and some of the soldiers in Uzhhorod Hospital; I have edited it a little; if you would like to know why, please send a message via the 'CONTACT' button below:
... o-h m-y G-o-d
... I thought I'd see it all; until today
... it is just beyond words; the doctors in the hospital xxx xxxxx xxxxxxxx xx xxx xxx xxxx xxx xxxxxx to patch up the broken bodies
... you talk to the mentally scarred who look at you but don't see you
... you fear walking around the next corner
... ... ... the first bomb dropped in this region yesterday at Volovets ... ... ...
Pictured below, Uzhhorod Hospital: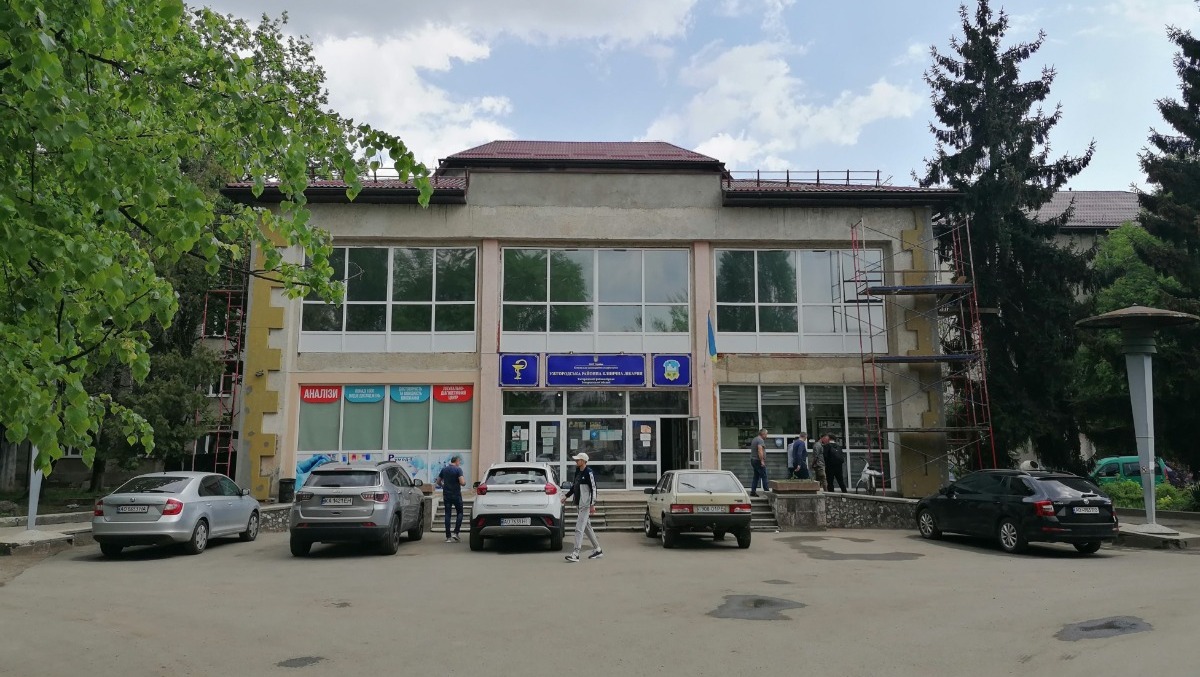 LEARNING WITHOUT BORDERS SCHOOL, BUDAPEST - FRIDAY 6 MAY 2022
This 'school' (more properly a 'Day Care Centre' to comply with Hungarian legislation) is situated on the fifth floor of a building occupied by 'Obi' (the equivalent of B&Q); they have donated the space free of charge; the furniture is being donated, much of it by Ikea. The walls have been beautifully decorated by Ukrainian refugee artists.
On Friday 22 April 2022, Migration Aid (Hungary) invited me to a meeting; they outlined their plans for the 'school'; 15 Ukrainian teachers, teaching 80 Ukrainian children, in Ukrainian; they needed funding. Notwithstanding the enormity of the project (18,000,000 forints; £40,000), I am humbled beyond words to have been asked; I had little option but to say 'yes'; it is, of course, a massive statement about what our community has already delivered in Budapest (and, in Uzhhorod in Ukraine). The centre opened to the children on Tuesday, 26 April 2022; the 'official opening' was on Friday 6 May 2022. Initially, this is a short term project to the end of the school year in June 2022 that directly benefits Ukrainian refugees. 
The aims of the 'school' are:   
To provide short term paid employment for 15 refugee Ukrainian teachers
To provide a structured learning environment for 80 refugee Ukrainian children
To provide proper meals and nourishment for the Ukrainian children
To enable Ukrainian mothers to take part-time day jobs whilst their children learn
CONCLUSION
If you have arrived at this point, thank you for reading. I wanted to keep this to one page; I couldn't; it could have been 101 pages; I can assure you I could easily have made the read even more heart wrenching. If you are able to, please donate to help us continue the work we have started; some of our projects will continue for long after sense prevails. I return to Hungary on Tuesday 28 June 2022 with a further food and essential aid journey to Uzhhorod in Ukraine planned for early July.
You have my unequivocal assurance that not one penny of your money has been, nor will be wasted nor spent on 'central overheads'; every penny has been spent as if it were my own. Never did I think I would see sights like I have; at times, I feel completely traumatised and utterly helpless; God alone knows how the fleeing millions must feel. Everywhere, the pain and the anguish is simply horrific. 
The situation is absolutely scandalous; in more than six weeks in Budapest and in Ukraine I've truly not seen one banner, not one logo, not one word, not one stand representing any one of the 'UK' aid agencies; nor one single English speaking (ie from the United Kingdom) aid worker. Where are the countless millions of pounds that have been raised in the United Kingdom ??? For sure, the agencies must be somewhere, but Lord knows where they are. 
Of course, the money we have together raised not even scratches the surface; but we are there, and we are active on the ground. Some of the projects we support are:
In the early day, buying train and bus tickets and supporting translators
In the early days, providing toilets and hot water at Keleti International Railway Station
Every day, funding Edit to provide sandwiches, food and water at Keleti
Every day, paying 250 forints (60p) per refugee for them to use the toilets at Keleti
We have part funded and help established the 'Baby Mama' facility in 'The BOK' 
Food and aid runs to 'Charitable Foundation Saint George Caritas' in Uzhhorod, Ukraine
We fund the 'Learning Without Borders' school in Budapest until June 2022
Sourcing UK Sponsor Hosts and applying for UK visas under the 'Homes for Ukraine' scheme
If you think you, your relatives, your friends, your workplace, your connections can help in any way, please be free to contact me or invite them to contact me. Maybe host a family and help them rebuild their shattered lives; maybe organise a coffee morning; maybe organise a quiz night in your local pub; maybe organise a sponsored walk; maybe ... ... ... ... ...; do, please contact me via the 'CONTACT' button (below) if you can help.
What I'd really like to say best remain unspoken … … … one despot; 44 million lives.
But, even so, amongst all this rubble, you stumble across rays of sunshine that illuminate the darkness; for sure, Ukraine will rise again. 
Thank you; best wishes, Nick (Mr. Nikolay !!!)
Offline Donation - Cash Donation (AOD) 

Offline Donation - Bank Transfer (JU)