Mourning the loss of Brinley Grace
As many of you know our brother Patrick and his wonderful wife Stacey recently welcomed a beautiful baby girl into their lives-- Brinley Grace Rangel. During the pregnancy they were made aware of some serious difficulties. With Hypoplastic left heart syndrome and Trisomy 18, Brinley was only given a 2% chance of survival.
Despite the odds,Brinley Grace made her entrance into the world on March 27th at 7:22pm. The doctor's did not expect her to make it through the delivery. She surpassed everyone's expectations and lived 22 beautiful hours. Brinley returned to Our Heavenly Father around 4:55pm on March 28th and awaits her family on this side of eternity.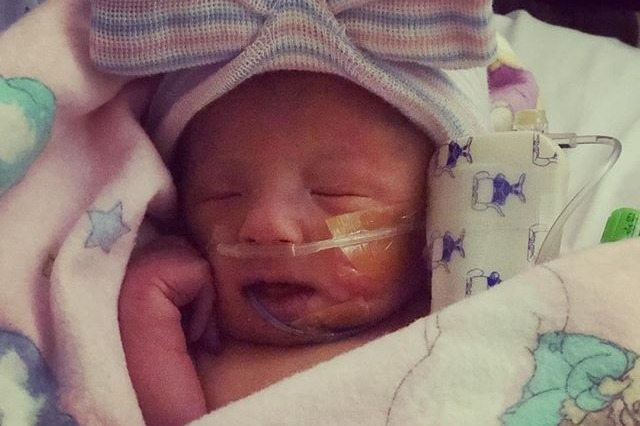 Stacey and Patrick believe God has a much bigger job for Brinley to complete in Heaven. They said "Brinley is a little piece of us that God wanted to take up to Heaven. If that's what God needs, we think that's very special." They feel honored to have been chosen to devote their baby girl to God. As a parent, our job is to have our children live the best life they can and ultimately enter Heaven. Stacey and Patrick feel they have completed their job and believe Brinley was too beautiful for this earth.
Many of you have reached out about how you can help them in this time. Patrick and Stacey are surrounded by loved ones in the area who are helping cover meals and day-to-day duties. Unfortunately, as many of us know, finances often become another cross to carry during a tragedy. From unpaid time off to hospital bills they have a lot ahead of them financially. If you feel so compelled by generosity, this gofundme was established by us, Patrick's siblings, to help lift the burdens that await them.
Thank you to EVERYONE who have kept our family in your hearts. Those of you from our family, the police community, and friends...your love has been felt.There are literally people from around the globe offering their prayers and we have felt those graces coming!
Become the first supporter
Your donation matters
See all
Organizer and beneficiary
Stephanie O'Connell
Organizer
Steubenville, OH
Patrick Rangel
Beneficiary