Mo's Story: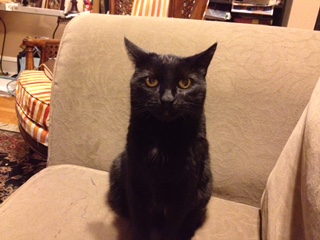 Moses (Mo) the Cat survived 55 days without food or water, and he needs your help!
He came into our lives in January 2015 via a friend of ours, who could no longer care for him because of allergies. Mo is a soft, black cat with striking yellow eyes; a round, soft tummy; and the softest, biggest paws ever. Having kittysat for Mo in the past, we knew that we could provide Mo's forever home. 
On December 22, 2015, Mo went missing from his house, likely out the front door of the apartment. Christmas Day was spent searching for him inside and around the neighborhood. Flyers went up. Neighbors were contacted. Local vets were called. But still there was no Mo. To help us sleep at night, we had to believe that some nice family had found Mo, and that he was comfortable on someone else's bed, curled up next to his new owner's cheek.
On February 16, 2016, we received a call from our neighbor saying that Mo had been spotted in the apartment building. We rushed home and continued searching, confident that our friendly little boy was somewhere in the house. Finally, we found him in a crawl space between two floors of the house. Emaciated and dehydrated, Mo had finally been found after 55 days. 55 incredibly long and painful days. Nearly dead, we rushed Mo to the emergency vet, where he immediately entered the ICU.
Prior to his "adventure," Mo weighed a little over 10 lbs. When we found him, Mo only weighed 3.3 lbs. His body temperature was dangerously low. He had large abscesses on two arms. He couldn't hold his head up because he was so weak. The immediate concerns were to 1) get his body temperature up and 2) get fluids into his little body.
Why Mo Needs Your Help:
As of February 20, when we set up this GoFundMe page, Mo's recovery is steady, although there are little setbacks here and there. The vet is optimistic about Mo's recovery, and we are committed to continuing to provide Mo the very best treatment he can have. While the vet bills will continue to grow, we are requesting $2,500 from fellow cat- and pet-lovers to help us offset the expenses, which likely will run into the $8,000s.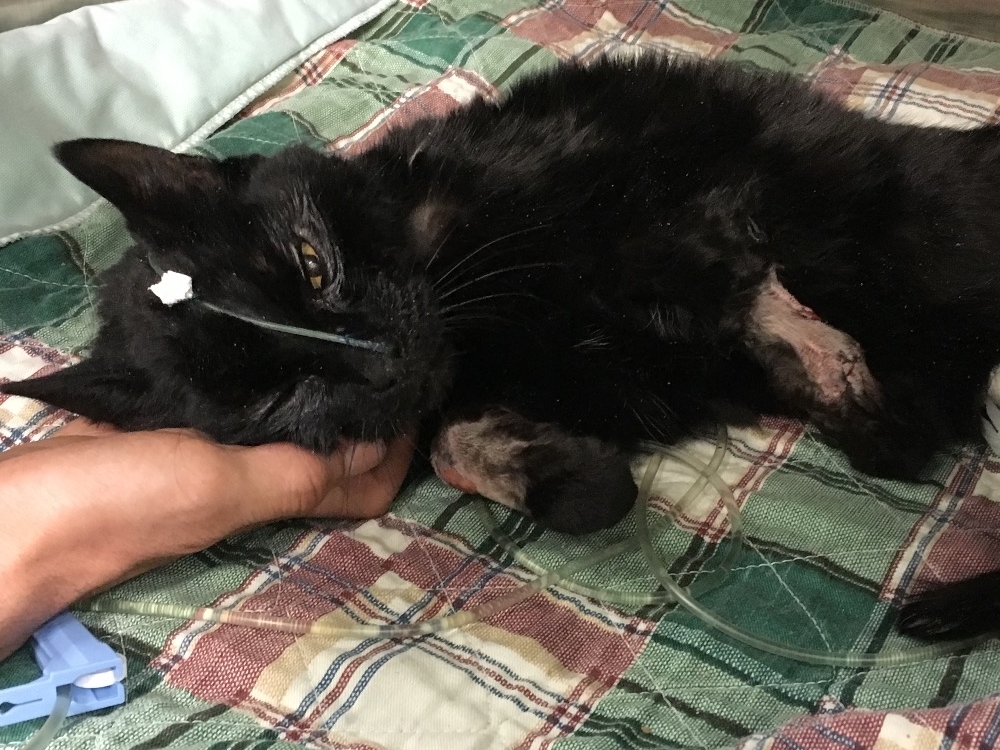 All of the donations we receive will go toward Mo's vet bills. We already have paid the $5,800 deposit (the "lower-end" estimate of Mo's vet bills), and we know that the expenses will continue to rise (e.g. feeding tubes (seen above), oxygen tubes, pain medications, X-rays, etc...). We can use your donations as soon as possible, in order to pay the vet.
What We Can Offer:
We will continue to post photos and updates about Mo's recovery via Facebook and GoFundMe. Once he is released from the vet's care, he will come home to a private room (away from his other cat siblings for now) where we can continue to care for him.
So What?
We debated about whether to launch a GoFundMe campaign: "Will people think we're bad pet parents because Mo got out or because we couldn't find him?" Ultimately, though, Mo is a miracle. We've all heard those urban legends of pets who've gone missing for weeks or months and then suddenly turn up again. For any pet parent who's lost a pet, these stories are what we hold onto in the hopes that our little baby will show up on the doorstep. Please let Mo be your miracle story, and you can help contribute to Mo's happy ending by contributing to Mo's recovery. 
Your donation - no matter what size - means the world to us, Mo's parents, but also to other pet parents who face these critical incidences when our faith is shaken and our worlds are turned upside-down. Please contribute to Mo's campaign and to share with the world that cat- or pet-lovers have the biggest hearts in the world.
-Mo's Parents