#WALKING2MOROCCO - The Autism Care & Share Shop
Assalamu alaikum wa rahmatullahi wa barakatuh & Hello Everyone

As you may remember the goal of Autism's Dunya
is to improve the quality of life of children with autism and their families by offering multidisciplinary assistance.
This multidisciplinary help includes tailor-made therapies, workshops, lectures, etc.
All this help is made possible in part by international autism experts who voluntarily devote their time to this. (below this text you can read about our original project)
The projects of Autism's Dunya have also been affected by covid-19, as a result of which we have been looking for other long-term solutions to continue to support and relieve our autism families.
One of these solutions is to set up The first Autism Care & Share Center in Morocco.
The primary purpose of this store is to provide a free loan service of autism-related aids
Here you have to think of educational and therapeutic materials, children's wheelchairs, shower/toilet chairs, and much more.
The second goal of this store is to provide factual information about autism in order to increase awareness among people who are already involved, but also everyone outside. Hopefully increasing awareness will lead to a reduction in the wrong treatment (mistreatment) of children and adults with autism.
We also want to make it possible in the future to participate in live workshops via the care shop and, for example, to book a session with international autism professional.

Please could you donate to the autism's Dunya Care & Share Center Morocco so we can keep on helping these families and many more!!

AUTISM'S DUNYA EARLY INTERVENTION PARENTING PROGRAM: 

We are in our third year of running Autism's Dunya, and it humbly remains a "pilot" program as we are genuinely building this program from the ground up, with limited means and personnel.

Our project remains 100% volunteer-based.
There is not a single member of paid staff. 
This is a beautiful, but difficult truth. 

Professionals and students from over 25 nations have participated in the project so far comprising 80% of our team, with 20% of locals also voluntarily (and incredibly) offering us their care and attention, ranging from cooking and cleaning to transport and translation.

Every volunteer who offers their education, profession, time and energy, does so with no compensation; and even fund their own travel to and from Morocco from all over the world.  Upon arrival, however, we must offer accommodation, food, and local transport to these volunteers in return for their service. 

We have been offered a simple school venue here by the town of Larache, but everything else comes from our own (and rather empty) pockets. 

We must also provide all sensory music and toys for our student's cognitive exercises, training materials for their families, and the administrative paper, printers, notebooks, photography/videography, etc. to make that possible.




It is with the genuine intention to be of service here in Morocco, that we humbly ask for donations from an international community to make all of this possible. 

Some people have time to spare, 
others have money. 
we are genuinely grateful for both,
they are truly of equal importance.

The level of selflessness one is able to see and experience on a daily basis at our center is truly awe inspiring. 

_____

PARENT TESTIMONIALS: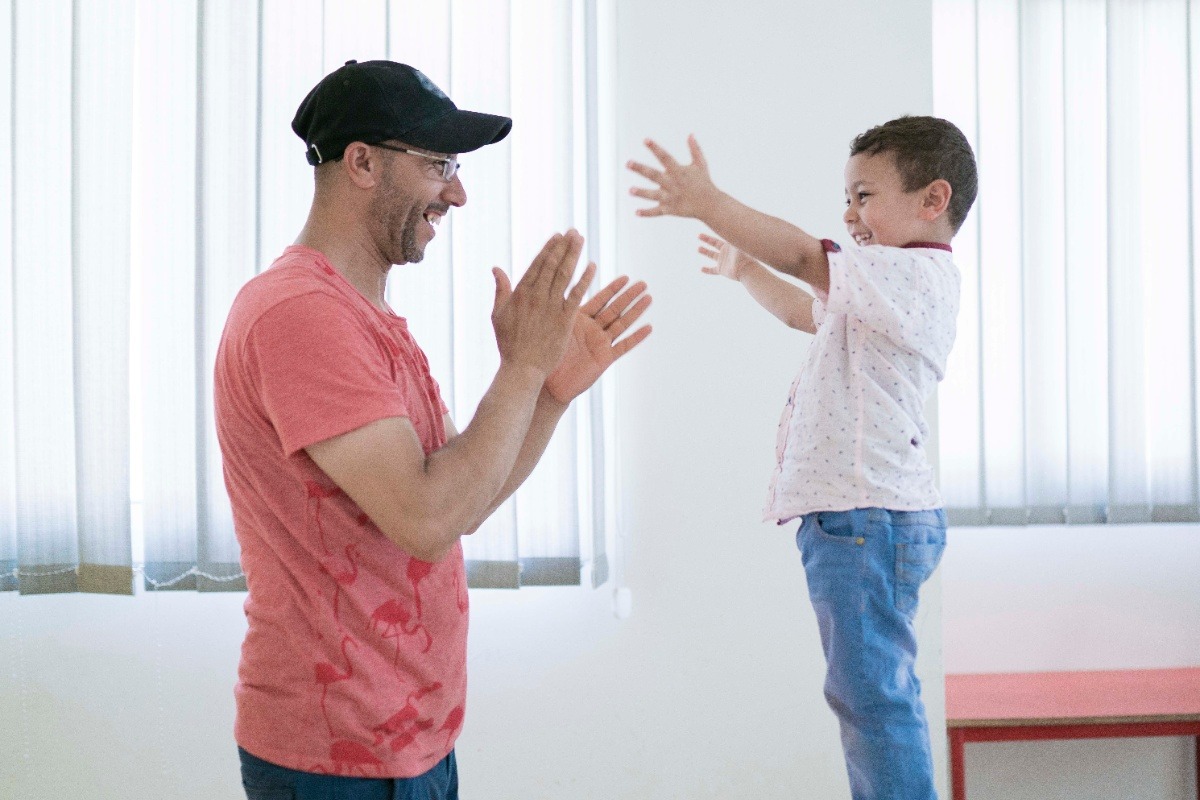 "Before we came here I felt I could not get in touch with my son. Since Autism's Dunya I can now reach him. Mehdi was in the habit of pulling on something if he wanted something. Nowadays he uses the PECS (Picture Exchange Communication System). I apply all the tips I have received here at home. At home, in Mehdi's natural environment, I really see how much progress he is making. I work from ten in the evening until ten in the morning and then go straight to Autism's Dunya. This means that I have had little or no sleep since we participated in the project, but that is not a problem. I do everything for my son and I am so very grateful that everyone here receives us with love and I see Mehdi making progress, little by little."
Abdelillah : father of Mehdi



"First of all, since Autism's Dunya started, I feel much less alone. I am so grateful that I have the opportunity to meet other mothers in similar situations. That gives me the feeling that my daughter and I are being understood. Both the volunteers and the other parents are very positive and there is such a nice atmosphere. That is not always the case when you have a child who is 'different' here in Morocco."
Khadija : mother of Hajar




"Several doctors told me that nothing would end up with my son. I was convinced that it was better to keep Oubay indoors. The nerves were high when we first came to Autism's Dunya last year. Because of the negativity of the doctors, I was afraid that my son would not be able to learn anything. I quickly found that I was wrongly worried: Autism's Dunya immediately taught us during the first session that Oubay is certainly capable of learning and developing himself. Autism's Dunya is a life-changing experience for our family. "
Lemya : mother of Oubey
_______

HISTORY OF AUTISM'S DUNYA: 

Our pilot project Autism's Dunya is an Early Intervention Parent Training Program for parents that have a young child on the Autism spectrum in Morocco. 

We source global health professionals to provide intensive therapy for the children and train parents in early intervention methods that otherwise would be locally unavailable to them.

I myself am the mother of a child on the spectrum and have learned and endured the lack of information and care available for my child first hand.

When my son was 2 years old I began to notice he was regressing in his development, he was no longer speaking to me before becoming completely non-verbal. I knew something was wrong, so I reached out to the medical professionals.

While waiting for a formal response I spent months reading, researching, and exploring myself. I realized that in both my present community in Europe and my former community in Africa there was next to no targeted help, therapy, or training available for Autism.

As a result, I reached out to global professional volunteers who have come to my home and spent time with me and my son and given me a global perspective on Autism offering me invaluable hands-on experience in therapy methods.

It was 20 long months dealing with medical professionals before my son was diagnosed with Autism. I have since learned those 20 precious months of silence and inaction were incredibly damaging, as he should have been receiving a much broader span of therapy during this time. 

One of the most penetrating statements in this entire process came at that very time, from the local Early Intervention Psychologist, who looked me in the face and said "why bother even diagnosing a child, as there is no specialized treatment available anyway…"   

In many countries like Morocco, where adequate interventions are scarce or even nonexistent, there are common and prevalent misconceptions that run rampant and can cause great harm.

In smaller towns, we have learned of parents literally chaining their children in the home to keep them under control, as well as heavily overmedicating them into sleep and drowsy state, and even being brought to an "Imam" to endure physical violence due to a genuine concern that they are possessed. 

This equal parts frustrating and heart-breaking information lead me towards the creation of Autism's Dunya, our young non-profit organization based on providing education and care towards local children here in Morocco.

I began reaching out to other parents who were experiencing the same issues that I have gone through, sharing what my family has learned ourselves, as well as what we have achieved with our son´s education and therapy from these international volunteers.

We received so much local and international attention and interest that it was obvious we need to grow our offering from its current state as a pilot project.

We are passionate and committed to keeping this process/project going.





also in case you'd like to volunteer with us!:

https://www.workaway.info/754553256688-en.html