Every community thrives when it takes care of each other. That includes its people and animal residents.  Morgan's Cat Cafe focus is saving our community's cats from needless suffering and bringing the people of our community together in one place to celebrate those efforts. Rather than starting another traditional cat shelter, we have launched a new concept that combines a traditional coffee shop concept with a cat adoption center. That is how
Morgan's Cat Cafe
was born.



Morgan's Cat Cafe
is inspired by a little girl named Morgan who lives in a beautiful town called Red Hook, NY. She has been helping the community's orphaned kittens since she was 3 years old. At 9, Morgan possesses cat knowledge beyond her years and is a pro at bottle feeding and caring for orphaned newborn kittens.
With an expected opening date of March 1, 2016 Morgan's Cat Cafe
will be a very special destination to enjoy gourmet coffee, tea, and baked goods, while hanging out with  healthy adoptable kittens and cats.
(Morgan age 6 with newborn kittens)
The kittens and cats who live at the cafe will NOT be in cages. They will enjoy life as cats, roaming, playing, and climbing with custom cat trees, beds, and fun furniture.
We have a location picked out at 35 West Market Street, Suite 1, in Red Hook, NY 12571. We are a legal not for profit entity in the state of NY. Our nonprofit status is in process- so your donations are tax deductible! We have already been in contact with the Board of Health and Zoning department and we do not foresee any obstacles for approval.
All we need now is the funds to set up and open the doors. 
(Morgan bottle feeding)
Please help our team make this dream a reality for cats and our community.
The money raised will be used to pay for the following:
Building Materials, Signage, Licensing, Furniture, Legal Expenses, the Cat Enclosure, Cafe Equipment, POS, Accounting Services, Merchandise (art, t shirts, mugs, etc) It will also be used to cover all other expenses related to a successful launch.
We will also accept "in kind" donations such as services that benefit us. Product donations such as cat food, litter, office supplies, and more will be important too. As we get close to opening we will post a Wish List on our website. We will also be recruiting more volunteers. So if you want to help in addition to donating money, please email us at [email redacted]
(Morgan nurturing an orphaned newborn with a pacifier)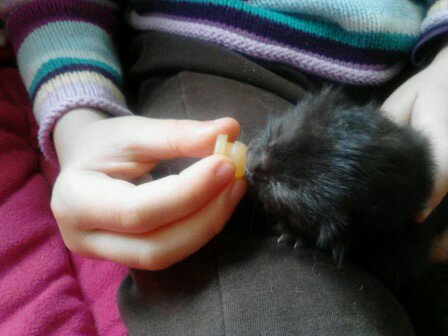 Our kittens and cats will initially come from local ASPCA organizations and independent cat rescue groups. Our own volunteers are actively rescuing now and will utilize the cafe for adoption efforts.  All of the kittens shown here with Morgan were rescues from Red Hook and there are thousands more that need our help.
(Morgan with a 3 day old orphan)
Our Team is a dedicated group of experts with years of business experience and animal rescue knowledge.
Our President Bobbi Jo Forte, Morgan's mom, has 20 years of animal rescue and business management experience.
Our Vice President Bonnie Schweppe is an avid animal rescuer, West Point graduate, and business owner.
The rest of our team includes interior designers, artists, photographers, animal care experts, cafe managers, cat foster parents, and more.
With
Morgan's Cat Cafe
we expect to help hundreds of cats each year find forever homes. Our rescue and adoption efforts are important to the lives of homeless kittens and cats.
Please help us make this dream come true-for the cats and for the children who will come to Morgan's Cat Cafe and leave knowing that any dream is possible.
(Morgan with newborn orphan- age 8)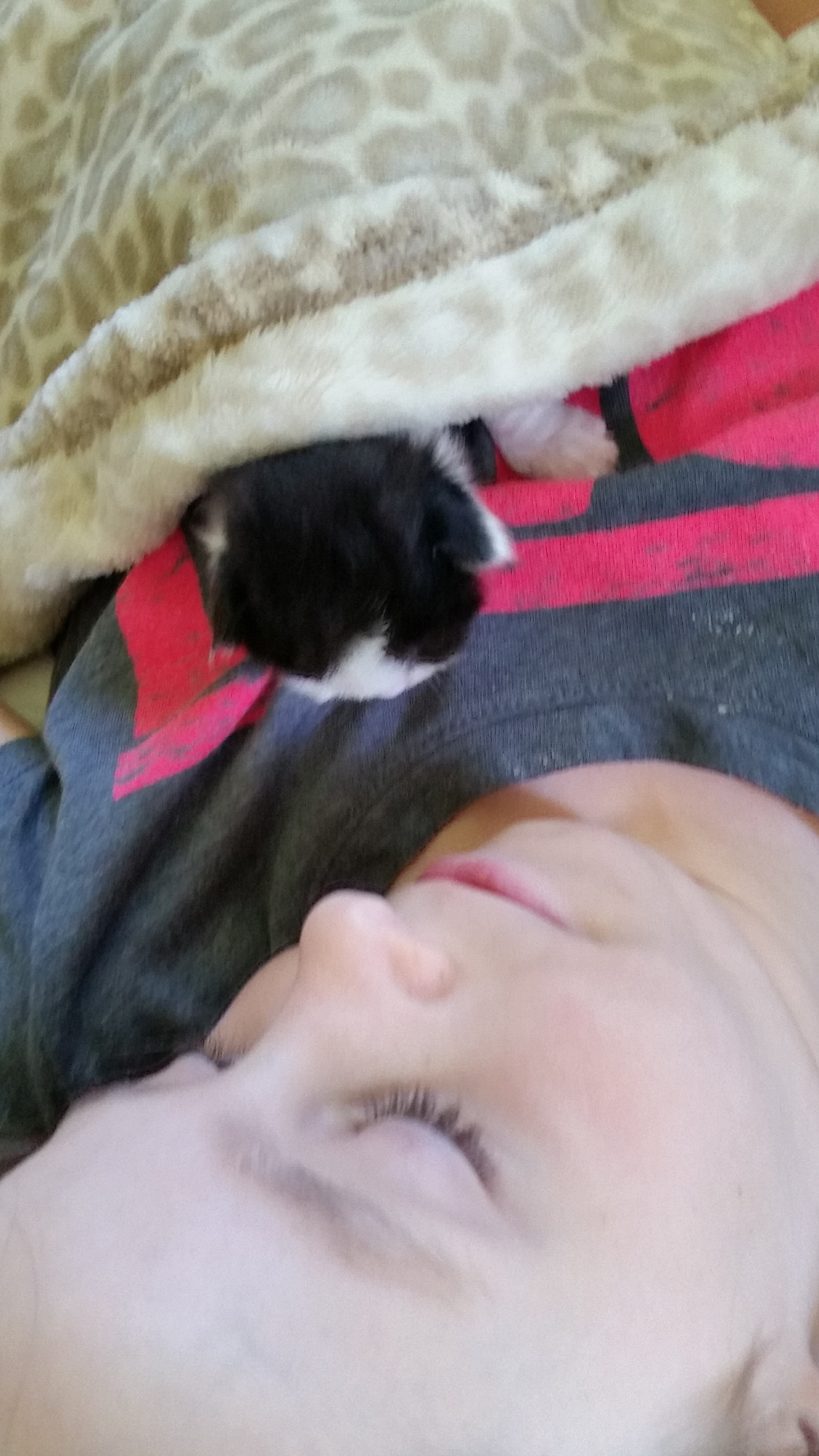 (Morgan age 5- helping an abandoned cat at a feral colony)
(Morgan age 8 feeding 4 orphans)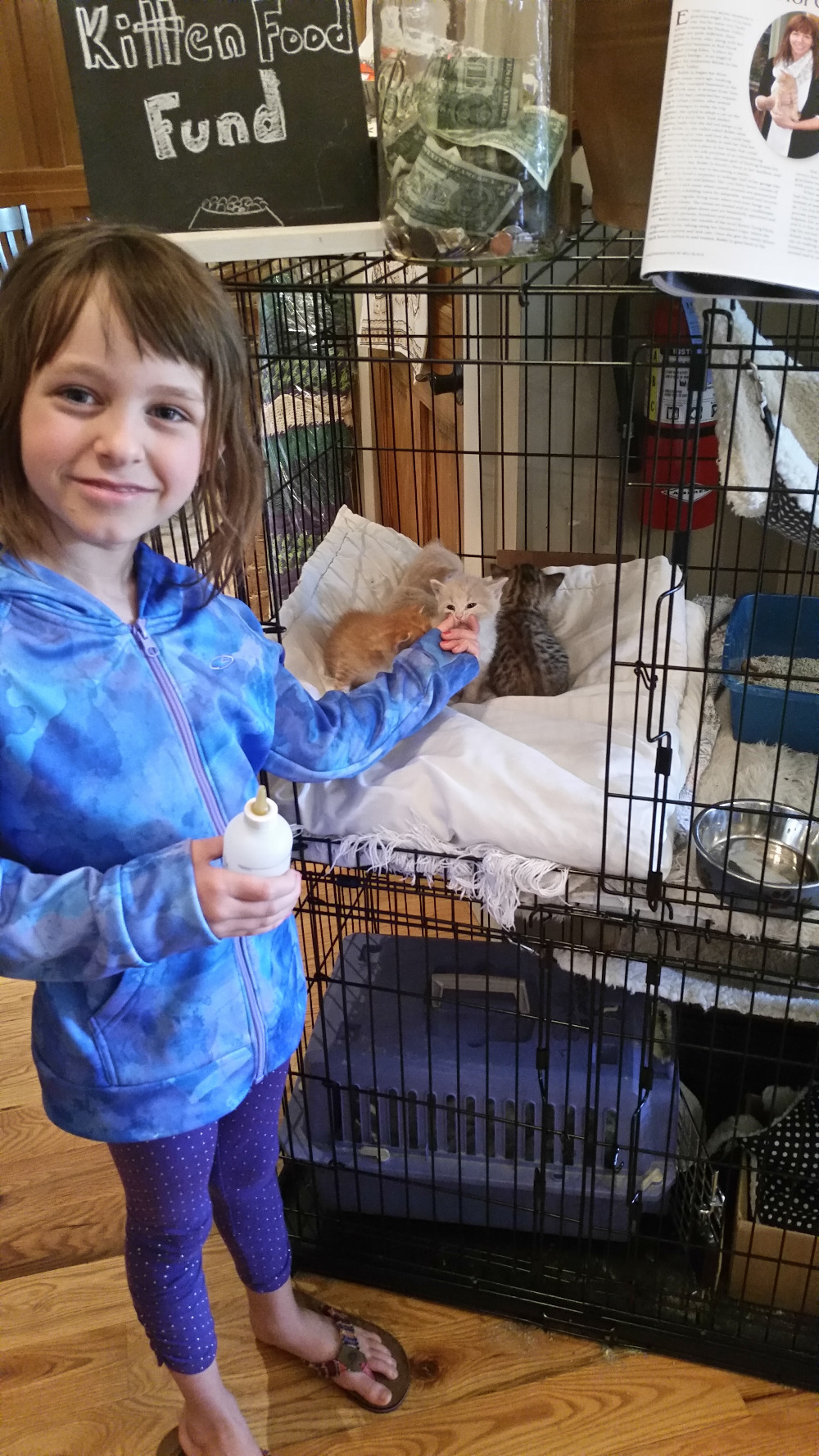 Please share this campaign with family and friends and help us achieve the goal of opening the FIRST Cat Cafe in the Hudson Valley!
Sincerely,
Our Team
Bobbi Jo Forte-President
Morgan Forte-Inspiration
Bonnie Schweppe-VP
Christina Baal-Artist
Sheri Jacobs-Treasurer
Andrew Halpern-Photographer
Donna Pinelli-Volunteer
Sirena Johnson-Volunteer
Margrit Lohrer-Inspires us daily from Heaven