More time for Mum - Help Geraldine battle liver Cancer
Geraldine – "Mum" – "Nana" - is 64 years old.  Mum started the year with no previous underlying physical health conditions to report of.  Life has always had its ups and downs, same as everyone else, and as a family we have had to tackle cancer before when Dad battled with Stage 4 bowel cancer.
2020 has been a tough year for everyone and unfortunately our family was rocked by the devastating news that Mum has cancer – Ocular Melanoma – a very rare form that starts in the eye (it only affects about 6 in 1 million people).  It has now spread to her liver and so she needs to start life prolonging treatment.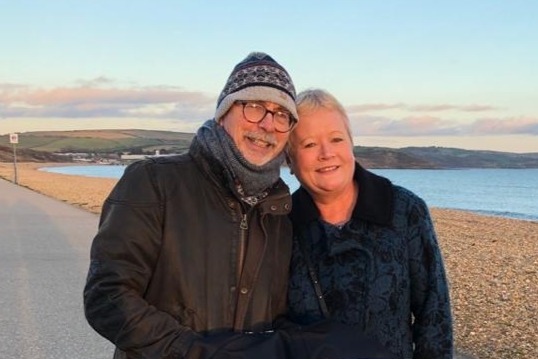 Our Story February 2020 – Discovery
In February Mum noticed that her sight had become blurred in a very short period of time.  She went to the optician who referred her to a specialist.  Unfortunately, they found a very large tumour that had developed hidden at the back of her eye.  If it had grown anywhere else on the eye, it would have been visible a long time ago, but it wasn't to be.  It was "just bad luck" that the cancer had been allowed to fester in a place that was not visible, without any obvious sign or symptoms; until it had literally grown so big it impacted on her sight. 
"Just bad luck". 
Can't remember who first said that, but it's a phrase everyone was going to soon hear a lot more .....
March 2020 – Eye Removal & Covid
Mum and Dad waited for an emergency specialist appointment and during this time Covid-19 landed.  Despite the country being in lockdown, given the urgency of the situation, Mum and Dad went to a hospital hundreds of miles away from friends and family. 
Unfortunately, due to the size of the tumour, options were limited.  So Mum took the brave decision to play the odds and follow the advice that could save her life.  In this instance, her best option was to have her right eye removed and hopefully take the tumour with it.   
First, Mum needed to wait for an operating slot to open up.  She also needed to wait for the surgeon to clarify governmental advice that the procedure could be carried out given the Covid situation.   So they waited in a locked down city for Mum to get her eye taken out. 
Mum got the green light (emergency life saving surgery was allowed) and the eye came out.  Given temporary Covid guidelines, she was released after just 3 days in hospital.  She came home with a temporary plastic retainer in her eye socket (whilst she waited for a prosthetic eye) and only some of the pain relieving drugs that she needed (as there were shortages due to Covid).  She was in agony for a few days.  However, Mum was so brave; during this whole process she never complained and just wanted to make sure that everyone else was doing alright.
Ah, the trials and tribulations of having to decide to have your eye removed and waiting for the surgery, all with the added twist of Covid-19 layered on top!  Not to mention then losing your sight in one eye and having to cope with the trauma, all with lockdown meaning there was no hope of help from specialists.  Really wasn't the best timing! 
"Just bad luck" someone said again. 
Still, hopefully that was that. 
May 2020 – Cancer in the Blood
Alas, because the tumour had been allowed to fester out of sight for such a long time, the cancer had spread into Mum's blood.  "Just bad luck".  What's more, the results from the hospital came back and Mum was told that it was the worst case scenario.  She was in the category which had the shortest amount of time left to live.  We were told that in about 3-5 years it would spread – most likely to her liver, and there would be nothing they could do.  She was told to make the most of the years she had left.  Mum being Mum, took this stoically and prepared to do just that, but 2020 was not done with us yet....
June 2020 – A glimmer of hope
Mum was only supposed to have the plastic eye socket retainer for 6 weeks whilst waiting for a new prosthetic eye.  Unfortunately, as the department that provides this service was shut down, Mum spent 16 weeks with the retainer in and it started to cause infection (they are not meant to be worn that long).  So as soon as lockdown restrictions eased and commercial options became available, Mum and Dad took a loan and paid privately for a new prosthetic eye.
It looked amazing!  Mum was really pleased.  She had been too self-conscious to see anyone (even video call) in the last 16 weeks, but she now had her confidence back.  She still had some time on her side so it was time to live life to the full!  And who knows what advancements in treatment could happen over the next 5 years? 
August 2020 – The cancer is in the liver
On August 28th 2020, Mum went to receive the results from her first MRI scan. We were waiting patiently for her to tell us that her liver results were NED ("No Evidence of Disease").  We were hoping to hear these words repeatedly over the next few years as each NED means another 6 cancer free months.
But Mum did not get to hear that news.  Not even once.  "Just bad luck". 
What we had been told could take 5 years happened in just 5 months.  The cancer was in her liver already.  This was some sort of record apparently.  It was not a record Mum "particularly wanted to achieve mind you", she quipped in her usual stoic manner, whilst everyone else sat around the living room in floods of tears!
Anyway, the lesions were too big and too many to even contemplate life saving surgery etc.  "Prolonging life" became the new game.
September 2020 – Options
Mum asked for help and advice from a wonderful support group for sufferers of Ocular Cancer.  The family also took to the internet to upskill themselves in such things and meetings with the specialists were held. 
The options were twofold:
A.  Immunotherapy on the NHS. 
     Chances of successfully prolonging life?   10% (approx).
This treatment is not specifically designed for the cancer Mum has though (hence the poor statistics). In addition, in many cases the treatment causes such severe sickness and side effects that it has to be stopped before completion.
B.   Chemosaturation - currently only available privately in the UK
Chances of successfully prolonging life?  50-62% (approx). 
Cost ?  £40k per session.  6 sessions are normally needed (approximately quarter of a million pounds total). 
The specialist has recommended this option.  Research has shown that Chemosaturation has already been adopted as the standard treatment in some European countries.  It is only at trial stage in this country.  Further, because of Covid, all trials on the NHS have currently been suspended.  Still, because of its success to date, it is hoped that NICE will accredit use of this drug on the NHS in the future.
Conclusion for us?  Timing, timing, timing.  "Just bad luck"
Time to make our own luck
So what is the point of this story?  Well, we want to try and change things:
1.  To raise awareness of Chemosaturation in the hope of it being instated by the NHS (following NICE approval) to help other sufferers.
2.  Mum and Dad have chosen the Chemosaturation treatment option as it has the highest possibility of prolonging her life and has been highly successful in other countries (where it is standard treatment).   To help fund this treatment they are selling their house and moving to a small flat.  We are also going to be running some fundraisers (so watch this space!).  People who know Mum have asked to help out financially as well though, and have suggested using Gofundme.  So here we are, currently trying to raise £40k to pay for one session of treatment.   Any fundraising efforts or donation contribution people may want to make is greatly appreciated.  
Finally, thank you to anyone who has taken the time to read Mum's story and spread the word.   Mum is ready for the fight.  We are ready to support her.  We are all desperate for more time with our Mum, our Nana, our Geraldine.  
It's time to change this year's bad luck....
Tina brumpton Bungee jump 
Fundraising team (4)
Debra Morley 
Organizer
Raised £1,855 from 34 donations
Dorchester, South West England, United Kingdom
Richard's Rabble 
Team member
Raised £2,880 from 15 donations
Jenny Welham 
Team member
Raised £1,504 from 22 donations
#1 fundraising platform

People have raised more money on GoFundMe than anywhere else. Learn more

GoFundMe Guarantee

In the rare case something isn't right, we will work with you to determine if misuse occurred. Learn more

Expert advice, 24/7

Contact us with your questions and we'll answer, day or night. Learn more