Monica Rocha's Juju Bee Home Fund
In recent months my family and I have been hit over and again with tragic events that have shaken us to the core. Our faith has been tested, our foundation cracked, and the near loss of the youngest member of our little family,
Julian "Juju Bee" Rocha
. 
Please allow me to explain;
Beginning
very early  February 6th, I received news that my Dad was rushed to the emergency room and admitted to the hospital, to which shorty after my arrival I learned he would not live much longer. I was devastated. After spending  a few hours at his bedside, I returned home to wake my Juju Bee up and take him to school after which I planned on returning to my dads side.
As he got ready, I sat on the couch and while tears rapidly slid down my face I fell into sleep. Julian, as the ever-loving son that he is, allowed me to rest and caught a ride with a friend.
When I awoke, I was slightly confused and disoriented. I slowly came to awareness and the earlier morning became clear. In a panic I reached for my phone and called the hospital hoping I wasn't too late and hating myself for falling asleep while my daddy was fighting to hang on to his life.
The call was over before it had even began.  My dad Ruben had passed away. His passing, while officially marking me as an adult orphan, has resulted in his reunion with my mother after 23 long years.
Days after
came the news that Little Jessie, my grandson from my 2nd son, might need to have a valve replaced in his heart and he is showing signs of having a syndrome causing developmental delays.
My grandson was born 30 days early with a non functioning kidney and severe hypospadias. He had to have corrective surgery for the severe Hypospadias last year and will be followed by a renal specialist for life. 
He is currently 2 years old and just as much a hellion as his daddy, my son Jessie, was.
Little Jessie will be starting physical therapy to strengthen his legs which will have braces fitted to them so that he may walk on his own within the next week. He will also get genetically tested to identify what, if any, syndrome he might have. For his heart he will undergo  extensive testing to determine what defects there are and what can be done to correct them. 
We are all crossing our fingers and hoping the tests do not find anything but a functional heart full of the love we shower him with. 
Weeks later
with in that same month before the shock of losing my father along with Little Jessie's new findings had fully subsided we were faced with the numbing possibility that my Julian was being rushed to the operating room and there was a very strong chance he might have to have his leg amputated.
Juju was walking home one evening after dark when he was struck on his leg after having been mistaken for another.
We live in an area that has a heavy gang presence. We have lived here for the past 22 years and never had a single gang related problem until that night.
Juju was mistakenly thought to be from a rival gang
by a group of neighborhood boys that were standing around on the sidewalk ahead of him. Julian paid them no mind and continued walking in their direction toward home. Nothing was said by anyone in the group so Juju had no warning before objects started bouncing off the sidewalk and hitting off of 
t was  rocks that the group of boys had begun throwing at him.
things all around him. Rocks were what the group was throwing at Juju until finally striking him on the shin of his right leg. 
Julian started yelling at them tying to get then to stop and at that time it was realized that he was not the person the boys had first thought.
T
he rock had broken skin
, but was not deep, so I cleaned and bandaged it never thinking that this small wound was about to put Juju's life in danger.
One week later I was rushing to the Emergency Room with a 17 year old weak and fever ridden Juju riding next to me struggling keep his eyes open instead of going to sleep
, but once we were there he seemed more awake and I was having second thoughts of my reason for bringing him.
Earlier that same morning
I had found out that Juju had
reopened the wound
on his shin the night before and forgot to tell me and he said that now
his leg felt hot and was extremely painful
. I took a look and noticed that it was red and oozing a small amount of puss but
overall it did not look emergent
.
I had a prescription for antibiotics already so I figured I would clean and dress the wound then run to the pharmacy. As
I was cleaning the wound
I noticed that the Q-tip was sinking or
"tunneling"
as it is called into Juju's flesh. I had only seen this happen with one type of infection,
Necrotizing Fasciitis the "Flesh Eating Bacteria"
.
My whole body immediately went cold and my heart started trying to escape my chest as I slowly stood and looked down at my baby boy praying I was wrong while hoping I wasn't to late at the same time.
I wasn't wrong, and I missed being late by seconds it seems...
February 25
was the day Julian was admitted to the hospital for a
26 day stay
complete with
4 operations and 3 weekly painful procedures
finally coming
home on March 22
.
The Orthopedic Surgeon was able to save the leg and some surrounding skin, but had to
remove all of the infected tissue between the skin to the bone and muscle. (top and bottom pics)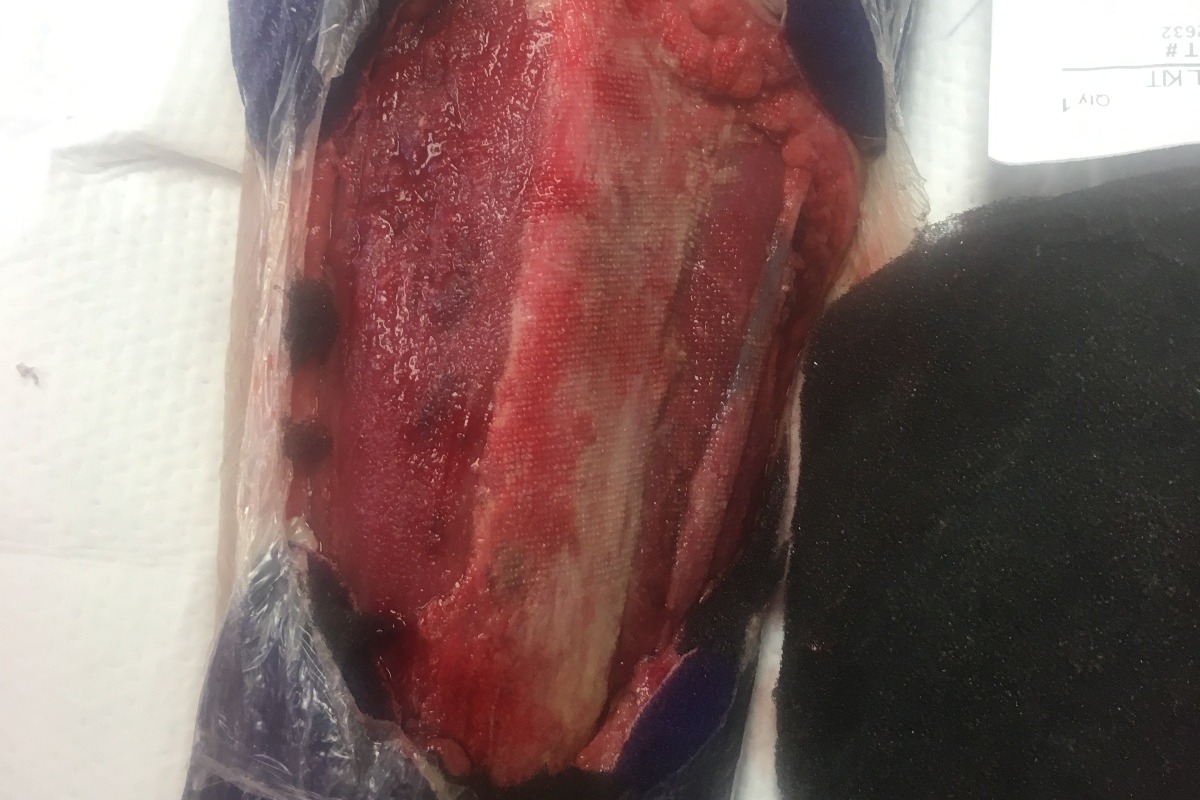 The black you see is actually a sponge and the tube is connected to a vacuum that creates suction. (bottom)
This is the result of the last visit to the Operating Room for the application of the his first skin graft. (bottom two)
The skin used was taken from the upper thigh of the same leg in two strips then laid upon the wound. Suction from the wound vac was then applied to hold the donor skin into place for 10 days to allow the skin to adhere to the remaining tissue.
This looks amazing! (top and bottom)
Julian was always smiling and positive
while in the hospital. He never let on how hard this was for him. He was in such excruciating pain daily and
still he maintained a sunny disposition
whenever the pain slightly subsided.
Even during all of this the tragedy continued with the sudden death of my uncle Chester on March 5th Closely followed by the unexpected and devastating ordeal with my husband who became confused and lethargic just days after the loss of my uncle.
My husband became Juju's roommate for a total of 4 days, having been admitted from the emergency room with the discovery of him having diabetes. His sugar was in the high 600's.
My husband had been feeling off for some days prior, but like most men he did not want to go to the doctor. it wasn't until
he could barely walk, see, or stay awake
that he let me make him an appointment that he never made it to. I ended up taking him
directly to the emergency
department where
he was booked for a room with an amazing HERO boy named Julian.Adding to this is that all of us were finally getting back on our feet after
 the loss of
 both my father-in-law and mother-in-law and our trust
shattered
 by someone who had been loved and 
sheltered
 by my husband everyday of his life up to that point.  Needless to say she was the underlying cause of us losing the home my sons were raised in and her and my hubby's father sacrificed years to own. 
The 
betrayal
 of that single event has altered the lives of all my boys more than this current string of 
tragedy has
.


I am including this little bit of history to help you  understand why I am asking you to 
Please help me to hold off the real possibility of being homeless
. 
Not only do we 
not have the means to move
, but this house has finally started to feel like home rather than a reminder of what we have  lost. Julian most of all was smiling and laughing again and his drive was back. He started feeling optimistic about returning to Oceanside High for his senior year even though he found out it was a fair possibility that he cannot play football next year and may never be able to play again.
He even tried to act like playing football didn't matter
, but I could see that it did.
The other day J
ulian asked me if we were going to have to move again
since I wasn't working because I had to take care of him, followed by his apology for not being able to take care of himself yet!! I immediately reassured him that regardless of the circumstances, nothing was his fault. and that I wanted to be the one to take care of him.  I also reassured him that it was my decision, not an obligation, to take leave from work to do so. I then caught t
he look on his face before he turned away saying "Ok Mom"
The face of a boy I most often refer to as "My Sunshine," left me feeling
helpless
. He doesn't deserve for any of this, his once bright future  is being pulled out from under him through no fault of his own. That is how I swallowed my pride and what lead me to the courage to put our needs out to you...


The
unexpected medical bill
s and co pays for medicine and doctor visits, the loss and recent start of new employment for my eldest son and loss of employment for my husband has devoured any and all of my savings. I even resorted to
withdrawing the maximum amount allowed early to be taken from my retirement account.
Our Rent is $2300 for the month of April and the utilities are behind, Utilities come out to $1200 to keep them on and catch them up. Next month they come out too $600.
Groceries are another biggie
 especially since there are 2 of us with restrictive diets and Julian needs healthy food to aid in healing. I think we spend around $100 a week on them.
Since Julian cannot re enter school until late this year, he is
currently home schooled
and has to have the internet, that bill is $105 for this month and $95 for next month.
Julian will be having
physical therapy multiple times a week
so that he can walk correctly and have full range of motion in his foot and leg,  I will be needing gas to get him there  as well as the multiple follow up appointments that he needs, along with necessary funds required to cover copay costs. 
The first of the month is around the corner and rent will be due. I have until the 6th of April until everything starts being turned off and we get served a warning in the form of a 3 day notice from the rental office.
I
will hopefully return to work the middle of next month
, which is reliant upon Juju's progress.
While he is driven and ambitious most days thus far, we can only pray that his ability to heal will not be inhibited greatly by those days that seem impossible. Thank you all for taking the time
out of your own day to check up on a friend and take a thoughtful peek into our day. Words hold no value to describe how appreciative we are. Please keep us in your thoughts and prayers, as we do for those we are blessed to have crossed paths with.

Organizer
#1 fundraising platform

More people start fundraisers on GoFundMe than on any other platform. Learn more

GoFundMe Guarantee

In the rare case something isn't right, we will work with you to determine if misuse occurred. Learn more

Expert advice, 24/7

Contact us with your questions and we'll answer, day or night. Learn more