Mohawk Return to Schoharie Valley
JOIN US FOR THE 2023 WATERFALL UNITY FESTIVAL:
From July 28th-30th, we are hosting our second annual benefit concert. The 2023 Waterfall Unity Festival is a free event, though we have a suggested donation per day for the performances, workshops, and teachings, along with an additional suggested donation for camping. All proceeds from this year's festival go toward our Kanien'kehá:ka language and culture immersion programs. Your presence, support, and donations ensure that the future Onkwehonwe seven generations will carry our traditional language and way of life.
We look forward to seeing you all as we celebrate the remarkable rematriation and return to Kanien'kehá:ka ancestral homelands. It is because of the efforts from last year's benefit concert that we were able to purchase what is now known as Iotsi'tsisons (Skywoman's) Forever Farm. We look forward to seeing the outcome of this year's celebration. Niawenko:wa (A big thank you) for your continued support, which helps us greatly in continuing to commit to the seven generations yet to come.
To purchase tickets, visit our
Eventbrite
. (If you will not be attending, but still would like to contribute financially, feel free to donate to this page)
For registration, vendor information, performances, and more information, visit our
website
.
IOTSI'TSISONS (SKYWOMAN'S) FOREVER FARM:
On a spectacular ribbon of cropland in the Schoharie Valley of Central New York sit the remains of an ancestral Turtle Clan Mohawk village on what is now a 60-acre working berry farm. On November 17, 2022, with donations from all of you and supporters across Turtle Island for this #Landback effort, the Waterfall Unity Alliance closed on the farm!!! We did it!!! Kawenniiosta Jock, our board president, signed the papers. It has begun...
Niawen, thank you, from the bottom of our hearts. Stay tuned regarding the opening of Iotsi'tsisons Forever Farm, including pick-your-own berries, a re-vamped farmstand, and many opportunities to come and be a part of this healing process. A beautiful process of rematriation has been unfolding since closing on the farm in November. We appreciate your patience, love and support as Onkwehonwe women and families take in this sacred moment in herstory.
This is truly a collective effort of healing here at the Eastern Door, and we are humbled and lifted up by your support. Let love triumph! Let us walk the path of peace and healing together! We look forward to seeing you at the longhouse, picking berries at the farm, working and celebrating together.
OUR STORY:
For many Kanien'kehá:ka, also known as the Mohawk People, it is the fulfillment of a long held vision and a life-long dream to return to ancestral lands in the Schoharie Valley and begin a community guided by Kaianere'kó:wa (the Great Law of Peace). In the Mohawk language, Schoharie means the place of cleansing or renewal. The area is known as the Eastern Door of Turtle Island (North America), and the Kanien'kehá:ka are the keepers of the door.
Traditionally, the East is the place of beginning, where the sun is born each morning, where all faith and hope live. It is said that if we can transform and heal in the East, the place of origin, then everything can be transformed.
The return of the Kanien'kehá:ka to the Valley is also part of an urgent task of environmental justice. The Akwesasne reservation is home to the largest PCB dump in America, courtesy of General Motors, Reynolds and Alcoa. Akwesasne is now designated as a toxic superfund site, with extremely high rates of cancer and other rare diseases in the community.
"The prophecies all say that to survive, we have to return to original ways," says Kawenniiosta Jock, a land defender, artist, master seamstress and mother of five from Akwesasne. "We need to form and nurture communities that will sustain us through the climate tipping point and beyond. We know that there are ways to live in balance. We have not forgotten, but we need to decolonize our minds and ways of life and return to the ways of our ancestors. This is why I want to come with my children back to the Schoharie Valley. It's time for us to plant the seeds of return."
We are raising money to support the return of the Kanien'kehá:ka to the berry farm in the Schoharie Valley and establish a new community with a cannery, language immersion school, summer camp, and many other beautiful projects planned. The pick-your-own berries and farmstand will be maintained, but the farm will be transitioned back to organic adnd regenerative practices, re-introducing native plants, wildlife, and traditional varieties of Haudenosaunee foods and medicines. It is part of a long-term vision of creating a bioregional forest, water, wildlife and food sanctuary in the Valley under indigenous stewardship for the continued existence of life on earth for the next seven generations and beyond.
THE LONGHOUSE
Kanerahtiio Roger Jock, Kawenniiosta's father and a Kanien'kehá:ka leader from Akwesasne, has carried a vision of return for his people back to their ancestral lands in the Schoharie Valley his whole life. "We have to start here — at the beginning," Kanerahtiio says. "It is a homecoming to the Mohawk Valley where my great grandmothers lived and where my DNA comes from. We have to come back home so our people can heal. Our original instructions are still living in these mountains."
Kanerahtiio's vision of a peaceful return to the Valley has brought people of all different cultures and political stripes together in collaboration. Over the past two years, he has led a team of volunteers in building the frame of a traditional Longhouse five miles from the berry farm, next to a sacred waterfall called Kahonrakén:ra, The White Spout. It is an initial point of return and a powerful symbol of peace and unity that has opened up relations and inspired others to donate land and resources as part of this community-supported landback effort.
"We, as a society, have lost our spiritual connection to the land," Kanerahtiio explains. "We are at a time when Mother Nature is fighting extinction. Human beings are spiritually and physically sick, and many people are seeking new ways of living in balance." he says. "We need to bring back Sken:nen and Konoronhkwatselas, which mean Peace and a perfect love for one another and all things. It is time to make the old ways new again."
A beautiful vision has taken root in the Schoharie Valley. We are truly the generation here to heal. If not us, then who? And if not now, then when? We invite you to be a part of this healing process as we write a new story together.
Please donate to our campaign to help us complete the next phase of the Longhouse, renovate the farmhouse and begin a language immersion and original lifeways school at the Berry Farm. Niawen for your support.
KAIANERE'KÓ:WA (THE GREAT LAW OF PEACE)
When the Europeans first came to these shores, the People of the Longhouse taught the visitors the principles of Kaianere'kó:wa (the Great Law of Peace) and how their democracy worked, including how to caucus, methods of impeachment, the supremacy of governance by and from the people, and the exclusion of religion from governance. These teachings strongly influenced the fledgling colonial democracy as they broke free from the monarchies of Europe. However, the men who framed the U.S. Constitution left out central elements of Kaianere'kó:wa (the Great Law), including the equality of women and the inherent rights of nature.
"It is time to restore balance and return to the original message of Kaianere'kó:wa," says Kanerahtiio. "The Longhouse will be a place of teaching about principles of living in harmony as they were given to our people. As the oldest living democracy in the world, our traditional ways of living in right relationship can help us heal together."
We look forward to welcoming everyone at the Longhouse and berry farm with shared song, prayer and purpose, making our minds as one as we move through this time of transformation together.
ABOUT KANERAHTIIO
Kanerahtiio Roger Jock is Kanien'kehá:ka (Mohawk) Bear Clan from Akwesasne. He has taught cultural awareness all over the U.S. for over 40 years as part of the White Roots of Peace Movement. He worked as an ironworker and foreman for several decades and is a leader in land and sovereign rights in the Akwesasne region. Kanerahtiio is dedicated to doing everything possible to stop the destruction of Mother Earth and re-activate the original instructions of Peace, Power, and Righteousness. He is the Elder Advisor of the Waterfall Unity Alliance, an organization whose mission is to protect the Schoharie Valley and all Earth, build alliances across movements and cultures, and work collaboratively to create solutions to the existential challenges of our time.
ABOUT KAWENNIIOSTA 
Kawenniiosta Jock is Kanien'kehá:ka, Wolf Clan from Akwesasne. She is an activist, land protector, master seamstress and artist. Kawenniiosta has helped develop traditional support, cultural teachings and language preservation within the tribe and is a traditional full-spectrum doula. She uses indigenous methods and medicines to support women with their general reproductive health throughout all stages of pregnancy, mooning, and menopause. Kawenniiosta is an alumna of the Akwesasne Freedom School and is passionate about her people and culture. She carries a heart-felt desire to create a space of love and healing for each and every individual. 
ABOUT THE WATERFALL UNITY ALLIANCE
The
Waterfall Unity Alliance
 was formed in 2015 when traditional Kanien'kehá:ka (Mohawk) leaders from the Akwesasne Reserve returned to their ancestral valleys to stand with local residents against a major fracked gas pipeline planned for the area. As part of a coalition of grassroots groups, they successfully pressured New York State to deny the pipeline's construction permit, setting a historic precedent as the first defeat of a federally approved interstate pipeline. It was a huge win, but our prayer was not just to stop a pipeline but to open the doorway for the Kanien'kehá:ka to return to their ancestral lands. This central prayer has guided the work of the Waterfall Unity Alliance over the last seven years. We continue to work on protecting the Earth, building relations across movements and cultures, and collaborative solutions to the existential threats of our time, including community-supported landback initiatives in the Schoharie Valley.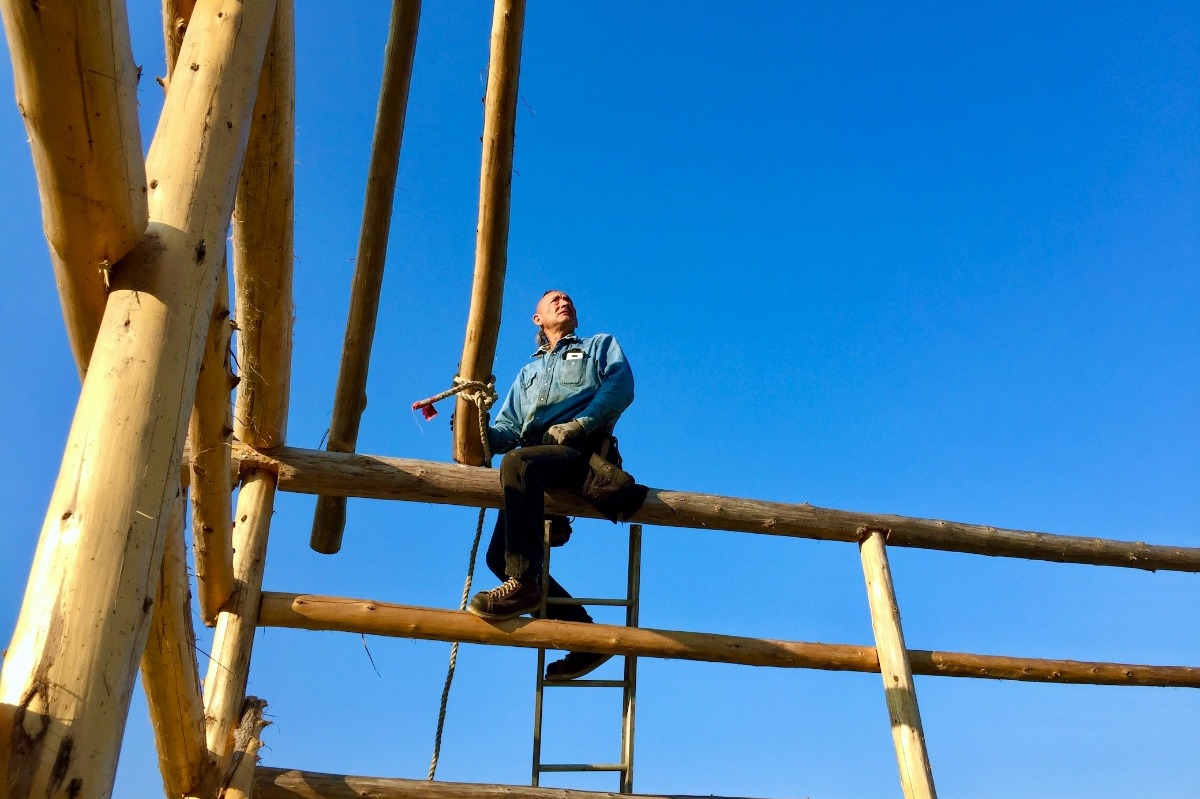 Organizer

Waterfall Unity Alliance
Organizer
Breakabeen, NY

Registered nonprofit
Donations are typically 100% tax deductible in the US.