Project SAFE P.L.A.C.E. Fundraiser
We, ML33 Fort Lauderdale (ML33 FLL), have created a Legacy Project entitled "Project SAFE P.L.A.C.E.," to address the unique and significant needs of LGBTQ youth experiencing homelessness.  While most people care about kids, we know that these kids in particular continue to be largely unseen, neglected, rejected, and victimized -- not only by society, but often by the very people who should love them the most.  


There are approximately 1.6 to 2.8 million unaccompanied youth ages 12 to 24 years-old on our nation's streets.  Moreover, statistics show that up to 40%, almost half, of the homeless youth population identifies as LGBTQ (lesbian, gay, bisexual, transgender, questioning or queer). 



Research shows that LGBTQ youth leave home an average of 12 times as compared to 7 times for non-LGBTQ youth, and 78% of LGBTQ youth have been removed or ran away from their foster placements because of hostility toward their sexual orientation and/or gender identity.  LGBTQ youth are also physically or sexually assaulted 7 times more often than non-LGBTQ youth, and they contemplate suicide at higher rates (62%) than non-LGBTQ youth (29%).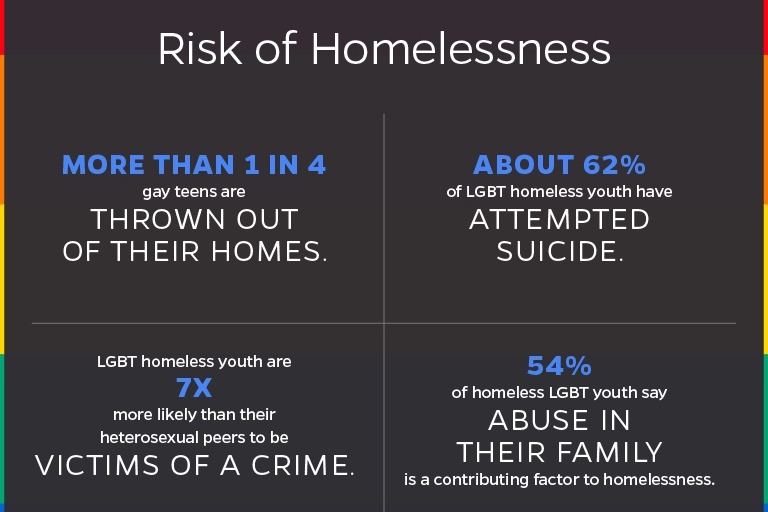 Our Legacy Project unites our vision for a peaceful, loving, authentic, connected, empowering world, with the needs of LGBTQ youth experiencing homelessness at Pridelines, Miami's LGBTQ community center.  Pridelines offers the only dedicated social services program in Miami-Dade County that supports these young people -- Project SAFE. Project SAFE (Safe Accommodations For Everyone) currently serves approximately 100 LGBTQ youth per year, providing them with case management, crisis intervention, safety planning, linkage to safe and available shelter, bus passes, clothing, toiletries, warm meals, showers, relocation support, psychosocial groups, respite and safe space, as well as ongoing activities and events to foster socioemotional growth and identity development.  


We will be supporting the Project SAFE program and the Youth Lounge space that it operates from at Pridelines.  Our Legacy Project will unite our team of 34 Masterful Living students with over 100 other community contributors (YOU!) to address the needs of this population of youth, as well as of Pridelines and Project SAFE, in continuing to be able to serve them.  Pridelines currently offers a Youth Lounge specifically for young people, which also includes a clothing/hygiene product closet that is critical to meeting the needs of these youth. The youth lounge space is where young people interact with one another casually or in structured psychosocial groups, where youth eat meals (sometimes 2-3 times daily), and where youth are supported by affirming, loving staff, and volunteers that empower them to be their most authentic selves.  

Through our project, we will be renovating and enhancing the Pridelines youth lounge, a critical tenet of Project SAFE.  We will also be providing items that are of great need through in-kind donations and an Amazon Wish List, and we will be making a donation to Project SAFE of any remaining funds raised. 

Our Legacy Project will strengthen the Project SAFE program through further creating/supporting an interactive, youth-friendly, homelike atmosphere that promotes connectedness, social, and moral support.

Can we count on  YOU to support the 40% today?  Can you see them?  



Organizer
ML33 F.L.L. SAFE P.L.A.C.E.