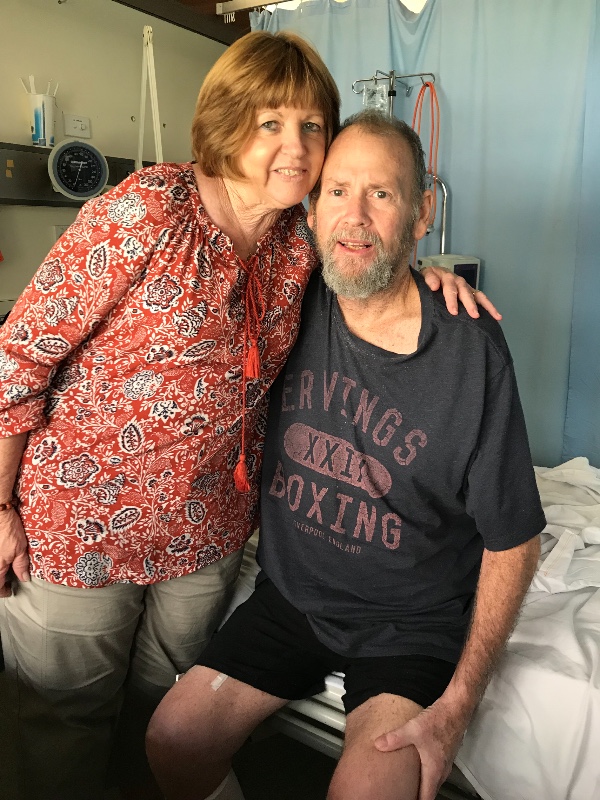 This is Greg my dad a Denmark local he was once a very hard working creative healthy man who loved fishing out in his boat with my brothers and enjoyed painting gorgeous landscape paintings.
But in September Dad took ill it took 3 weeks for them to discover what exactly was wrong with him and even then it wasn't until he underwent a laparotomy that they discovered that he had in fact been suffering from a ruptured Appendix. They told him He was lucky to be alive. When the doctors went to operate the appendix had burst and the poison had spread throughout his abdominal cavity he had an abscess the size of a milk bottle in his abdomen pushing all his organs upwards. He had a right hemicolectomy - a procedure where they remove a section of your bowel and re Join it. The surgeons hoped that they had removed all the infection but they weren't certain that it was all gone.
Dad has endured numerous hospital admissions, painful drain insertions, removals and reinsertions all due to this dreaded infection that just won't leave him and that is intent to ruin his insides. He started out at 105kg and at his smallest he weighed in at 68kg all in the space of 4-5 months. Every week he went to see the surgeons and despite there best efforts they could not fix him they said it's the worse case they had ever seen.
They managed to find a surgeon at Sir Charles Gairdner Hosptial who was willing to take on his case but they were very concerned about his huge weight loss and reluctant to operate in his current state. He is on a diet of purely clear fluids and has to have an intravenous form of liquid nutrition overnight. He has spent 5 months in horrific pain which was essentially unrelieved as it's only just been discovered now that he was not absorbing and benefiting from the oral pain killers he was being given. He has fistulas and drain bags in several spots on his abdomen.
He remains in Sir Charles Gairdner Hospital where he is awaiting his massive operation. The surgeons say they will need a full day in theatre and huge team to try and work on him and attempt to fix his damaged insides. We have currently been in Perth for three weeks and we are unsure how many more we will need to stay.
Mum, myself and my girls have stayed in Perth to be by his side. We are very proud people and reluctant to ask for help but after dad and mum have both had to stop work for the last 5 months we are struggling to be able to afford accomodation in Perth. If anyone is able to assist with any small donation to aid us in the huge financial burden we would be forever great full. Please keep my dad in your thoughts and throw all the positive vibes you can at us at this time.
Organizer
Aleisha Rose Casewell
Organizer
William Bay WA