MIT Climbing Team Fundraiser
The 
MIT Climbing Team
 is asking for your help!
The MIT Climbing Team was founded in 2016 by three amazing, athletic, passionate student climbers, Amelia Becker, Aditya Bhattaru, and Charlie Andrews. Their vision is to have a competitive team at MIT that provides a fun and supportive training environment to promote personal growth. Both Amelia and Charlie have recently competed along with MIT student Tomas Cabrera in the American Ninja Warrior College Team championships, placing an impressive close second overall. Last year the MIT Climbing Team placed 3rd in the Boston Intercollegiate Championships against many larger school-sanctioned teams.
The team started with 10 members and has grown to 20 after a huge turnout for tryouts this semester. Practices are held twice weekly at the local Central Rock Climbing Gyms in Watertown and Cambridge with competitions throughout the northeast and travel as far as California for the Collegiate National Rock Climbing Championships.
As MIT had a moratorium on accepting new club sport applications, the MIT Climbing Team has not been sanctioned by MIT and therefore has no current funding. Members of the team have significant out of pocket expenses and are looking for assistance.
Current costs for the team include:
-$55 per person per month for the climbing gym membership
-$35 per person per year for USA Collegiate Climbing membership
-$50 per person per semester for coaching fees
-$25 per person for a team uniform
-$20-$60 per person for a typical competition registration fee (several competitions per year)
-Transportation costs such as gas and van rentals for practice and local competitions, and flights and room and board for distant competitions.
-Misc. expenses for events to facilitate a stronger climbing community among local teams in Boston including Northeastern, Tufts and MIT.
Overall this is upwards of $5,000 for costs for the entire team in a typical semester, and any donations to offset it would be greatly appreciated.
Please consider helping our students with a donation!



You can follow the team on Facebook at:
https://www.facebook.com/MITClimbingTeam/

Check out our website to meet the team's exec at:
http://climbing.mit.edu/



Inaugural MIT Climbing Team Tryouts, Fall 2016
Turnout to Spring 2017 Tryouts on 2/18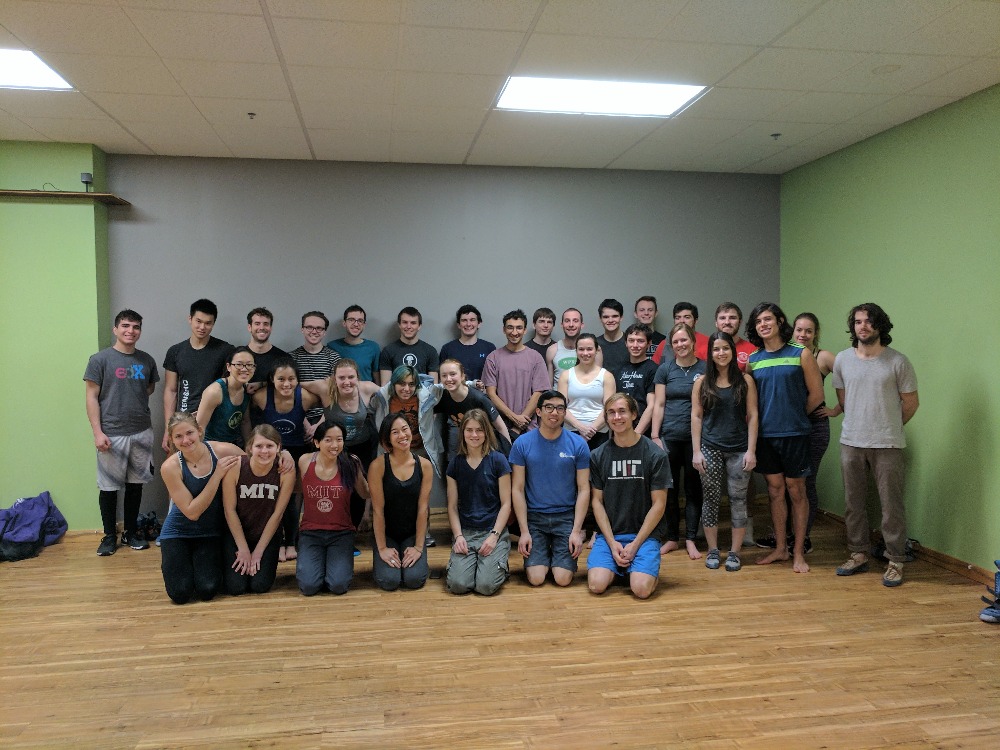 Some of the team at a USA Climbing Collegiate Climbing Series  bouldering competition at Evo Rock in NH on 2/25
We represented the MIT Climbing Team at BKB's "It Takes Two" partner bouldering competition on 3/4
MIT Climbing Team taking 3rd place at the Boston Intercollegiate Championships, Fall 2016
MIT Climbing Team end of the year banquet, 2016

Organizer