Vehicle for the Philippine Mission
April 21, 2015
 
For the foreseeable future, in addition to the parish of Saint John Maximovitch at Santa Maria, Father Silouan will be traveling to serve the new mission at Kiblawan  and the parish of the Protection of the Theotokos in Polomolok .
To reach Polomolok takes two bus rides, followed by a final trip on a motorcycle cab to the church's location. Each trip usually spans two days, since bus routes don't run late into the evening. Kiblawan is more difficult: Kiblawan is not on any bus route, so we get halfway there and then find a motorcycle rider we can pay to carry us to where we need to go. As you can imagine, this makes it very difficult to bring a bag of vestments, books and altar supplies. If any choir members come along to help with the service, the trip becomes much more complex. 

A car or van would permit Father Silouan to bring choir members and liturgical items directly to the site where the Liturgy will be served, and to travel to and from mission areas all in a single day rather than spending all day on buses.
What to drive?
All over the Philippines you'll see the small vehicles called
multicabs
. To sidestep expensive import tariffs, parts are shipped here from Japan and economically assembled here in the Philippines in various configurations.
A multicab van would be economical on gas, and would allow Father Silouan and choir members to reach any mission area in southern Mindanao, and to return even at night, when buses are scarce. A good quality used van is likely to cost between $3000-4000.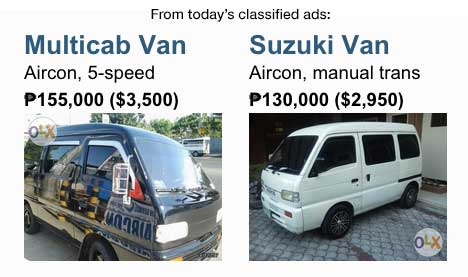 Visit the Philippine Mission on the Web at
philippine-mission.org
 or
follow us on Facebook
!
Organizer
Silouan Philip Thompson
Organizer
Walla Walla, WA