Miracles for Maverick; Fight H-ABC
Hi. My name is Maverick and I
LOVE
life. I probably have one of the best ever!! I'm truly a very happy little boy.
I'll be 4 in November this year and have an older sister and brother that I adore. My mom and dad say I'm exactly like them in "almost" every way. My older sister is 8 years old, very caring, kind and sort of bossy; her name is Makayla. My older brother is 6 years old. He is smart, care free and kind of sassy; his name is Matt. I absolutely love them to pieces and try to do everything that they do.
Mom and dad say I'm "almost" like them because we found out at the beginning of August, this year, that I have a Leukodystrophy. In fact, not a lot of people have Leukodystrophies. Leukodystrophies are genetic brain disorders that are set-apart due to the degeneration of white matter in the brain. This disease of mine targets my mobility and muscle functions while leaving my cognitive abilities largely alone. My geneticist says that my particular type of Leukodystrophy is the rarest of all. I was only the 72nd person in the entire world to ever be diagnosed with Leukodystrophy H-ABC (Hypomyelination with Atrophy of the Basel Ganglia and Cerebellum). My geneticist also theorizes that I have this disease based on a spontaneous mutation that happened in my genetic code at conception or in the womb as I have exhibited symptoms of this disease since I was a little baby.
I currently go to Milwaukee Children's Hospital in Wisconsin. I see doctors in the Rehabilitation, Gastroenterology, Neurology, and Genetics Departments. They formed a Special Needs Team for me there and this team helps keep all departments working together. They also help my mom and dad look for better avenues towards advancing my care. This Special Needs Team is the reason I was able to find out why I'm "almost" like my sister and brother and a little different than my friends. They helped me get accepted into a program in California that mapped my DNA and ultimately led to my diagnosis.
This diagnosis was an incredibly surreal moment for me and mom and dad as we have been searching for answers since I was 6 months old. My care started in Indianapolis, Indiana at Riley's Children's Hospital when we lived in
northeast Indiana before moving to Wisconsin when I was almost 2. My Special Needs Team is now pointing us towards the Children's Hospital of Philadelphia (CHOP) because they have one of the nation's top Leukodystrophy Centers and care for thousands around the world. Although I'll make trips to Philadelphia, my care will still reside in Milwaukee. Mom and dad say that CHOP is excited to see me because they've not seen very many like me at all. We're excited to see them too!
I've overheard the doctors here in Wisconsin talking with mom and dad and they say things like no-cure, no-treatment, and terminal. I'm not sure what it means but I once heard Dad tell someone on the phone that a life expectancy for children like me is 2 to 8 years of age when symptoms of this disease present in infancy. He also said that sometimes the life expectancy is a tiny bit longer though.
Dad also tells people that he's very proud of me and that I'm the hardest working person he knows. I don't mean to brag but I think he's right. I work incredibly hard. I go to 2 physical therapies a week, 2 occupational therapies a week, speech therapy once a week and attend preschool
twice a week where I work on a few more additional things. While I am up to this very taxing schedule, I think mom and dad are going to dial it back a bit. I mean, it really is a lot of work.
Now let me say a few words about my hero and favorite person ever; my mom. I love her more than anything. She (and Dad and Makayla and Matt) has (have) been there to help me from Day 1. She decided to be a 100% stay-at-home mom to make sure I always had a helper. Sometimes I think this drives her a little crazy, though, but she made this decision for me! She not only makes sure that I get to all my appointments on time, but that Makayla and Matt get to theirs too. I'll never understand how she does it all. If ever there was a hero; no, a super hero- it would be my mom. She's never failed me and I'm certain she never will. She's amazing!
The last member of my family is a puppy named Remi that I love to play with. Mom says he's not so much a puppy anymore though because he's 10 years old.
Mom and dad know that from this point on, as my Leukodystrophy advances, the progression will become more aggressive and rapid. My body will continue to deteriorate in the coming years. Additional medical equipment will become increasingly necessary soon to assist mom with my care. I see mom is starting to struggle more as I grow bigger. After all, I do understand what happens around me. I just can't move very well to help myself and need others like mom to help me.
My insurance company has been fantastic but there is also much that the insurance company deems unnecessary and other things that insurance simply doesn't cover. These things include medical equipment like mobile standers, adaptive chairs, adaptive beds, bath chairs, bigger and more supportive car seats, ramps for my house, plane tickets for my trips to Philadelphia and the list goes on and on. Sometimes insurance will agree to part but not all. For example, they helped purchase a wheelchair for me but said a tray attachment wasn't needed. This was ok though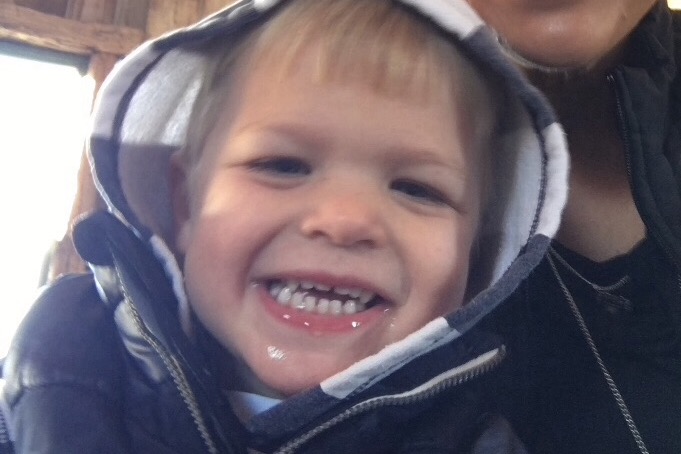 because Mom found a tray that pretty much works when we get creative to attach it to my wheelchair. I can now sit in my wheelchair and eat lunch with everyone. I've never been able to sit in a normal high chair; there's never been enough support. The adaptive chair would definitely help with this, among other things. Although, insurance says it's not necessary; and it costs a lot of money.
The travel costs to Philadelphia will start to be a factor, as well, and for the first time we may be looking at additional medical costs due to insurances not covering some medical care for me. Mom and dad say that this is still yet to be determined though.
I heard Mom say that there is not a lot that is known about Leukodystrophies due mostly to the lack of funds for research efforts. However, there is a doctor at CHOP whose research leads her to believe that while curing or treating this disease is still not possible, she may be about 5 years away from stopping or suspending this disease. That would be an absolute game-changer in mine and kids' lives like mine. Think about it, the ability to suspend my terminal disease while doctors work towards a cure… Wow.
But I'm almost 4 and in 5 years, I'll be almost 9. While this
research will probably not benefit me, maybe my visits to CHOP can help doctors there help future children like me who are "almost" like their sisters and brothers too.
I'd like to raise as much money as possible not only to help me live out a good life but to help further the research of Leukodystrophies. I want to donate everything that I don't need towards Leukodystrophy Research in the name of all my friends.
A last thank you to everyone for reading this and considering a donation. While modern medicine would say I have a few years left to love and be loved here on this side of heaven, I really have it very good. I have a mom and dad and sister and brother that love me more than anything. Mom and Dad say I've already impacted so many people and changed countless lives for the better.
I guess that's what it's about, right? It's not about me but about people; loving on people. Let's help Mom and Dad help me. Help me help Mom and Dad. Help me and Mom and Dad continue to show people the true meaning of joy in this life. I may have a better life than most, but that doesn't mean I cannot share it with you and remind you of what matters most… loving people.
#MiraclesforMaverick

Organizer and beneficiary
#1 fundraising platform

More people start fundraisers on GoFundMe than on any other platform. Learn more

GoFundMe Guarantee

In the rare case something isn't right, we will work with you to determine if misuse occurred. Learn more

Expert advice, 24/7

Contact us with your questions and we'll answer, day or night. Learn more