**I'm making this on behalf of my mom, Shelia Baker, who doesn't have social media.
Hello! My name is Shelia Baker and I am married to the LOVE OF MY LIFE, Joe Baker. He is truly my knight in shining armor!
We met in 1985 and I can say it was love at first sight. I was a single mother to a beautiful 1 year old daughter, Rita Beth and he loved and treated her as his own. We married in February the following year and have been going strong for almost 33 magical years now. We struggled, but God finally gave us a son, Joseph in 1988 and we knew then that our family was complete. Now that our children are grown we have three wonderful grandchildren, Nicholas (17) and Zander (6) are Rita Beth's and Adelynn (8) is Joseph's. They sure think their Papaw has hung the moon. He also has a wonderful and selfless son-n-law, Patrick, that he thinks of more as a son and can't imagine anyone better for our daughter. Family has ALWAYS been number one with Joe and we are very blessed!!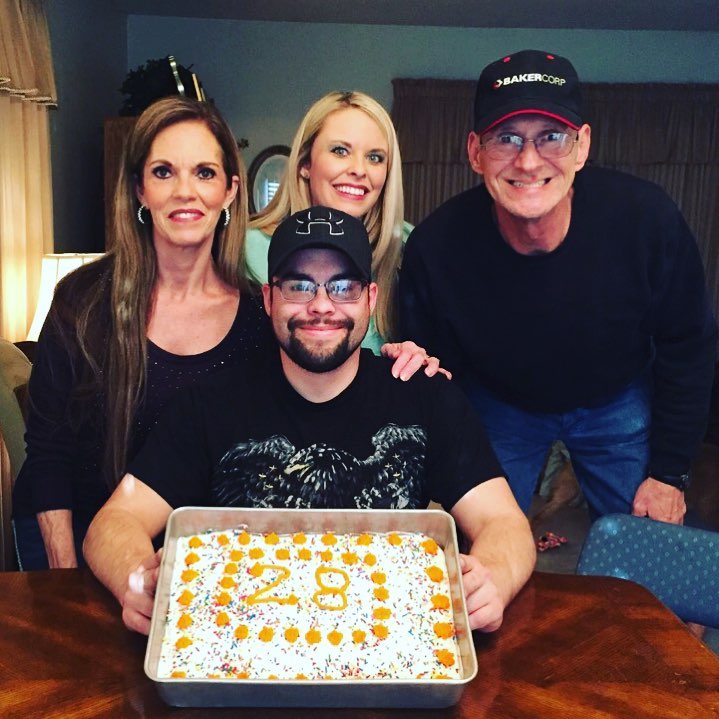 Joe has always been the rock of our family in every way. The one that made you laugh so hard it hurt. The one who could fix anything from a skinned knee to a broken heart. The one that literally EVERYONE goes to for any and everything. He is EVERYONE'S HERO!!!
October 9th of 2016 started like any other day, Joe got up early to go to work. He started to have some pain in his abdomen and by the end of the day he was in severe pain and couldn't handle much more so I took him to the emergency room to get checked out. After bloodwork and a CT scan we were told he had a really bad bowel blockage. They put in a tube to relieve pressure and transported him to Norman Regional Hospital by ambulance because they couldn't do any more for him. He had several more tests done and they decided surgery was best to remove the blockage and that's where our nightmare began... That blockage was actually Stage 3 Colon Cancer. His doctor wanted to do a PET scan before starting any treatments and the results showed he also had Stage 3 Lung Cancer, two totally different cancers at the same time. "Why? Why would this happen to the greatest man I have ever known who only thinks of others before himself?"
After what seemed like eternity he started treatments on December 12th of 2016. He had radiation five days a week and chemotherapy one day a week for seven weeks. He did remarkably well and had little side effects, although he's not a complainer. After those seven weeks he had a two week break then went in for two more rounds of intensive chemotherapy infusions, they were harder on him. Finally he was finished with his treatments and went in on April 27th of 2017 for a PET scan to see if the treatments worked. The treatments DID work, NO TUMORS!!!!!!! All I could say was, "Thank you Jesus!" Joe went back to working full time and our lives went back to normal, everything seemed great, but it was short lived.
By the beginning of June he was having excruciating pains again. His job is physical so he thought it was maybe just a pulled muscle and didn't get it checked out right away. It continued to get worse so he decided to make an appointment. His doctor ordered a CT scan July 11th and it came back with alarming results so she ordered a PET scan. When we went to hear the results I just couldn't believe what I was hearing, the cancer was back in his colon where his tumor was removed. "How could this be, the doctor removed a foot of his colon and connected it back together, everything went great." I never dreamed this would be happening again. If that news wasn't bad enough it had also metastasized to his liver in three different areas and is now a very aggressive stage 4 colon cancer. He started his treatments on August 2nd and hospitalized on the 8th for three days. The treatments have been really hard on him and he is in excruciating pain constantly. It is so hard to see the man I love with all my heart changing. He has lost 35 pounds in less than two months. We are praying he will be able to tolerate the treatments and we can see some results soon. 
As everyone knows hospital stays, doctor visits, and CT/PET scans are very expensive even after insurance. Joe is on short term disability now, but it will end after six months and go to long term disibility and at that time he will lose his job and insurance. He has been the soul provider for our family for 32 plus years and is having a hard time not being able to now. It is really hard to admit that we DO need financial help, but the reality is that we do. Every donation will go for medical expenses, insurance deductibles and co-pay, and gas back and forth to treatments. At this time Joe needs to concentrate on beating this ugly cancer and not worrying about how we will pay for everything. 
We are blessed with family and friends who are praying and believing in a miracle with us. All the love and support could never be repaid and will never be taken for granted. Joe and I along with our children thank you all so much in advance for any donation we recieve. If you aren't able to donate we understand and just ask that you pray with us that Joe will get his miracle and beat this. 
Sincerely,
Shelia, Joe, Rita Beth, and Joseph
One of Joe's favorite things to do is Jeep talk with his boys. They can sit for hours talking and daydreaming about their Jeeps. =)
Donations

Organizer and beneficiary
Rita Beth Baker-Smith 
Organizer
Pauls Valley, OK
#1 fundraising platform

More people start fundraisers on GoFundMe than on any other platform. Learn more

GoFundMe Guarantee

In the rare case something isn't right, we will work with you to determine if misuse occurred. Learn more

Expert advice

Contact us with your questions and we'll answer, day or night. Learn more