Michelle Johnson's Miracle Story
My name is Jeremy Johnson, and March 17, 2016, will continue to haunt the dreams of my wife, Michelle and I for the rest of our lives. At 9:30 PM Michelle was on her way home from our weekly bible study, with our 4 month old daughter Alexandra asleep in her carseat in the van. Just before 9:35 PM, Michelle was inflicted with an image of a car accident, causing her to say a prayer asking that she take the entire force of the pain if such a thing were to occur. As she tried to shake the image from her mind, at 9:38 PM, her life was changed forever when a vehicle traveling over 60 mph crossed the center line and struck her van  head on just in front of the driver door. She heard Alex scream from the backseat, then saw nothing but black smoke and felt a pain unlike anything she had ever felt before. Within moments strangers, angels, rushed to her rescue, literally ripping the doors off the van and pulling her mangled body out to safety and removing Alex as there was fear of explosions. These brave men and women stayed with Michelle and Alex until police and paramedics arrived to assist, and kept me updated on every detail of what was going on at the scene.
Alexandra was taken to Nationwide Children's Hospital where doctors and nurses were astonished to find that she did not have a single scratch, bruise, or mark on her body. She was dubbed the "miracle" baby of Columbus. Within the hour, the amazing staff at Children's Hospital had us discharged so we could get to Grant Medical Center to be with Michelle.
At Grant I found Michelle, with her mother, in the trauma bay with a broken right wrist and bone in her right hand, as well as a compound fracture of her right tibia and fibula, crushed ankle, and broken bone in her foot. In addition to these serious fractures, she was covered in bruises and lacerations from glass.  It was 12 agonizing hours before Michelle was able to have her first surgery to stabilize her leg and fix her right wrist. After a week in Grant Medical Center Michelle was able to move to a rehabilitation center to continue with the arduous task of phyical and occupational therapy as she is now having to learn how to function without her right, and dominant side.
Michelle is now preparing for her second surgery to go in and fix her right leg, with no guarantee that this will be the last surgery on her leg. She is facing at least 2 months of not being able to bear any weight on her leg and an even longer more painful journey through therapy.
Michelle's very way of life has changed forever. When she dreams, she can still hear Alex screaming from the backseat of the van. She can't so much as go to the bathroom without assistance from aides. She has been forced to be seperated from her family while she is in rehabilitation. Furthermore, Michelle was in business for herself as a massage therapist, and now that business has come to a halt, along with the wages that she brought into our household. It could be almost a year before Michelle will be able to work again, and even when she is cleared to work, she will have to rebuild her business again. With Michelle unable to bear weight on one side of her body we are going to be forced to use babysitter services far more for our infant daughter while surviving on one income. But even with all of these limitations, it does not compare to having the soul of our home, our family not with us each and every day. Michelle's smile, can-do attitude, and unwavering kindness and silliness are what we really miss the most in our house, and we can't wait to have her back home with us.
Michelle did not ask for this punishment, our family was finally on a path to financial freedom until this terrible accident occurred. We only want the best care for Michelle, to help her fully recover and return to what she loves most, playing with her daughters each and every day. Our only goal is to keep our family afloat during Michelle's recovery, and we will all be forever grateful to all of our friends, family, and those that we don't even know who assist us during this time in need.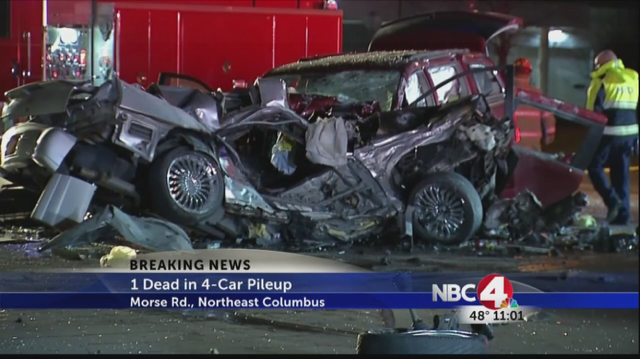 Michelle and Alex were pulled from the red van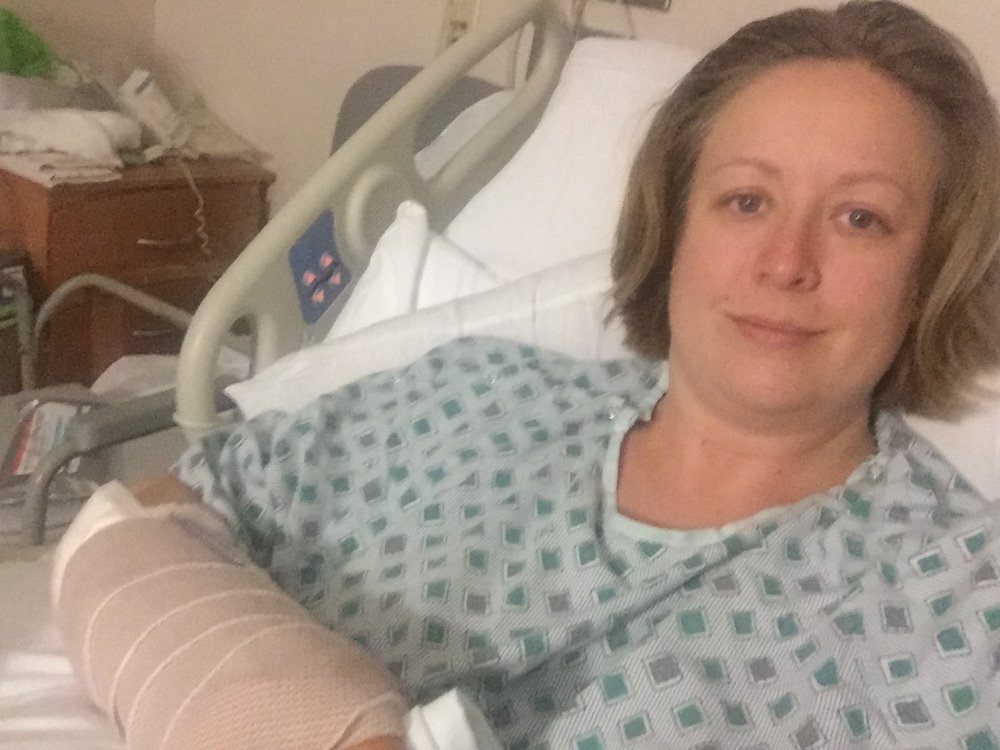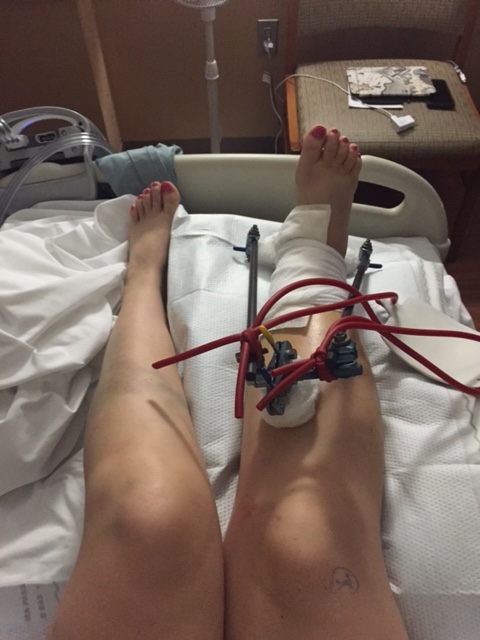 Michelle's exfil stabilization device on her right leg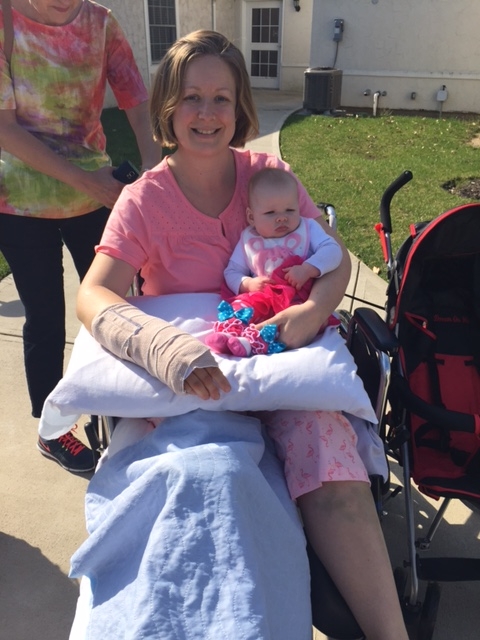 Michelle and Alex on Easter Sunday at the rehab facility
News footage of accident

Organizer and beneficiary