Milton Eagles 2018 State Championship Rings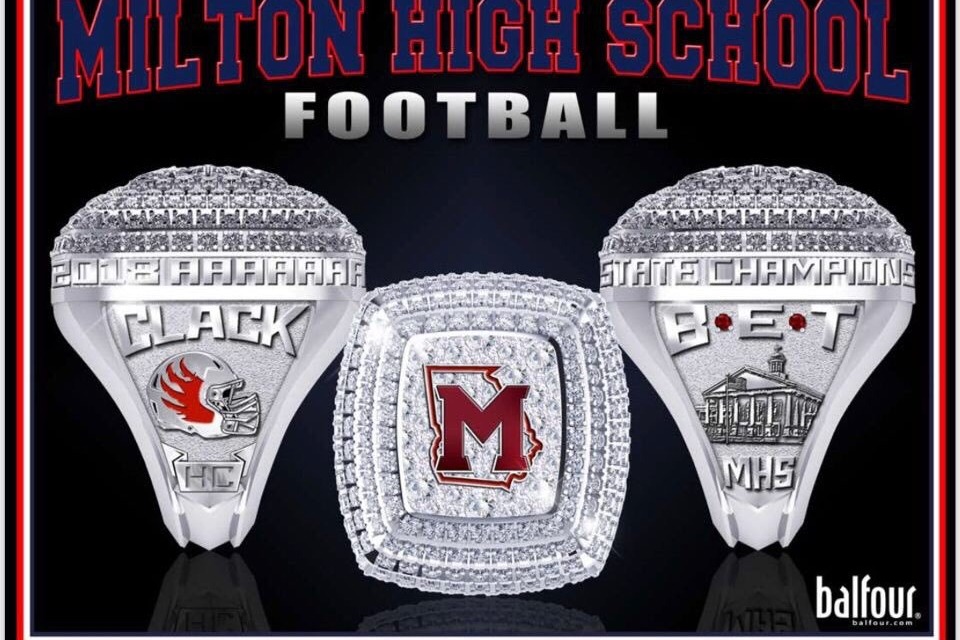 Eagle Nation,
I am writing to ask for your assistance—specifically, any financial support you can give to help fund the 2018 GHSA State Championship rings.  While we would gladly accept the challenge of funding State Championship rings annually, Milton Football did not budget for this significant expense when we built our 2018 football budget early last year. 
We have checked with other athletic programs (both at MHS and other high schools) to gain an understanding of how State Championship rings are typically funded.  The general approach is through community support, leveraging the school's athletic program and each player's family then purchasing the ring for the remaining amount. Our outstanding balance is approx. $450 per ring.
Since the week after winning the 2018 State Championship in December, Milton High School Athletic Director Gary Slyvestri, Coach Clack and several Milton Touchdown Club board members have worked diligently behind the scenes to secure donations. We have already received donations from several families, community leaders and Milton High School Athletics, but we are still in need of funding to complete the ring purchase.
Today we humbly share the link of a gofundme page where parents and the community can make contributions (either by name or anonymously).  
On behalf of Milton Football, I ask that you please consider hitting the link below and contributing to the State Championship Ring Fund.  We would also greatly appreciate it if you would consider sharing the gofundme link in your social networks.  As we continue to celebrate Milton's State Championship as one, I am sending this email to our entire program (6th– 12th grade) to secure support from all for our Varsity's hard-fought win that took the support of our entire community.
As background, each year we build a balanced budget based on expected expenses offset by registration fees, sponsorships and parking/concessions revenues. We then work throughout the year to be fiscally responsible and maximize the monies to best support our 6th-12th grade football program.  I will share the 2019 Milton Football budget highlights at the upcoming high school parent/player meeting to provide a greater understanding of our funding, as well as our 2019 business plan which is significantly more ambitious than previous years as we support Coach Clack in his mission to elevate Milton Football to a nationally recognized program.
We greatly appreciate your understanding, and most importantly your support for our players…and our entire program! The 2018 Milton Varsity team will soon be honored with State Championship rings at an historic celebration for the entire Milton Football program. 
Go Eagles!
Brad Zettler
President, Milton Touchdown Club
Organizer
Brad Zettler
Organizer
Alpharetta, GA

Milton Touchdown Club Inc
Registered nonprofit
Donations are typically 100% tax deductible in the US.