Jos. Young's MicroFiction RowHouse
It has long been my dream to create a MicroFiction RowHouse: very small stories printed on the walls, the ceiling, on the doors, the furniture, and all manner of surfaces that tell the story of a fictional family that lived in the home--its lives, dreams, trials, happiness and sorrows. My goal is to raise the funds necessary to realize the dream of that
MicroFiction RowHouse
in my own rowhome. I will share this intimate space with the spirits of these people. 
As a well-known and successful
writer
of these tiny stories of 10 to 50 words, and having much experience printing these stories on the walls of homes and art galleries, this is an opportune time to put this project in motion.
The donations I receive will fund the project space, the time, all supplies, honorariums to the many artists who will contribute to the project, as well as a large series of events in my home, including an opening reception, literary readings, art and writing workshops, and musical and other performances, all of which will be free to the public.
Donors to the campaign will receive a variety of thank you gifts:
$10: 3 pdf chapbooks
. I have written and designed a number of pdf
chapbooks
of my microfictions, which will be emailed to the donor.
$15: God Not Otherwise
, my microfiction
broadside
featuring the art of Kathy Fahey and published by Publishing Genius.
$25: Easter Rabbit
, my award winning
book
of microfictions published by Publishing Genius.
$50: One of my paper collages
.
$100: Custom microfiction with video
. I will write you a microfiction on the subject of your choice that you will then own. In addition to a print of the story, you will receive a video of one art luminary reading that story. Readers include filmmaker and author Stephanie Barber, novelist and short story writer Laura van den Berg, and others.
$250: Original microfiction "painting."
You will receive one of my microfiction
paintings
, an original work using framed paintings found at thrift stores and printed with an apropos story.
$500+: Custom microfiction installed on your wall.
I will come to your home, business or other space and install a microfiction written with you and the space it will occupy in mind. I lay these stories out in InDesign and apply them to your wall using the photocopy transfer method. I have
installed
 such stories on the walls of many private homes and art galleries. (Local only unless travel arrangements can be made)
Donors of $50 or more will also have
priority seating
at the workshops, which are limited to 7 people.
Donations are cumulative, so someone who donated $50 would receive the collage, my book, the broadside, and the pdf chapbooks. To receive gifts, please leave addresses in your donor comments.
For more information on the project and the funding campaign, visit
MicroFiction RowHouse
. Also, look for updates on this site on the contributing artists who will lead workshops and readings and perform in my home.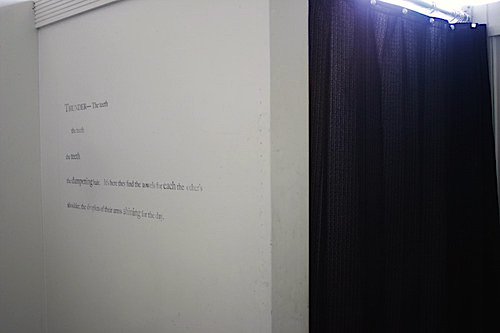 Organizer