I am setting up this fund to raise money for medical costs for my dear friend Michal, who is struggling with Lyme Disease and chronic illness. Please help in any way you feel you can.Thank you.-Andy Graham
My name is Michal Victoria. For 40 years, I have fought an unrelenting battle to live.
I was six years old the first time I remember getting dangerously ill. I had blisters in my mouth and throat and an extremely high fever. After several doctors could not diagnose me, one finally diagnosed trenchmouth and prescribed antibiotics. It was a slow recovery, and to this day, when my immune system is low, I get blisters in my mouth and throat.
Every bout of flu, every childhood disease, I caught the worst case. Then there were the unexplained illnesses. A small pimple turned into a boil turned into high fever and blood poisoning and hospitalization. Dangerously high fevers were so regular that to this day I flinch at the smell of rubbing alcohol because it reminds me of the icy sheets they wrapped me in. Regular, excruciating stomach and intestinal pain. Every summer, I'd get a nasty rash that would spread all over my body and a high fever. It would take months to go away.  A rubbed eye turned into conjunctivitis. Going out with a wet head become bronchitis or pneumonia. Something was impairing my immune system.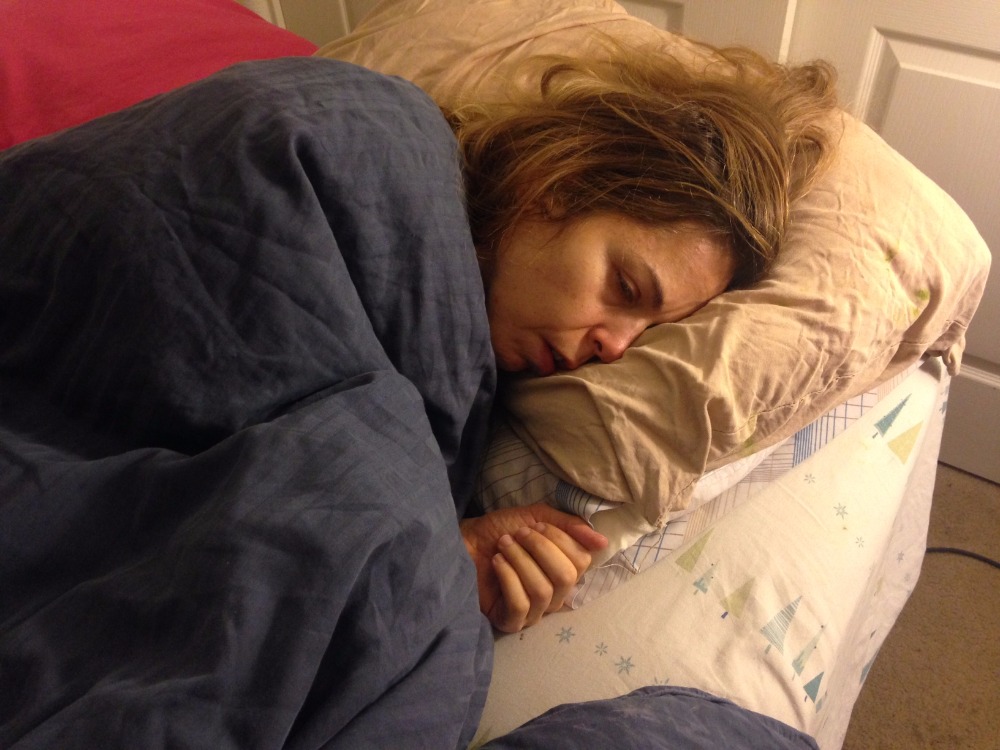 Bad day.
Being out of school 60 or more days of the year was not uncommon. Socially, it isolated me. Some people called me a hypochondriac and said I made it up, and I carried such shame that I tried to hide this part of my life. I lived two lives: one at home in bed, and one in school and the world.
Feeling that I was being held back my life, I wanted to make up for lost time when I was in the world. At 9 years old, I studied vaudevillian voice, tap and jazz at Carnegie Hall and from age ten through fourteen,  I  studied acting, voice, and movement at the Neighborhood Playhouse Conservatory.
I attended Stuyvesant High School in New York City. I won awards, one given upon graduation by Pulitzer Prize-winner Frank McCourt for Excellence in Creative Writing.
I was an A-student, and I had dreams. I wanted to be an actor, a singer, a writer, a dancer. I wanted to go to the college of my choice. I wanted a body that was fit. As I got older, bouts of severe depression accompanied my lowered immunity. My first year in college, I developed severe concentration problems, and the fatigue I experienced as a child was slowly worsening; I experienced heart palpitations and anxiety and such strange symptoms as menstruating for 3 months straight. Soon after having to leave college because of my health issues, I passed out climbing the subway steps during rush hour.  A cardiologist diagnosed "Chronic Fatigue Syndrome".
I got into fitness and became a certified trainer at Jack LaLanne and even competed in a bodybuilding competition. But the end story was the same—my body could not do what I wanted it to. I had to leave The Neighborhood Playhouse because of my health and depression, I had to leave the college of my choice, and I could exercise only when I was able to get out of bed.
But I didn't give up. Not on my dreams, not on the hope of getting well, not on the hope of a good life. Even as a young child, when we could afford only a clinic at a hospital, I had reached out for whatever help was available to me in New York.  When I moved to California as an adult in hopes of getting better, I sought out every mode of healing I could afford. I was ill with no savings, no family who could help, and was able to push myself to work for only a few years. I went to low-cost acupuncture, medical clinics, energy healing clinics, educated myself on nutrition, healing, ate a clean diet.
When I could manage it physically, I participated in San Francisco City Summer Opera and sang in the Glide Choir, wrote songs, took voice lessons. While in treatment, I played Puck in Midsummer Night's Dream for Shakespeare in the Park—I remember having to pull over and throw up on the way to rehearsal. Even though I crashed hard afterwards, having to withdraw from the world again, playing Puck is a memory I will always hold to my heart.
Me as Puck, Shakespeare in the Park

Soon I was having clusters of even more debilitating symptoms:  loss of feeling in my right leg, body pain, migraines, electric jolts from my tailbone that doubled me over. I suffered from malnutrition because no matter what I ate, my body did not digest it. I became dependent on expensive high-nutrient milkshakes that eventually I could not afford. I became so weak I could barely stand. My nerves were so raw that regular sounds and light felt excruciating. I was soon unable to pay rent and was homeless. I slept on friend's floors, house-sat, lived in a tent in a park for a time.
Once, while sleeping in a tent on someone's property, I realized I was hallucinating for the first time since my childhood fevers. My heart pounded in a weird pattern. I couldn't trust my mind. I felt like there were bugs crawling all over my skin and the sounds outside felt like hot pokers stuck into my nerves. I remember thinking, I'm really in trouble. I feel like I'm dying but I don't know why. And no one else seems to know. Even those closest to me don't understand. I don't understand. Here I was, lying in that tent, knowing that I have fallen so low—having once attended a competitive high school and top Conservatory in Manhattan, a prestigious college; I had potential. And here I was.
Poverty goes hand in hand with chronic illness, which can then lead to a worsening of the illness. As an alternative to homelessness, I was able to afford only the lowest rent. I rented someone's attic—3 feet from floor to ceiling and infested with fleas—from there to a converted garage where rats ran up my pant leg and black mold hid behind walls. I got sicker, lost my singing voice, and developed a mold/mildew allergy that to this day prevents me from going into libraries and thrift stores. Worse, I had to get rid of everything I owned.
I landed in a little-but-clean granny unit, with only the sleeping bag and few articles of clothing I bought at Big Lots. The rest of the studio was empty. I was alone. I thought I could die there and no one would know.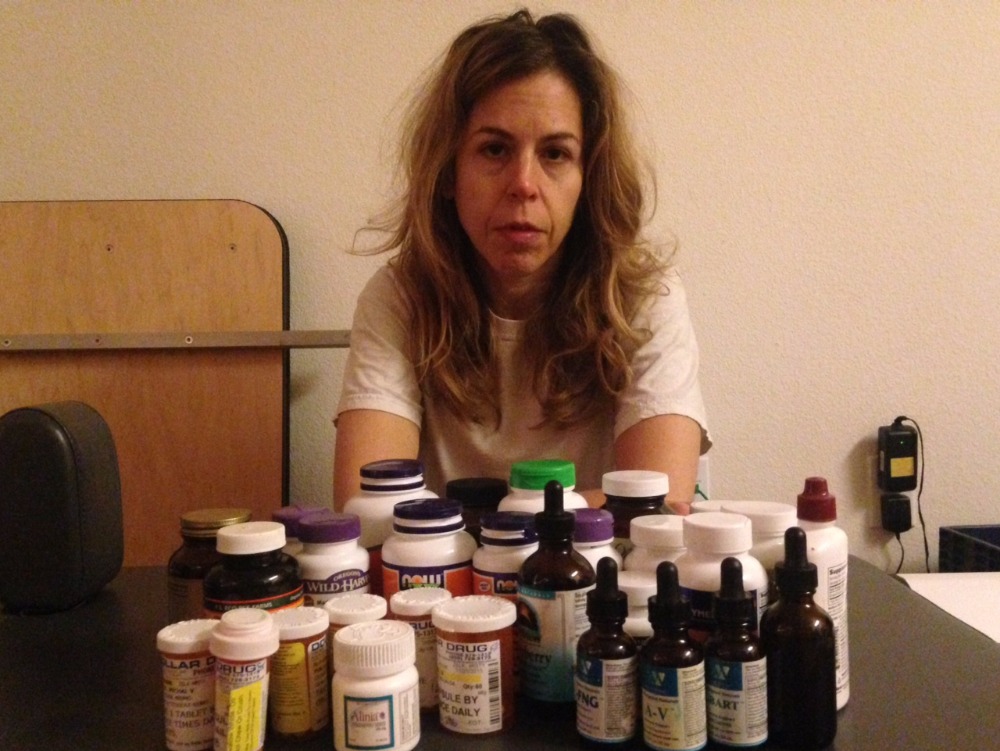 I take all these daily, sometimes several times a day.
The turnaround came when after five years of being denied, I finally was able to receive disability. It wasn't much, because I was young, but for the first time I had insurance and could see a holistic doctor. I took every test possible. What came up was a jigsaw puzzle of sometimes frightening results that didn't seem to be related but had to be treated, nevertheless: infections, heavy metal toxicity—one treatment cost $125 a session, plus supplements to pull out what was released, thyroid compound, adrenal supplements, dental work, antioxidants. German homeopathic remedies at $80 a bottle, plus added products to work with them—most not covered. I racked up debt and half-finished protocols.
Then I tested positive for Babesia, a co-infection of Lyme Disease; then later diagnosed with Chronic Lyme Disease. I took an antiparisitic drug called Mepron along with the antibiotic Zirhtromax for months and was told my symptoms would get worse.  I became suicidal, had hallucinations and severe night sweats.
I got through it. Was I better after? Maybe a little. But I was still struggling with low immunity, still had periods that I couldn't get out of bed, still could barely work. But I was grateful for each tiny step, and that I wasn't in a wheelchair like some Lyme Disease patients I'd met.
I knew I had to be able to stand on my own and fast, while still being ill. After having lived in places with mass transit, I learned to drive at age 40, and went back to school so I could be able to pay my bills and for my treatment. But again, my immune system would not hold up and I had to withdraw from school. Since I was already doing Pilates for the pain in my body, I decided to get my teacher certification. I taught as a student and apprentice teacher for five years. When it was time to test out for my certificate, the stress caused me to have a relapse of mononucleosis. It took me a year to be able to function and then another relapse, then slight recovery, and yet a third relapse.
I have now been basically housebound for three years. I can still train a minimum of Pilates clients but have to rest up to 3 hours after. I spend most of my time resting and sleeping, fighting with depression, but my Lyme doctor said I need that rest to heal, as my treatments challenge an already challenged immune system.
I have always been a fighter; I have approached these illnesses from the physical, emotional and spiritual fronts and have pushed myself to the limit so I could work and pay for whatever treatment I could afford. But for the first time in 40 years of fighting, I'm losing hope. For the first time, no matter what I do, I can barely work. If I can't work, I can't afford treatment, and my life cannot get better. I cannot go on like this, with no quality of life. With no way to pay for treatment, I feel trapped.
I contacted Final Exit, an organization that provides compassionate support for people who have an intractable or terminal disease and have made the choice to end their lives.  Final Exit is not presently taking clients. Although I've felt suicidal before, I've never believed in suicide for myself. But now, just knowing I have the option gives me great comfort. I don't want to die, but I cannot live like this.
But Final Exit won't take you on if you haven't tried everything. That made me realize there are many therapies I haven't been able to try, merely because I couldn't afford them. My family was unable to help  financially when I was growing up, and when I was on my own, my long periods of illness kept me financially unstable. I haven't tried raising the money I need for treatment from other sources. But now I'm asking for your help.
I'm asking for this amount in my first fundraising campaign because Lyme Disease is one of the most expensive diseases out there. The local Lyme Disease/chronic illness doctor out here who has a national reputation, costs $1200 for the first visit and $900 thereafter. Generally you'll see fees of $800 and up for first visits. Most everything is out of pocket as chronic Lyme is not recognized and insurance doesn't cover doctors fees, let alone: supplements, treatments, medicines etc. Some treatments will require travel- airfare and board. Then there is living expenses while under treatment. People have to be prepared to try many doctors and treatments because not everything works for everybody. Even celebrities that have chronic Lyme have said they had gone to over 100 doctors. Having resources is the difference between healing and not healing from this disease.
 I have always believed in a power greater than myself, and I still meditate and pray every day, but faith comes hard for me. I find myself confused and hurt by the Divine's intentions. I believed in hard work, and I operated on the assumption that if I just kept trying, God would eventually see I was doing my part and I would be rewarded. I took to heart "seek and ye shall find", and in seeking healing, I found a spiritual path that worked for me, and turned to that to sustain me. But  after years of pushing myself through school and through life, I am rendered helpless. The one thing I had counted on to change my life—being able to work enough to pay for treatment—is gone.
For months I have been in a purgatory of sorts. What did God want from me? I knew I could not continue with such little quality of life. My therapist suggested I try Emotional Freedom Technique—in a strange way, I am learning faith through this work. I am learning to reprogram my mind to imagine and value other outcomes besides the ones that are right in front of me.
Final Exit is one choice, but I am opening myself to further possibilities. Miracles. I am now trying a crowdfunding campaign. I am open to any way the Universe sees fit to bring me the healing I need.
In my wildest dreams, I am able to realize my potential and be of use, utilizing every gift I have been given, that serves. I have experienced and seen much suffering and wish to help. I am not sure what that looks like as this journey has broken down all of what I thought I knew and who I thought myself to be. I dream that it involves acting, singing, writing, dancing (I would love to study acting in London or Scotland) and that I shall be able to do those things again, if only to find out if these things are truly what I have to offer, or a stepping stone towards it. I imagine travelling everywhere and tasting everything that my little box of a world has denied me. But my deepest yearning has always been to feel that I am serving Spirit, to have a sense of purpose and to bring my part to the world. I yearn to feel my heart again. I dream of regaining some of what I was before the damage occurred and bringing with me all that I've learned. Of having a second chance.
This journey is dedicated to the healing of all beings.