Menstrual Cups in Nepal: Chhaupadi
This fundraiser is paused
We're checking that it meets applicable laws and regulations and our Terms of Service. Thank you for your patience as we continue giving our community a safe and secure place to help each other.
Let's fight against the menstruation taboo in Nepal - Project Rato Baltin

Rato Baltin is an ongoing program of participatory photography, sex education and menstrual cups to eradicate Chhaupadi in Nepal, a tradition that considers women and girls impure while menstruating, exposing them to a deadly environment.
2021 is our fifth year working with community health workers, teachers, political leaders and local NGOs to this end. The Project is for girls, boys, women and their communities. We think that education is the only way to change these deeply held beliefs. With participative photography we invite them to speak about their menstruation, with an important part of the project being the distribution of a healthy and environmentally friendly solution: the menstrual cup.

What can we do with your help?
- 10€ we can pay a menstrual health kit (With translated books + transportation+teaching cost)
- 60€ can pay a month salary for a mentor to work as social mobilizer against Chhaupadi
- 100€ provide one day training of a full class about heath and sex ed.
- 140€ for a month Salary for a local trainer to work against Chhaupadi
- 1960€ for a year salary for a local trainer to work against Chhaupadi

And if you want to donate recurring donation in your own currency, you can use our donorbox 
Or in the case that you are in Spain, our migranodearena 

Here some numbers about our work last years for help these women a very small amount of money is really important: Donating even €5 supports the continued work we do in these remote communities.
What's the Problem: Chhaupadi.

In Nepal, placing menstruating girls and women in sheds or huts is a centuries-old tradition called chhaupadi.

During their periods, women are considered impure, dirty, contaminated and bad luck. They can't touch their husbands, other family members, water sources, fruit trees, or cattle, among a host of other things. They may only eat beaten rice and salt.

The belief that menstruation is impure is so deep-seated that families overlook extreme risks involved in the practice.

Extreme temperatures expose them to health problems including pneumonia, diarrhoea, chest and respiratory tract infection. Every year 3 or 4 women die during this banishment, because of asphyxiation, hypothermia, snakebites or other wild animal attacks, and nobody knows the true numbers of how many are raped.

The practice is supported by community elders, husbands, mothers-in-law, traditional healers, and priests who have a profound influence in the community. Villagers believe that letting menstruating women inside the family house will infuriate the gods, which will have serious consequences for both families and the entire community.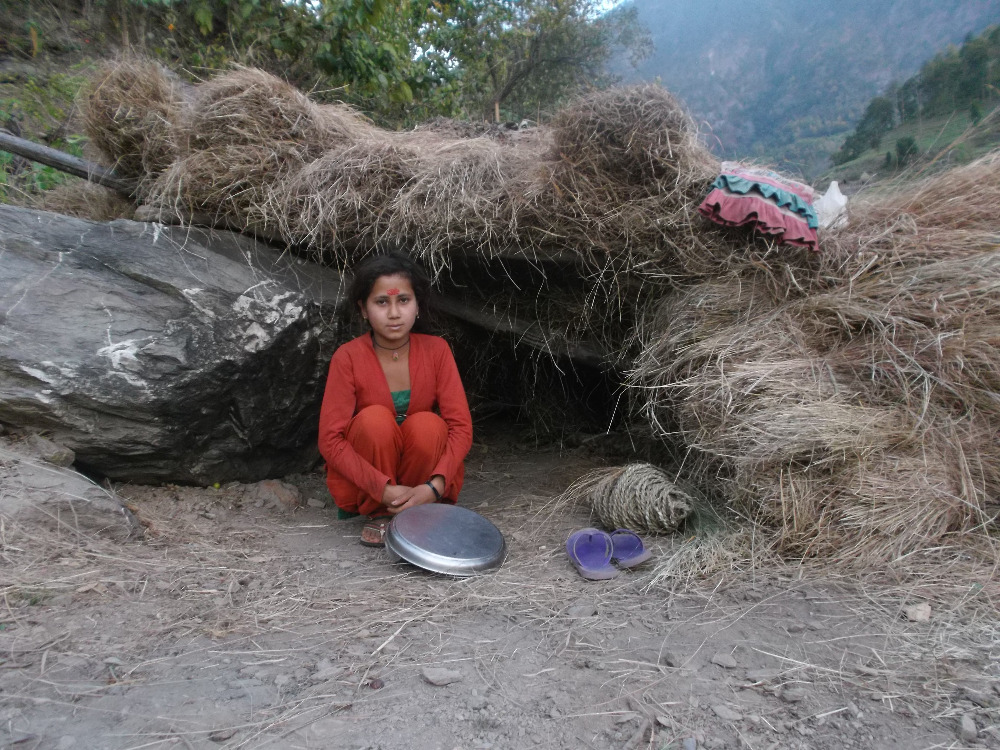 Photo © Moisara Thapa - Basti - One of our students



We have already distributed more than 2200 menstrual cups to girls in remote villages. Each girl received a cup and training on how to use it. They are also given a metal bucket (baltin) to have clean water and somewhere to boil the cup.

Our goal is to destigmatize menstruation as a normal biological function, reduce the prevalence of chhaupadi, and mitigate its consequences. Through these ends, girls and women are also empowered with the confidence to continue to attend school and be active in public spaces.

Thank you very much from the be artsy team..






There are a number of other ways to help . How about sponsoring menstrual cups for girls and young women that do not attend school, OR a nurses salary?

Example:

Educative material (books, poster) for 1 girls: 5,37€
Hygienic kit: 10€  (with everything)
One Week Trainer salary: 31€
Material to teach in every village: 35€
A Month Money Pocket for local Volunteer: 60€
One Month New Trainer salary: 140€
One Month Old Trainer salary: 190€
Educative material (books, poster, photocopies) for 1 village: 806,22€
1 of the 18 villages: 4.174€





You can also give regular donations to help us: 
- plan ahead for spring trip
- replenish hygiene kits
- hold events such as exhibitions to spread awareness
- buy cups to sell on, with 100% of funds supporting the organisation for buying cups for young women that not attend school and bringing a more hygienic, sustainable sanitary solution to Nepal

You can use, too, paypal directly: https://beartsy.org/associate/


If you don't like using PayPal or Credit card, you can donate to us using:

Account Holder: Association be artsy
Bank: Banc Sabadell
IBAN: ES23 0081 0900 8200 0430 1934
BIC: BSABESBB

If you would like to be a regular donator, or you are a company that is interested in being a sponsor, your generosity will be met with regular updates and a company mention (logo) on our web page. Please do contact us : https://beartsy.org/contact/

More info:
Our website: https://beartsy.org
Follow us on facebook: https://www.facebook.com/beartsyNGO
More info on Twitter: https://twitter.com/beartsyNGO
Join us at Instagram: https://www.instagram.com/ngobeartsy/
More info on Twitter: https://twitter.com/beartsyNGO

Join us at Instagram: https://www.instagram.com/ngobeartsy/

Teaming Rato Baltin: https://www.teaming.net/ratobaltinproject

Teaming Edufem: https://www.teaming.net/edufemproject



Organizer
Clara Go
Organizer
Barcelona