Memorial Plaques - First Responders
First Responders: Police Officers, Deputies, Agents, Firemen, K9s, etc., provide a necessary and essential service for our communities and Country.
I have been a woodcarver for over 45 years.  About 3 years ago, I started producing End of Watch (EOW) Memorial Plaques to Honor First Responders who have given their lives, like the one above.  Over 140 Memorial Plaques have been provided to various localities throughout many U.S. States and Federal Agencies.  Many letters and/or emails of thanks have been received from spouses, children, parents, as well as from Agencies, and Departments of those fallen individuals and K9s. 
Each Carving is about 9" X 12" and is made of American Cherry Wood and has the individual's Name and Rank carved into the front banner and the words "FOREVER YOU WILL BE REMEMBERED" carved on the back side.  
Goal is to create and send up to 200 more within the next year 7 months.  That will provide Memorial Plaques for many Heros as possible( Police Officers, Deputies, Agents, Firemen, andK9s).
My time is donated, but help with the materials (wood, stain, paint, glue, and shipping, etc.) is needed.  My time is donated.  I have started a go fund me account to help defray these costs.  All funds will be used strictly for materials for the memorials. The average cost per plaque to complete is about $75.00.  Any amount donated is appreciated to continue this effort.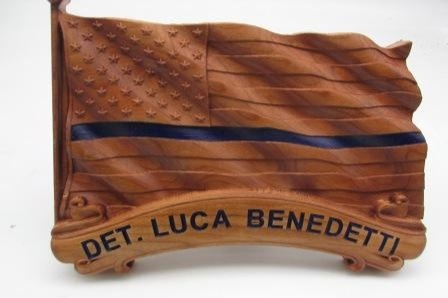 Organizer
Darryl Petker
Organizer
Gilbert, AZ