I am Melody Ewert and I was born June 1981 with a club foot (
talipes equinovarus
).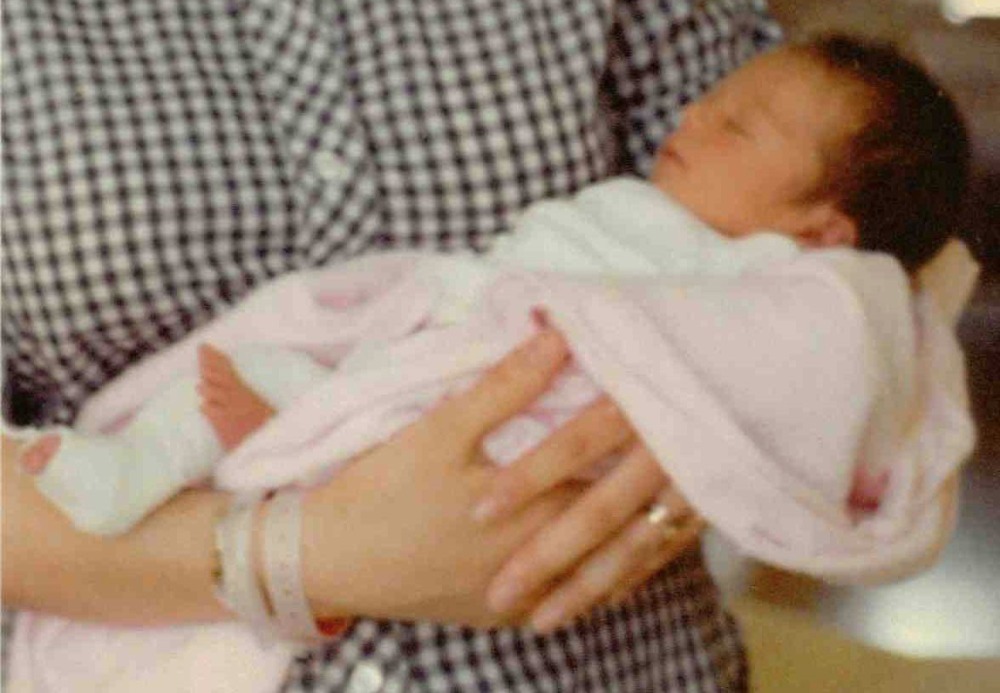 I was immediatly casted and had series of casts for the first year of my life and had surgery by the age of one. The process involved releasing my tendons as well as riping my achilles tendon. To correct my feet, I wore shoes connected to a bar to bed every night. I then wore a plastic brace until I was 12 years old. At that time I had the growth plates removed out of my left knee so that my right leg could catch up in length since it was one inch shorter. The laundry list continues, I am missing muscles in my right calf and my bones as well as my foot aren't the same as my left foot (my right foot is three sizes smaller than my left.) As such, I am only able to curl my toes under on my clubfoot. 
As a child I led a pretty normal life. I was a little more clumsy with my foot but I didn't let it get to me. I had a lot of doctor visits and many attemps to get my leg to be the best as possible. 
As an adult I am pretty use to having a clubfoot.
I buy shoes in two different sizes and when I get tierd I limp. However, two summers ago I started to experience severe pain in my right ankle and the pain has progressively gotten worse. After being diagnosed with arthritis in my ankle, it has been very hard to walk and sometimes impossible.
I have a two-year-old and a five-year-old and my pain is heavily interfearing with my quality of life and my ability to be the best wife, mother, and friend I can be. I can't just hop up and run to help my kids when they call out in the night. I can't run around the playground with them or do the things they would love to do with me. To remedy the pain I have tried steroid injections, Arizona braces, even crutches but with everything, they haven't been enough to help me, let alone get active.
My light at the end of the tunnel has been my clubfoot community on Facebook and through them is where I first heard about a medical device called the
ExoSym
.
It was created by Dr. Ryan Blanck for service members in order for them to save their legs from amputation. It was called the IDEO and is now available to civilians but only in Gig Harbor, Washington.
This is where you come in, I am going to be getting the ExoSym!!!!! I go to Gig Harbor June 16-24 and the cost of the ExoSym is $9000. The brace is not covered by insurance but this is not stopping me from persuing my mobility. 
I need your support in every way. Please partner with me to get my life back, to be able to play with my kids on the playground and to be the best me I can be. 
My goal is to raise $10,000, $9,000 of which will go toward my brace and the other $1,000 will go toward our cost of travel. 
I need $4,500 by June 16 and I have six months to pay the remainding $4,500 over the course of the next six months. 
I can't even put into words what this means to me and your support is everything. It is  a lot of tears. A lot of hope. A lot of need. 
This means the world to me, thank you! 
#melsclub

Organizer