Melissa Clark Memorial Fund
Dear friends,
It's hard to find the right words, because loss, grief, and death have no script for us to follow. I never imagined I'd be writing something like this for my friend Melissa, but life is nothing if not full of surprises, and death does not discriminate.
Let me start by saying that Melissa Clark's passing represents a tremendous loss to her daughter, her family, her friends, and every person robbed of the opportunity to know her. Melissa was robbed too, because she was simply not given enough time on this earth. She will not get to see her twelve-year-old daughter, Madison, grow up. She will not be there to celebrate Madison's sweet sixteen, send her off to college, or walk her down the aisle.  It's unfathomable. Melissa herself just celebrated her 38th birthday last month. 
Melissa was many things. She was beautiful. She was stubborn. She was passionate. She was loud. She was loving. She was smart. Brave. Outspoken. And she was HILARIOUS! Words will never adequately express how funny she was once she really got going. When she and I were together, much of what we did was just laugh until we couldn't breathe.
Melissa was also fiercely loyal. She was the kind of friend you always wanted by your side. For the rest of my life, whenever somebody wrongs me, even slightly, I fully expect Melissa will rise up from the grave and give them a ghost pop to the face. She loved her friends and family with every fiber of her being, and gladly would have given her life for them should the situation require.
Melissa was someone you were lucky to know.
In recent years, Melissa dealt with a seemingly insurmountable amount of health issues -- far too many for her age.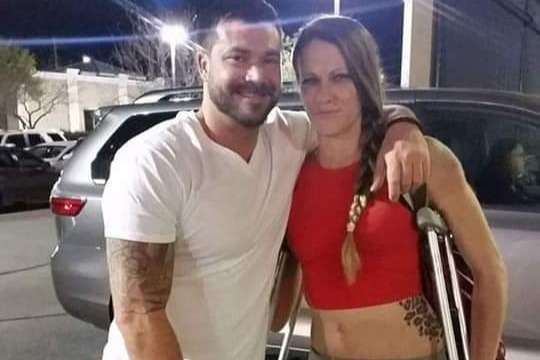 Melissa was a fighter, though, and she never gave up on herself or her future.   
In a recent message to me discussing her health problems, Melissa said, "It's been some really trying times but I'm glad I went through it, because I have an amazing story to help others. It has made me such a strong and resilient woman."
On September 26th, 2020, Melissa died suddenly and unexpectedly in her home. Right now, Melissa's family is grappling with the unimaginable burden of laying to rest their sister, daughter, and mother.  As if the grief and shock weren't enough, the Clark family now finds itself pummeled by a relentless avalanche of funeral expenses they had no way to prepare for, and they desperately need our help.
Some of you may not have known Melissa, but if you were ever involved in the dance music scene in Austin and Houston, or the culinary community in New York City, you almost certainly know her brother, Jacob Clark. In fact, I met Melissa through Jacob. Melissa would talk to me about Jacob all the time, especially her dream of visiting him in New York City (a place she had never been). Thankfully, she was able to see that dream come true when Jacob flew her up to NYC in 2018. I will forever be grateful that Melissa got that opportunity.
In addition to being one of my best friends in the world, Jacob has been a fixture in so many cultural and artistic communities around the country. He is a gifted DJ, who opened up for nearly every major act that came through Austin to play house music in the early '00s.  He's also an extraordinarily talented chef who has spent the last decade crafting exquisite plates and decadent meals for restaurants across New York City. 
Jacob Clark is like a brother to me. In the almost 20 years I've known him, he has never hesitated to go above and beyond to help someone in need. I've seen Jake go to astounding lengths for his friends and family. His love for house music and good food pales in comparison  to the love he has shown everyone in his orbit.
Melissa was Jacob's little sister -- his only sister -- and now he is tasked with planning and paying for her funeral. It's difficult to comprehend how painful that must be. For all he has done for his friends, he has never asked for anything in return. He needs friends now, probably more than he ever will, so I am asking all of you to please lift him up, so that he may lay his little sister to rest.
As previously mentioned, Melissa also leaves behind a twelve-year-old daughter, Madison. Melissa loved Madison more than the moon and the stars. She was immensely proud of the beautiful young woman Madison was becoming, and bragged about her constantly. Without her mom, Madison's life will never be the same. For her, above everybody else, this is a devastating loss. It's more than a young child should have to bear, and my heart breaks for her.
Once the cost of the funeral has been covered, every cent donated will go directly into a trust for Madison, since her mother will no longer be able to provide for her. Even if you don't know Melissa or Jacob, I hope you can find it in your heart to donate for Madison.  We are all on this planet together, and as the oft-quoted African proverb says, "It takes a village to raise a child."
I know times are tough for everybody right now. That said, I am pleading with each of you to please give to Melissa's memorial fund, no matter how big or small the donation. Every single cent helps. 
If you would like to visit her online memorial and sign the virtual guest book, you may do so here:
https://www.gatheringus.com/memorial/melissa-beth-clark/5304
Thank you so much.  Love to you all.
Sincerely,
Kristen Katz
Become the first supporter
Your donation matters
See all
Organizer and beneficiary
Kristen Katz
Organizer
Austin, TX