Tackling Moxie's Medical Bills
Hi, I'm Berianne (aka Gremlin). I'm the very lucky girl who has shared the last 5 years with Moxie - a charming, spit-fire of a rescue dog that is all ears, patience, and heart. If you know me at all, then you've probably already met her (or at the very least, heard about her and seen pictures). She is my tongue-centric alarm clock, my gentle cuddle bug, and my daily joy. She is a friend to humans, other dogs, and she's extremely gentle with kids and cats. When everything else seems bleak, it is her face (and sloppy kisses) that makes me feel like there is still good in the world.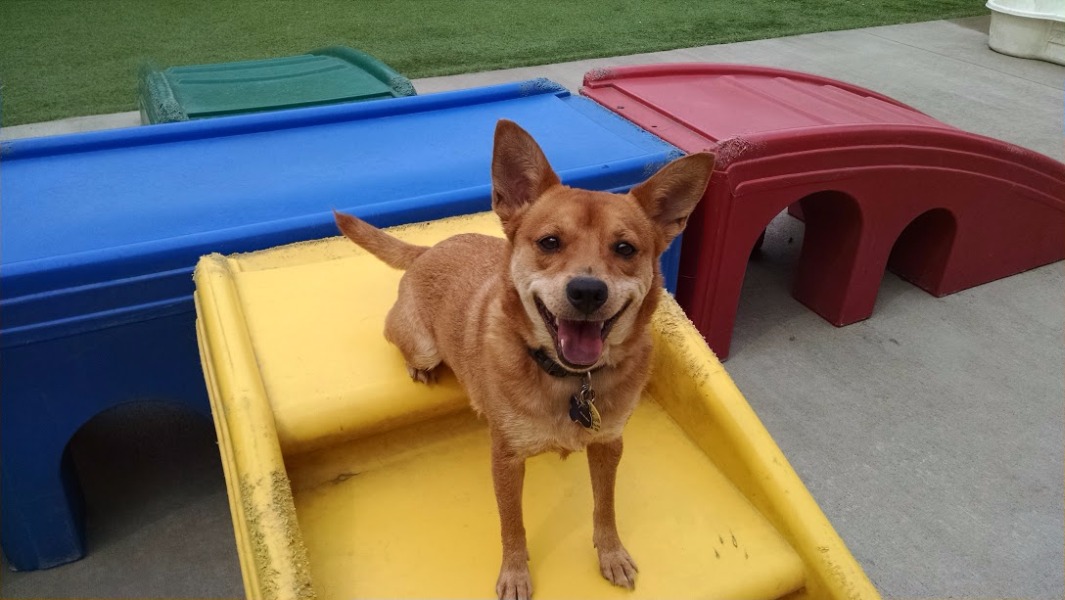 Unfortunately,
on Christmas evening
while I was out for dinner,
Moxie found and ate some Ibuprofen
- which can be extremely toxic for dogs. As soon as I discovered this, I rushed her to the emergency vet and she was immediately hospitalized. The hope was that with activated charcoal, flushing her system with an IV drip, and steady monitoring, she might be able to come home in a day or two. That has not been the case. 
The roller coaster:
The first 12 hours seemed hopeful, but then her body went into a form of shock. The symptoms were a bit confusing, but signs pointed to probable GI tract issues (inflamation or ulcers brought on by the toxicity of the Ibuprofen). She was given drugs to help with blood pressure and she's been on constant IV drip. There was a period of vomiting and diarrhea, which stopped her from eating. She was given anti-nausea drugs, and eventually was given a feeding tube. This poor pup has been through so much!
As of now (Saturday, 12/30 - Five full days later) she is still in the hospital
. 
The good news:
#1 - Her kidneys seem to be doing well (kidney failure can be a result of ibuprofen consumption for dogs, so that was an initial concern). 
#2 - Her vitals are slowly becoming more stable and closer to the range that the vets want. 
#3 - The doctors and staff have been great, and have communicated with me regularly. I've been able to visit her the past 3 days.
#4 - I finally got her to eat a little bit of chicken today! So things are feeling a bit more optimistic.
The bad news:
#1 - She's not fully out of the woods yet. Until she can stabilize her body functions (without assisted drugs and tubes), keep from vomiting for 24 hours, and eat and drink on her own, she won't be released. We hope that her GI tract is healing and that there's not a bigger problem that needs to be addressed.
#2 - As you can imagine, having her in the hospital for this long is
EXPENSIVE
! I'm a single puppy-mom, and while I try to always have something set aside for these types of emergencies, this goes beyond anything I'm  able to pull together. And each days she's in there, the bill is rising.
(This is the most recent print out of current charges - though the receptionist admitted it might not include everything yet). 
At this time, the bill is almost at $5,000. I've pulled together about $2,000 on my own, but would love help trying to cover some of the rest. Any little bit helps.
This is where you can help, friends!
I have a hard time asking for assistance, but for Moxie, I would do anything. So - If you know her and love her, or you know me and love me (or if you just like dogs and helping others) and are able - please help by contributing to this fund. All proceeds will go towards paying down this excessively large (and growing) vet bill. And I would be deeply grateful.
If you can't contribute financially, consider sharing the link with others. I'll also accept kind words and thoughts. :)
THANK YOU so much to those that have helped me already with rides, calls, messages, hugs, showing up on my doorstep - even suggesting crowdfunding in the first place!
You are the ones that are holding me together right now (while Moxie is unable). Thank you so much. Wild love.

Organizer
#1 fundraising platform

More people start fundraisers on GoFundMe than on any other platform. Learn more

GoFundMe Guarantee

In the rare case something isn't right, we will work with you to determine if misuse occurred. Learn more

Expert advice, 24/7

Contact us with your questions and we'll answer, day or night. Learn more