Medical Bills for William Hovis
Donations not needed.
Many thanks for the continued kind support for William. This month has been very tough on all of us but I wanted to let family and friends know that the third trial was not successful and after a few promising weeks we have entered into hospice and placed our final hopes in the healing hands of Jesus, Mary, St. Jude, and canonization candidates
Msgr. Al Schwartz
  and
Bishop Baraga
 .


THANK YOU ALL for helping us out in so many ways. We are deeply appreciative as we enter into our 3rd clinical trial. We continue to remain hopeful.  Thank you so very much! William, Sophie, Kristy and Jerry.
THANKS AGAIN TO ALL THOSE WHO HAVE ASSISTED ALONG THE WAY THUS FAR. William is about to begin the second round of chemotherapy and with that and all the other non-clinical / external treatments we have been pursuing, PRAYER, NUTRITION, Shamanic healing, acupuncture, reiki, and did I mention PRAYERS, he is doing pretty well.
I just can't stop thanking all those wonderful people who have been filling our journey with love and kindness. Each day, we learn of someone new who has prayed, donated, dropped off meals, walked our dog, mowed our lawn, or provided us logistical support while we take William to his pre trial preparation appointments.
Thank you so very much! William, Sophie, Kristy and Jerry.

Again, thank you to all who have supported us in so many wonderful ways. On a daily basis we receive so many forms of love and kindness. Thank you so very much! William, Sophie, Kristy and Jerry.
Yes easter has passed but how wonderful it was to attend a vigil mass with the family at Our Lady of the Miraculous Medal Church in Bokeelia. It seemed fitting that we were able to attend easter mass at this church that is dedicated to the Miraculous Medal which depicts Mary standing on a globe, crushing a serpent beneath her feet rays shoot out from her symbolizing the graces shed upon those who ask for them. Yes we have completed radiation but soon we will begin chemotherapy to further prevent the cancer from recurring. William continues to do well getting stronger every day, same wonderful smile warming our hearts,  and we have every reason in the world to believe that he can beat this illness.
Today, William completed his 33rd, and FINAL radiation treatment. Many thanks to EVERYONE who have supported us along the way AND the excellent TEAM of nurses and doctors at Johns Hopkins Kimmel Cancer Center at Sibley Memorial Hospital. The whole process was a bit scary for all involved but whenever Kristy and I needed some encouragement all we had to do was
turn to William who throughout the whole process was amazingly strong! Truly a SUPERHERO!
The journey is not over as now we work with the oncology TEAM at Children's to decide on the next course of action. High Grade Gliomas are the most aggressive and difficult forms of cancer to treat but we have options (both FDA approved and Trials) and we will be praying that WE WILL BEAT THIS!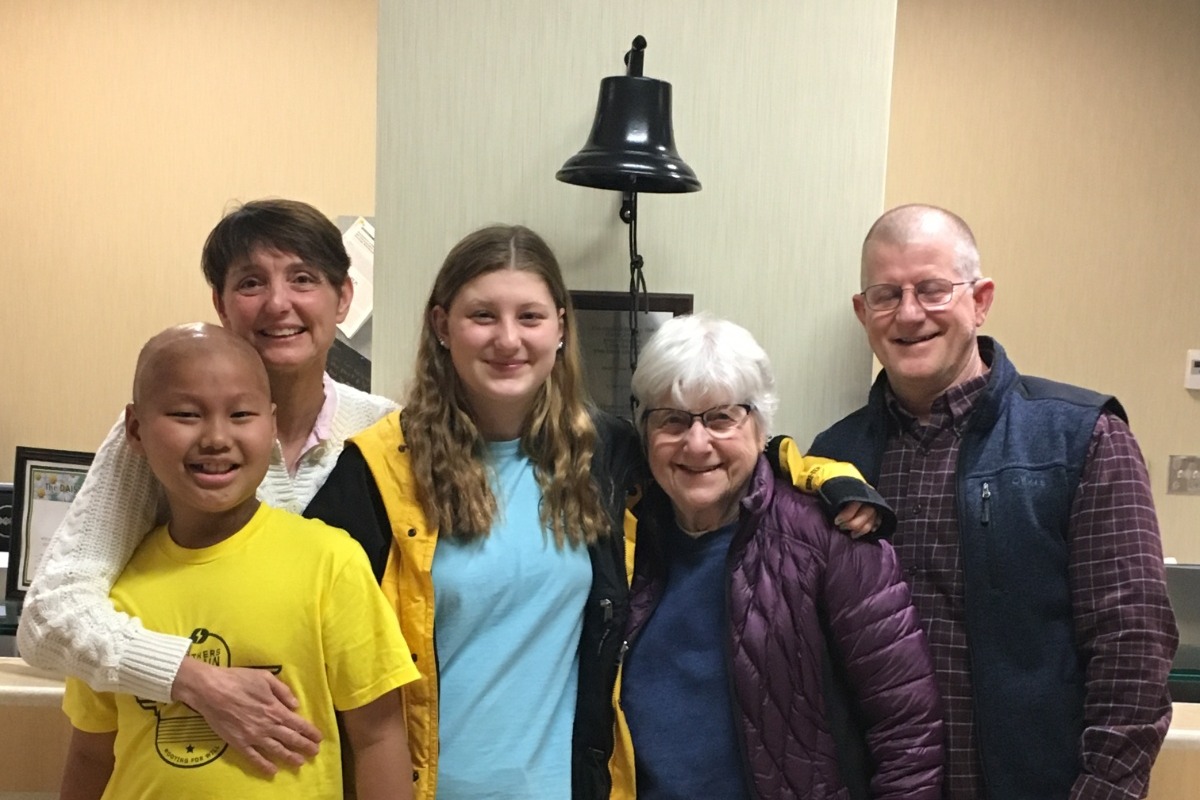 The final week of radiation is upon us and William has been a Superhero throughout!. Well actually we don't end until April 15th but who's counting. Spent the weekend hunting Golden Rainbow trout in WV but only came away with one GIANT Rainbow. Good catch. Followed this up with some NCAA basketball but even though MSU didn't come away with a win it was a great season. Ending the weekend with a brunch hosted by buds from #letmerun. Thanks Alfonso! and some more fishing of course!
Thanks to all those who have supported us in so many ways. Jerry and Kristy. 
I (Deb Levy) have added Gerald (Jerry) Hovis as the beneficiary of this campaign. As you all know, Jerry is the father of William Hovis who is undergoing treatments for brain cancer.  This note is a transparency requirement of the GoFundMe Organization. Thanks.
As many of you know, William Hovis had a brain tumor removed on Jan. 29, 2019, and he is now undergoing six weeks of radiation treatment and will most likely be followed by chemotherapy. Even with Kristy and Jerry's health insurance, they are sure to incur significant out of pocket costs. This is going to be a long battle. Any support that loved ones can give will help William get the proper care he needs to heal. If you've met William you are really lucky, if you haven't yet met him you will love him when you do! He is really a wonderful kid.