Matt McGinley Funeral Expenses Fund
It is with deep regret and sadness that the Clinton First Aid & Rescue Squad's family announce the untimely passing of one their own. Detective Matthew McGinley of the Hunterdon County Prosecutor's Office passed away at his home of natural causes on Wednesday, January 29th, 2016. He was 49 years old.
Detective McGinley faithfully served the HCPO for the last eight years. Prior to that, he served as a Patrolman with the Holland Township Police Department from 2003 to 2008 and as a Class II Special with the Clinton Township Police Department. He also served our community as a life member of the
Clinton First Aid and Rescue Squad.
Detective McGinley was responsible for investigating serious and fatal vehicle crashes for the Prosecutor's Office. In this capacity, he headed up the team that provided answers to families who had loved ones seriously injured or killed in serious motor vehicle crashes. He was also a Crime Scene Investigator and a member of the HCPO Arson Task Force. In addition to those duties, he also was a member of the Child Seat Safety Inspection Team and one of his last duties prior to his death was working that detail Tuesday evening.
Detective McGinley was a 1984 graduate of North Hunterdon High School and attended the
Somerset County Police Academy. Prior to becoming a police officer, Detective McGinley worked for the Flemington Car & Truck Family of Dealerships as a service technician.
Detective McGinley is survived by his three year old son Ian, his pride and joy. He is also survived by his mother Ruth and brother Tom of South Carolina, and a brother Mark in Virginia.
Prosecutor Kearns said, "Detective McGinley was a vital member of the Hunterdon County Prosecutor's Office and he will be greatly missed. Our sincere condolences go out to his family and friends."
A GoFundMe has been established to assist with offsetting funeral and family expenses associated with the Funeral. Donations are being accepted by the Clinton First Aid & Rescue Squad where Matt was a life member, and will be used solely for Matt's benefit.  Any remaining funds will go to the family to handle Det. McGinley's estate in addition to setting up a trust for his son Ian.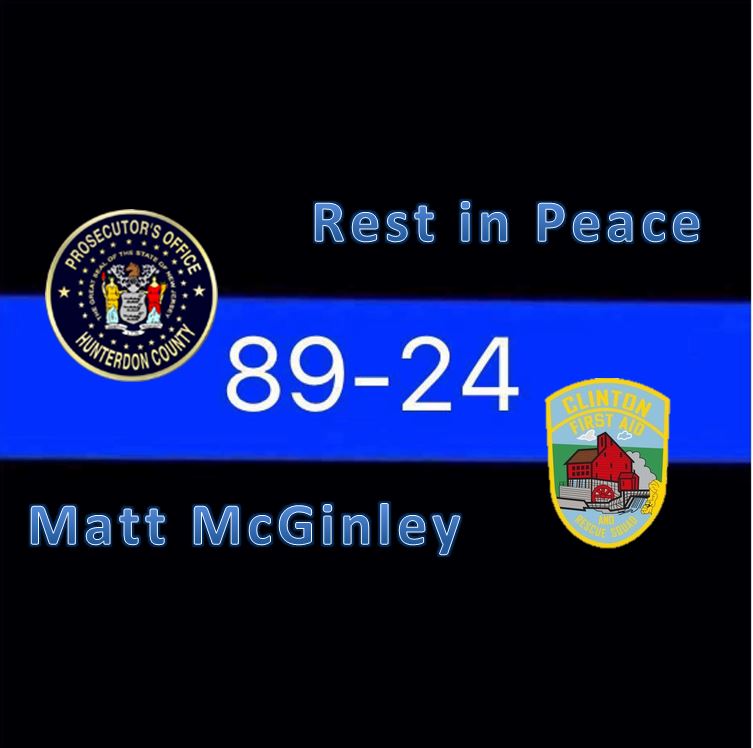 Organizer
CLINTON FIRST AID AND RESCUE SQUAD INC
Registered nonprofit
Donations are typically 100% tax deductible in the US.