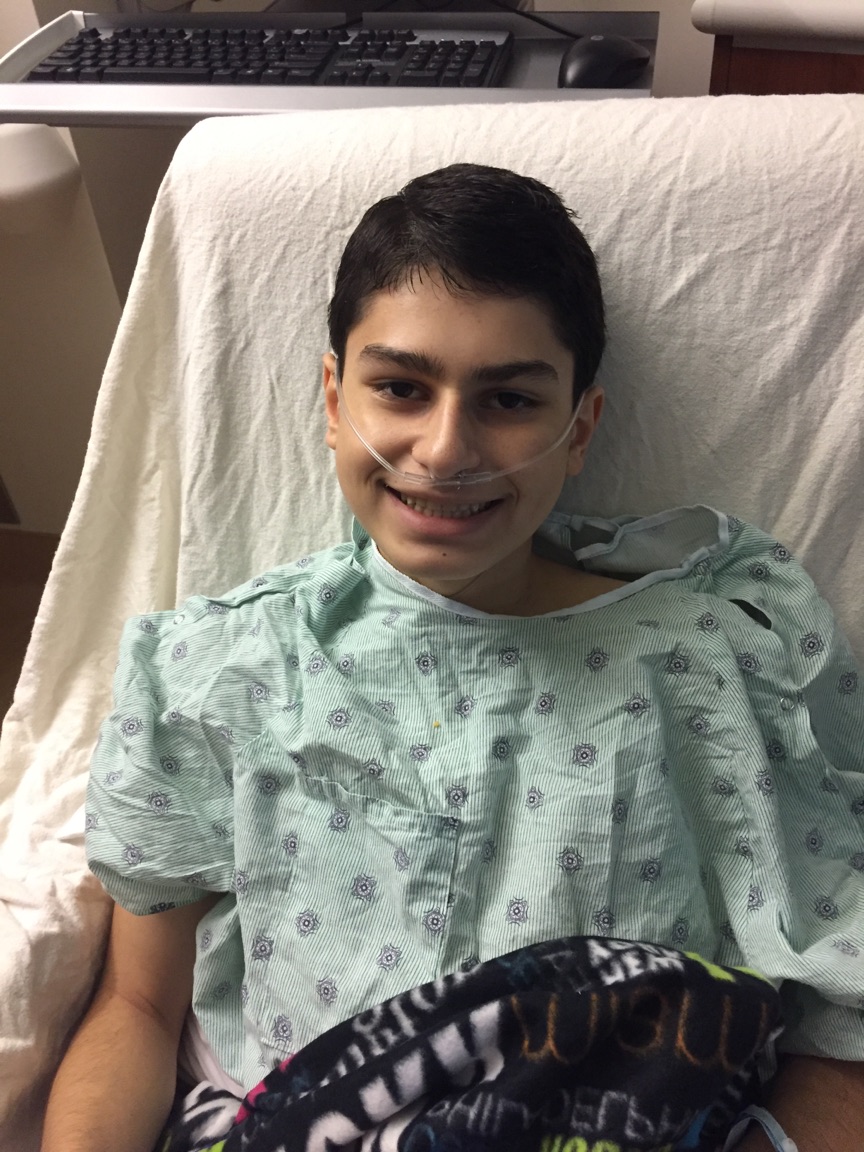 Matthew is a sweet, helpful, smiley guy. He started his freshman year happy to meet new people and get involved in many activities and sports. Everything was going well until just before Halloween when he started to feel sick. He had what appeared to be a virus/cold, possibly strep throat and/or walking pneumonia. After a week, he still was feverish and sick so we went to the doctor for some bloodwork and then we went down the proverbial rabbit hole...
We heard from the doctor the next day. He said to call Lurie's Children's' Hospital immediately and head there as soon as possible. We rushed home from work and got the kids together and told them what we thought we knew – that our 14-year-old son, Matthew, has cancer. Never ever would you expect to hear those words about your child. It was an extremely hard moment… We got ready (somehow) and drove into Chicago to the Children's hospital. After hours of traffic, tears, and dark thoughts, we arrived and started the check-in process. Hours later, still in shock, we heard the confirmation of his AML diagnosis and were immediately sent to the Blood and Cancer Disorders floor. And there began a very unbelievable, shocking, paralyzing, and life changing time for us.
Acute myeloid leukemia, more commonly known as AML, is an especially malignant form of blood cancer. Leukemia is cancer of the blood cells which form in the bone marrow. In leukemia, immature blood cells become cancer. These cells do not work the way they should and they crowd out the healthy blood cells in the bone marrow.  Acute myeloid leukemia is a fast-growing cancer that gets worse quickly if not treated. It typically is seen in adult males 60 years or older. Only 500 pediatric cases of AML are seen per year in the USA. So, of course, we were extremely devastated to find out our young and previously healthy 14-year-old son was one of those 500, rare cases. Thank God Matthew showed symptoms when he did, though. The oncologist told us that based on the malignancy of the cancer, if we hadn't had brought him in to receive treatment when we did, he only had a month more to live. No one ever wants to hear someone tell them that about their child. Without his pediatrician taking action as quickly as he did, and informing us of how important it was we got Matthew into treatment in time, who knows what would have happened to our son.
To make matters worse, we found out after the first chemotherapy treatment that he received, that he has one of the 'worse' mutations where his stem cell's fifth chromosome only knows how to replicate itself missing a piece of the chromosome. This pushed his diagnosis into a high-risk category. Ultimately, it was determined that he needed a Stem Cell Transplant to replace all his bone marrow's stem cells, as he cannot not fix the chromosomal mistake that is plaguing him. This threw us into another tailspin because, as it turns out, none of us, Steve, myself, or our other two children, Amanda and Zach, matched Matthew for the stem cell transplant. The transplant team searched their databases to find an external match, and finally they found a suitable donor.  At this point, we are embarking on a new path. The stem cell treatment is set to occur in mid-February due to a random stranger's kindness, as they are courageous enough to donate their own stem cells to Matthew.
It has been so heartwarming to see our youngest son, Matthew, deal so well and have such positivity throughout this life-altering diagnosis. He has been such a trooper throughout this whole process and continues to be every day. He takes each stage (intensive chemotherapy, fevers, infection, the loss of his hair, etc.) like a hero. We celebrated his fifteenth birthday on a respite from the hospital at home. He has missed most of his freshman year, but we hope with home tutoring and the understanding of his teachers, he will be able to rejoin his classmates as a sophomore this fall.
Absolutely none of this is easy, as you can only imagine. What parent wants to see their child suffer through cancer? Who ever thought we would learn so much about this diagnosis and become so educated in the treatment options. Life threw us a serious curveball, to say the least. It was so bittersweet to see Matthew watch his beloved Cubbies win the World Series from his hospital bed on the cancer floor this past November. All in all, we just want our son to receive the best treatment possible and pull through with flying colors. We wait and long for the day when we can say – look at you, Matthew! – you survived, you beat cancer! It takes time, positivity, and determination to get through this terrible situation, but we have such high hopes for our little guy. We all love and support you so much, Matthew.
Best,
The Abrams Family

Organizer
Lisa Cook Abrams 
Organizer
Buffalo Grove, IL
#1 fundraising platform

People have raised more money on GoFundMe than anywhere else. Learn more

GoFundMe Guarantee

In the rare case something isn't right, we will work with you to determine if misuse occurred. Learn more

Expert advice, 24/7

Contact us with your questions and we'll answer, day or night. Learn more