Martin Rosswog : Return to Dingle
Synopsis
I, Marie Rosswog, daughter of Martin Rosswog, am trying to help my father further his ambition of returning to Dingle and coming a full circle in his relationship with Ireland and the people of Dingle.
My father traveled to Ireland for the first time in the early 1970s and struck a friendship with a local family and a deeper relationship with the region of Dingle. As he mingled with the locals, he was invited into their homes and hearts and allowed to take photographs as part of his European Rural Interiors Project. In 2020, the idea arose to revisit the locations to film and photograph to document the changes for a follow-up exhibition. I am starting this fundraiser to enable my father and an assistant to travel to Ireland in early July and run an exhibition of his photographs in Dingle around the dates of the Dingle Races (Aug 5th, 6th, and 7th) as his collection includes photographs taken during the races in the 1980s.
If you donate to this cause (20€ or more) and would like a signed postcard, please leave a comment and we will get in touch once we reach the funding target. 
Some pictures from Martin's collection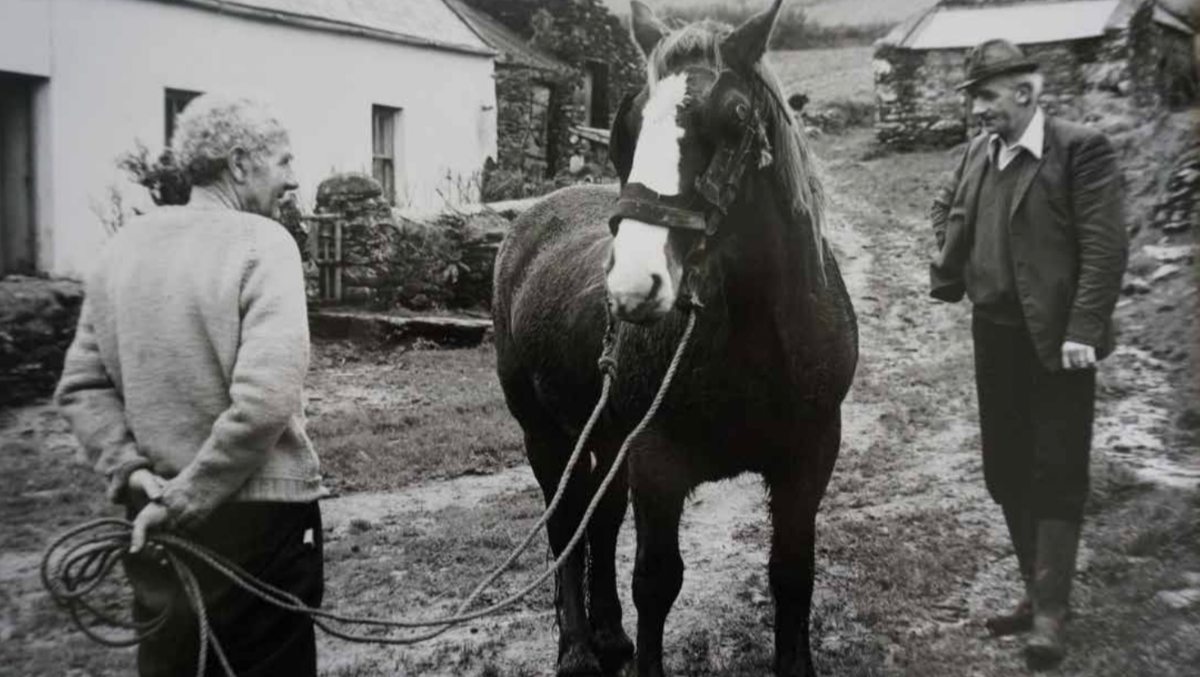 The Story

German photographer Martin Rosswog frequently traveled the Dingle Peninsula and the Invergh Peninsula from the early 1970s until the early 2000s. Early on, Martin developed a lifelong connection and deep friendship with the Curran family from Dingle. Martin would accompany Peadar Curran, a horse dealer by trade, to photograph and document Peadar's adventures from trading and buying horses at horse fairs and local farmers to the daily life of Dingle people and places. Maureen, Peadar's wife, introduced Martin to people living in Dingle and West of Dingle where they happily allowed Martin to photograph their homes as part of his European Rural Interiors project.

Through Martin building up a trust and rapport with the locals, he build up a large collection of photographs, all in black and white, recording a way of life in Dingle up to the mid-90s before the economic boom brought new modern changes to the peninsula. Subject matters Martin captured range from Dingle houses, streets, shops and pubs, farmhouse interiors, landscapes and local people, and of course the famous Dingle Races.

Martin Rosswog expanded his documentary work to the Inveragh Peninsula region in the following years.


Short Biography

Martin Rosswog, born 31.05.1950, studied at the State Academy of Art in Düsseldorf. He is a master's student of Bernd Becher and belongs to the so-called Becher School, the most distinguished group of German photographers in the second half of the 20th century, which includes well-known photographers such as Andreas Gursky, Candida Höfer, and Jörg Sasse. Martin Rosswog has worked as a freelance photographer and documentary filmmaker since 1986, when he began a large-scale documentary work on the interiors of traditional European residential buildings in the countryside. Rosswog systematically takes photographs in many countries, including Ireland, Great Britain, Russia, Finland, Romania, and Hungary. These photographs reveal traditional forms of housing that convey an impression of pre-industrial life and living in the countryside as well as their current development in the face of social changes. He is an archivist of passing time, a librarian of the disappearing knowledge of people's circumstamces, of the loss due to modernization. Exhibitions at the Rheinisches Landesmuseum Bonn, Kunsthalle Düsseldorf, Museum Barkenhoff, Worpswede, Kunstmuseum Villa Zanders, Bergisch Gladbach, Ruhrmuseum, Essen, among others. Book publications by DuMont Buchverlag, Schirmer/Mosel Verlag, Könemann Verlag, among others.

Martin Rosswog's website:

Books by Martin Rosswog:
Organizer