We would like your help for our dear young friends and co-workers, Adrijan and Marija Maran of Serbia who have very serious medical and financial needs at this time.
Adrijan and Marija are right now claiming God's promise:  Seek first the Kingdom of God and His righteousness and all you need will be supplied to you.  (Matt 6:33)
The Maran's sacrificial work with the poor in Serbia:
For a number of years the Marans have been serving with us faithfully as hard-working, volunteer Members of the Board of Zdrava Zajednica (ZZ)  Serbia
.  ZZ is a non-profit, faith-based organization that introduces poverty-stricken and marginalized Roma(Gypsy) communities in Serbia to the wonderful blessings of God's Kingdom.  This breaks the spiritual, physical, relational, emotional, economic and educational bondage of poverty and helps them experience whole health and well-being in Christ.  ZZ Serbia is part of the Global Community Health Evangelism (CHE) Network.
The Maran's now need help themselves:
On September 8, Marija Maran, who was near death, began her own journey back to whole health and well-being.
  On that day this brave young woman underwent two major surgeries to remove large tumors from her liver and stomach.  The second operation involved removing  over 2/3rds of her stomach.  God worked in miraculous ways to bring her safely through these dangerous surgeries. 
Marija still faces treatments to repair damaged lungs.  Post-surgery, doctors are prescribing 18 months of convalescence and a special liquid protein diet as part of her recovery from these drastic operations.


Marija's desire to get back to her good works:
Marija is very anxious to get back to her volunteer ministry with ZZ Serbia, which includes being treasurer, administrator and community volunteer.
  ZZ Serbia is very anxious to have her back!  Marija especially enjoys her opportunities to cook and share the love of Jesus Christ with the people of the village of Donji Petrovci over a zesty meal of goulash and fried bread.  During community festivals, children's camps and other village programs you will often find Marija and Adrijan just "clowning around."  Dressed in zany, multi-colored clown costumes, they entertain with their energetic mischief and clever pranks.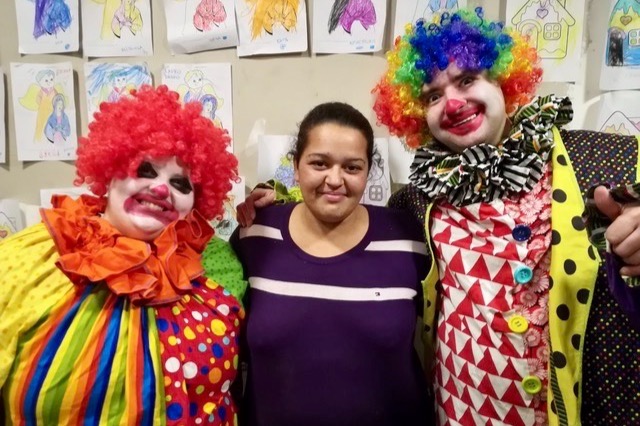 How you can help the Maran's right now in their need

:Two things stand in Marija's way from returning to what she loves to do best:  serve the Lord and the Roma (Gypsy) people of Serbia.
The first will be her recovery from the surgeries.  
The second will be repaying the huge medical bills she and Adrijan are now facing.
The estimated cost
for pre-surgery preparations, the surgeries, the hospital care and the post surgery convalescence and special protein diets will be about
$15,000.
  For Serbians in the Maran's wage bracket, that is
equivalent to 2 years' salary!
  Marija and Adrijan do not have the money for this and have taken out a loan. 
However, the cost to repay this loan over five years in Serbia will be an additional $15,000!
  We can do something about this right now!
Would you help us set the Marans free from this financial burden
so they can continue to seek the Kingdom of God for people even less fortunate than themselves?  We have already collected almost $3000 in gifts.  This has been a huge encouragement for the Marans in this deep valley of trials.  Will you help us raise the entire amount in the next two months?  
Thank you, on behalf of Marija and Adrijan, for your consideration and support.
Ron and Jeannie Seck
Organizer
Ron And Jeannie Seck
Organizer
Phoenix, AZ