Making memories for Aaron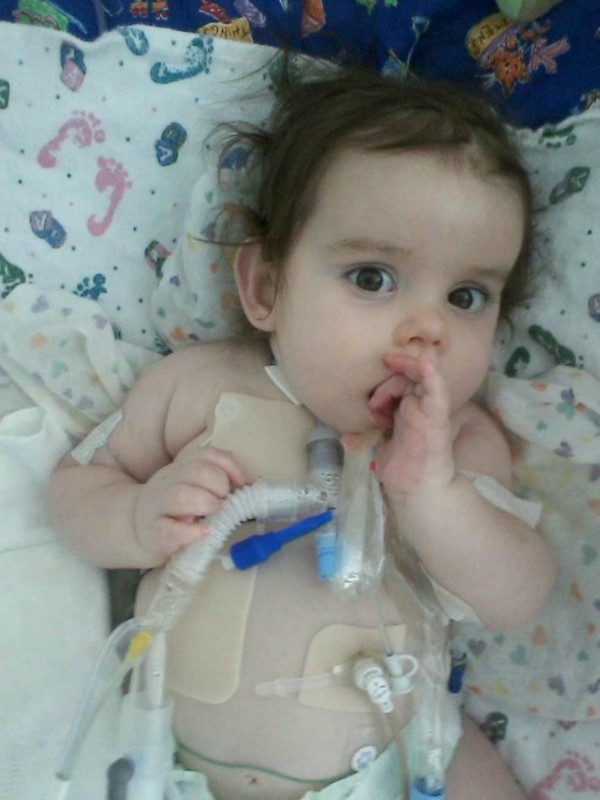 Aaron Joseph Tooker.....
On November 4, 2011, a beautiful little blessing came into our world. weighing a healthy 8lbs 4oz. Aaron was here, and he was more perfect than I could imagine. Family and friends were so excited to meet and welcome our precious angel into the world. My husband and I couldn't wait to get him home to introduce him to his brothers and sisters. Our family was finally complete.
The beginning
Aaron was a seemingly normal healthy baby boy. He had jaundice during his first couple of weeks which is pretty common for newborns. although his was particularly high to the point where he had to have phototherapy at home for about a week and a half. after that had been put behind us, an incident occurred with Aaron. we decided to go get family pictures on Dec 16, 2011. I was getting ready and I heard a high pitched scream come from Aaron. I rushed to his bassinet, he was lying there with his back arched and his eyes were rolling in the back of his head and he had foam coming out of his mouth. I started bawling. I picked him up and patted him on the back, his whole face was blue, he started breathing again, and then the same episode repeated itself. we called the paramedics. my husband and I decided not to wait and we all jumped in the truck, I held Aaron in my arms because he was still having episodes. We took him to the ER at Riverton Hospital. The doctors diagnosed his episode as an ALTE (Acute life threatening episode). Where his airway closed off to keep him from aspirating spit up. We stayed there over night and we were able to go home the next day. Everything seemed ok there for a while. Then in February, Aaron had a mild fever and was sweating like crazy. the puddle of sweat literally took up half of a queen size mattress. So I took him to the ER to have him checked out again. He had a little cold that turned into bronchiolitis. And his oxygen saturations were in the low 80's so they wanted to keep him for a couple of days to observe him until he was ok enough to go home. He did have to go home on .25 L of oxygen. We followed up at Primary children's at the ENT doctors office. The performed a laryngoscopy, to check for tracheamalacia and laryngomalacia, the doctors findings were consistent with Laryngomalacia. He was to remain on oxygen for 6 weeks.
Primary children's
Aaron was off of his oxygen and was doing well. He was a little bit behind on meeting his milestones, but I figured he was taking his time. I took him to his 6 month well child visit ( he was 7 months) HIs pediatrician did a circumcision check on Aaron which mad him really upset, He started crying and he was bluing in is lips. the Nurse came in and hooked him up to an oximeter and he was sating in the 50's, they quickly hooked him up to oxygen and sent him to go get an x-ray of his chest. The findings were possible pneumonia. He was taken from the doctors office up to primary children's and admitted to the Infants medical unit.
SMA TYPE 1
I have never seen so many doctors in my life. The First specialist that came in to see Aaron was an ENT doc. He performed a bedside scope to see about a possible obstruction. He did not find laryngomalacia but, bilateral paralyzed vocal folds. Aaron could not properly exchange gasses. he wasn't getting enough oxygen in and could not get rid of the amount of Co2 he was supposed to. so his co2 levels were rising. Another doctor came to see Aaron she was a neurologist and wanted to do an EMG on Aaron to see what his nerve response was to shock stimulation. The results were not good, there was little or no nerve response during the conduction. The neurologist then said that she was convinced that he had a Neuromuscular disease called Spinal Muscular Atrophy type 1. A terminal disease that is the number one killer of infants under age 1. I lost it. I was basically told my son was going to have a very short life expectancy. Aaron had to go through several test during our stay up there. An MRI, Rigid Broncoscopy, Swallow study, Countless labs and x rays, and genetic testing. while we were up in the hospital his test for SMA 1 came back negative. Then the started looking at SMARD 1 or DSMA 1( SMA with respiratory distress) A rare and fatal disease. Ultimately my husband and I decided to go with aggressive treatment and not give up on our son, So during his stay Aaron had surgeries for a tracheostomy and a g tube with a nissen and muscle biopsy. A total life changer for everyone. But my Aaron was still smiling even after his surgeries. We finally got to leave the hospital after my husband and I were done with all of our training we needed to support Aaron. seeing how he also had to be on a ventilator 12 hours out of the day.
Searching for an answer
Aaron has been through so much through out this past year. More than most people have to deal with in a lifetime. It was a hard adjustment at first for everyone in the home. There have been several doctors visits and hospitalizations in the past year. And many more diagnosis. but none that lead to the answer of what is really causing Aarons overall weakness and respiratory failure. He has had 5 different genetic tests ran, SMA 1, SMARD 1, SMA1 with point mutation, An SMA like disease that is unnamed, and anther disease that is still being researched, all which have come back negative. We will hopefully get an answer in July this year when the results of his exome sequencing comes back. Until then We take it day by day, trying to keep him out of the hospital but still letting him enjoy life with his family. and its so hard now because any little disease or illness can be fatal to him, he is so much more prone to respiratory infections and disease now. But he is so strong and brave. He is now 18 months old and is coming up on 2. And hopefully we have many more years together. which the doctors seem to think is not likely. This year has been really hard on the other kids as well. our family has been separated a lot when Aaron goes up to primary's I always stay with him no matter what and my other kids go with their grandma. My husband works hard to support our family. It seems the only memories that Aaron and his siblings will really have together are of him being sick and in and out of the ICU all of the time.
Creating Memories
I am so thankful that we have had the privilege of being able to have this special angel in our lives. But of course for anyone the amount of time we are here with our loved ones is never for certain, I guess we can say that we all do live day to day. But for Aaron time is very precious. I never thought that I would see a child lose his smile and happiness, But Aaron did. He has been through so many traumatic and life changing experiences in his short life, more than anyone should have to go through in an entire life time. Slowly he is starting to smile and enjoy life again. He has been spending far less time in the hospital and much more time with his family. His brothers and sisters were so happy to see his face light up when he got to see the Otters at the Living Planet Aquarium. They don't have many good memories of happy times with Aaron, its all been hospital stays, Doctors, Nurses, and ambulance rides. So the goal of this page is to help create more of those "Fun" memories for not just Aaron but also all of his siblings, so that when he is gone they will have happy memories to remember him by. We would really like to be able to take him to one of the happiest places on Earth, Disneyland. And of course as promised the beach so he can put his little toes in the sand. Of course we would try going through make a wish foundation, but the age requirement is 2 years. We just don't know if we have that long. This is the reason for doing this page for Aaron. So any contribution would be greatly appreciated.
We want to thank everyone that takes the time to read and share this. I hope Aarons story will touch your heart like he has ours. He is such a special little "Grizz." God has truly blessed us to send this Angel into our lives. He is more than just a member of our family he is our "Hero." We love you Aaron. God bless you all...

Organizer
#1 fundraising platform

More people start fundraisers on GoFundMe than on any other platform. Learn more

GoFundMe Guarantee

In the rare case something isn't right, we will work with you to determine if misuse occurred. Learn more

Expert advice

Contact us with your questions and we'll answer, day or night. Learn more