Canadian water based stats:
-   151,019 km's of Coastline, the largest in the world
-   8,500 rivers
-   2,000,000 + lakes
-   3 Oceans
-   20% of the worlds fresh water
Donations of $30 means you receive a recycled plastic hat W/ free shipping anywhere in Canada.
Want to join me in making a difference? I'm raising money to benefit Plastic Oceans Foundation Canada, and any donation will help make an impact. Thanks in advance for your contribution to this cause that means so much to me.
Understanding it may be a difficult time to donate, we are offering you a
circular economy solution
to support
Plastic Oceans Canada
(POC) with the long term goal of cleaning Canada coast to coast to coast.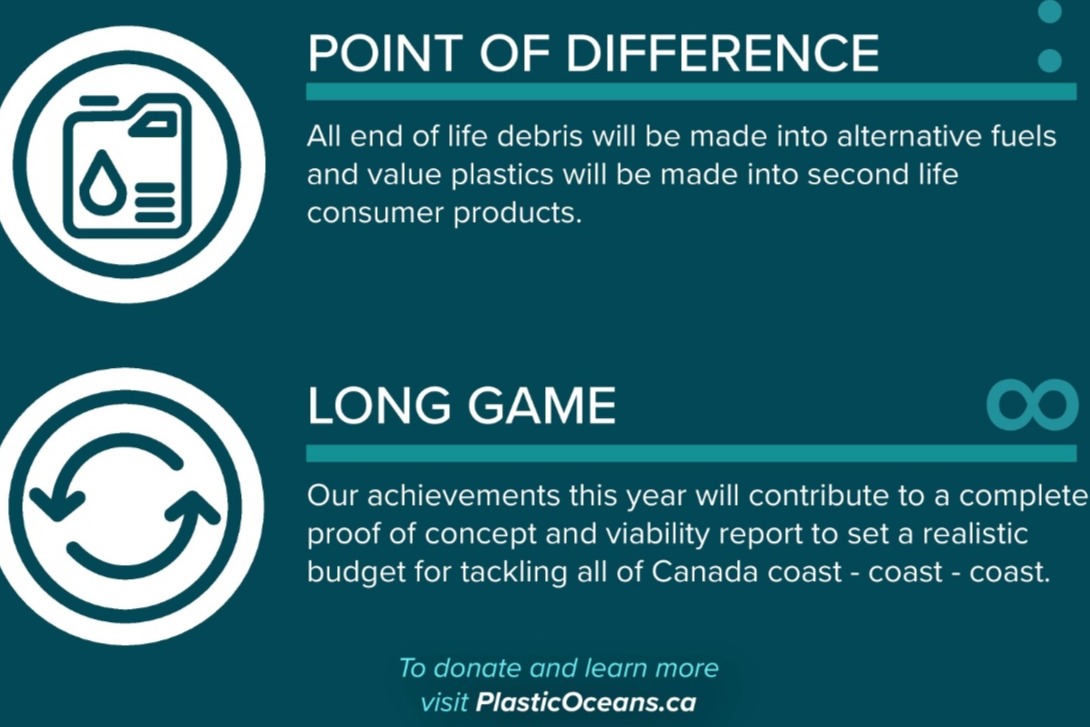 A $10,000,000 goal has to start somewhere!


Check out our
World Oceans Day Newsletter
 to learn more about Canada's waterways.
The first step towards achieving this is through truly evaluating what is out there and how to re-purpose the materials found. Avoiding landfills, which inevitably leads back to our oceans.
While our environment has been able to repair itself in some areas throughout the COVID crisis, we have seen an increase in litter, which means we have gone backwards!
All donations of:

$30
 - Receive a recycled plastic trucker hat, with the
Make Canada Clean Again 
logo. Including shipping anywhere in Canada. (First 100 donations will include a a FREE 
Forkanife
from
Cold4ged
)
$50 - 
Additional surprise gift to
eliminate single use plastics
  WITH  a recycled plastic trucker hat, with the Make Canada Clean Again logo. Including shipping anywhere in Canada.
$150 - 
5 pack of hats including shipping anywhere in Canada, perfect for families, offices and friends.
$300 - 
10 pack of hats including shipping anywhere in Canada, perfect for teams, retail shops and offices.
In the interest of keeping it simple. All other donation amounts will be considered as good will towards the cause.
With emerging and proven technologies available in Canada, POC will be working on effectively closing the loop on all waste plastics collected.
You can see these solutions with our previous work
here
All funds raised will go towards:
- Remote and uninhabited shoreline clean-ups either accessed by road, or funds permitting, by chartered boat to access the most vulnerable coasts. This ensures social distancing and achieves a normally unattainable deliverable.
- All debris will be locally processed in Canada into alternative fuels and second life products. The fuel made (
utilizing all end of life plastics
), will power the vehicle(s) either boat or truck, used to access these shores. All value plastics will be made into second life consumer goods.
Local marine litter art by
Pete Clarkson
- The extent and scope of what we can do is endless, we will achieve what we can with what we raise.
- Whatever extent we can achieve this year will contribute to a complete proof of concept and viability report to set a realistic budget for tackling all of Canada coast - coast - coast.
For more information on how you can be the solution you can
watch this TEDx talk
As Plastic Oceans is known for documentary and story telling, we will produce a short documentary explaining the process and breakdown the numbers on IF circular economy solutions can in fact close the loop and break even to clean our remote shorelines.
If you would like to see a selection of our
Films
you can visit our
Youtube Channel here
, with over 140,000 subscribers. 
More information about Plastic Oceans Foundation Canada
: To promote the conservation and protection of the natural aquatic environment in Canada (and the world) for the benefit of the public by educating the public on the dangers of plastic waste by:producing and distributing educational films, videos, documents, and other informative materials and resources; and presenting lectures, workshops, seminars and group discussions. To carry out activities ancillary and incidental to the above charitable purposes.
We must solve the problem within a generation!


Fundraising team: Make Canada Clean Again (3)
Adrian Midwood
Organizer
Raised $960 from 9 donations
Tofino, BC

Plastic Oceans Foundation Canada
Registered nonprofit
Donations are typically tax deductible in Canada.
Genevieve Wakutz
Team member
Rachel Petersen
Team member