Fight plastic, celebrate community with public art
This spring we are transforming trash – multicolored bottle caps, discarded forks and spoons, tiny single-use containers  – into a large-scale, highly textured wall hanging, a mash up of textile and mosaic created by the community!  We are raising funds for THE MAGAZINE BEACH COMMUNITY TAPESTRY, a collaborative public art project warning of the dangers of plastic pollution and celebrating the revitalization of a neighborhood jewel. Magazine Beach is a green space bordering the Charles River in Cambridge, MA.   This spring, thanks to the tireless work of Magazine Beach Partners volunteers, this revitalized space welcomes Mass Audubon's new urban nature center to its restored 1818 Powder Magazine building! Inspired by these achievements, artist Michelle Lougee and curator/activist Cecily Miller – both Magazine Beach neighbors – are teaming up with Magazine Beach Partners, Mass Audubon,  the teen artists of the Community Art Center and more partners to create the park's first work of public art, a vibrant tapestry made of plastic debris collected during clean-ups and at home by local residents.
The Tapestry will be installed in the  Powder Magazine Nature Center with educational information about the impact of plastic pollution on waterways and action steps people can take.  It will be composed of plastic waste collected during park clean-ups by hundreds of volunteers. Children from the Morse School and teen artists from the Community Art Center will help create it, and diverse neighbors, environmental activists, local crafters and artists are invited to join in!   Your donation will support community engagement workshops and outreach.  The Go Fund Me campaign will underwrite our collaboration with the Community Art Center of Cambridge, providing paid work as well as a positive opportunity for leadership, visibility and self-expression for a group of diverse local youth.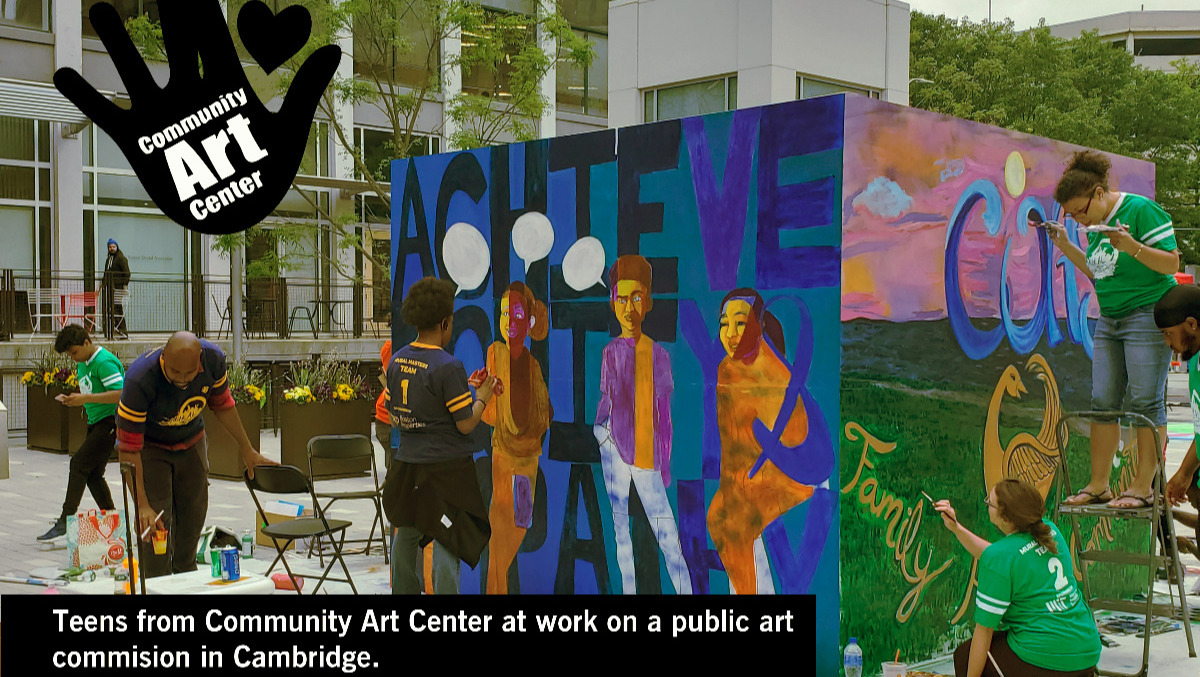 Youth Leadership
The Community Art Center (CAC) is a visionary organization that engages local teens in making public art for their neighborhood; the youth receive a stipend for their work and coaching from CAC's artist/mentor Jack O'Hearn. These young artists will design and lead a project component: the creation of talismans -- small art pieces that will be woven into the Tapestry. They will organize free outreach workshops in Central Square and other community locations, spreading the word about Mass Audubon and inviting passersby, neighbors, friends and family to participate!
More Partners...
To invite diverse participation from the vibrant Cambridgeport and Riverside neighborhoods, we are enlisting a wonderful group of partners.  Michelle will visit  3rd grade art classes and Mass Audubon's afterschool programs at the Morse Elementary School.  The fabulous folks at Gallery 263 will host an artist talk and workshops to reach the local arts community. The Charles River Conservancy is enlisting its Earth Day clean-up volunteers to collect plastic trash, and so is Riverside Boat House. We'll offer artmaking and plastic collection activities at the Cambridge Community Center.
Why target plastic?
Single-use plastic is an environmental disaster. It ends up in waterways -- including the Charles River -- and degrading into microplastic, where it enters the food chain at the most basic level. Larger pieces are a hazard to birds, fish and other wildlife, who cannot distinguish small pieces from food and fill their stomachs with debris. How can we stop this? Legislation has been proposed to make producers of plastic responsible for their own waste. We can push for the implementation of laws to ban plastic bottles and reduce waste. We can push local businesses to reduce plastic packaging – Whole Foods, Trader Joe's, and Starbucks -- all Magazine Beach neighbors.
We will integrate education and advocacy activities into our project to mobilize participants in the fight against plastic.
The finished artwork will be amazing!
Ok, this is Cecily writing, because Michelle Lougee is an extremely modest person. But she is also an exceptional artist who exhibits in museums and galleries throughout New England. I have been fortunate to collaborate with her on a large-scale community project in Arlington MA; I am so excited to partner with her in Cambridgeport, where we both live. Her commitment to the environment is sincere and deep, and her imaginative and beautifully crafted work opens a space for pleasure, contemplation, and action. Writer B. Amore was eloquent in a recent review in Art New England:
"Lougee is a magician who transforms discarded materials into extraordinary aesthetic comments on the ecological disasters we're courting. Her captivating forms are inspired by ocean species that are hundreds of millions of years old, more ancient than humans, which are now threatened with extinction by plastic waste…we're reminded of the daily choices we make. Let's hope that our future progeny will not read 'Once upon a time…humans failed to protect…' It all depends on the choices we make now.
Join us!
We ask for your financial support to meet our budget, but we also hope to enlist you as an active participant.
Sign up here
to get involved. 
You can collect and donate your own small hard plastic waste, come to a workshop or talk, speak to local business leaders and your political representatives on City Council, State Legislature and the Congress about this critical issue. Oil and gas companies are ramping up their production of plastic as consumers seek to move away from fossil fuels for cars and heat at home; plastic is their Plan B.  Microplastic is in our water, air, and plants.  Let's work together to put an end to this environmental disaster.
Q&A What will my donation cover?
Funds will go to the Community Arts Center of Cambridge to cover youth participation,  as well as additional artist stipends for workshops and outreach activities, education stipend for plastic experts, interpretive materials, and live music for an unveiling celebration in July!
Will I receive anything for contributing?
Go Fund Me is set up as a way to make a gift to support a passion project or cause without receiving anything back -- except of course the satisfaction of advancing a cause you believe in.  We are grateful for your support at any level, and your generosity will make a difference!
How can I find out more about Michelle Lougee's artwork and Cecily Miller's projects?
Take a look at our websites:  
Michelle Lougee
  and
Cecily Miller
 . 
Become the first supporter
Your donation matters
See all
Fundraising team (5)
Cecily Miller
Organizer
Cambridge, MA
Magazine Beach Partners Inc
Beneficiary
Michelle Lougee
Team member