THANK YOU SO MUCH FOR HELPING MADISON AND PLEASE READ ON TO SEE HOW YOU CAN HELP OTHER CHILDREN LIKE MADISON.
Because of your overwhelming generosity, 3 year old Madison will have her SDR surgery in St Louis in May and she will be fully supported with the special equipment and year-long rehabilitation that will make her dream of walking independently come true . We are so very thankful to each and every one of you for your support and willingness to be part of Madison's journey and for making it possible to exceed our goal of raising $140,000. We made a promise at the start of this campaign to share any excess funds, beyond that which Madison will need, with other families who are on the same journey. With your unwavering support and the amazing media attention that culminated in receiving OHIP funding for Madison's surgery cost, we can now fulfill this promise in a significant way. We will be forming an independent committee to help direct the excess funding. We expect to be able to do that after our return from St. Louis. In the meantime, please continue to support these other families and their children by donating to Madison's campaign or by donating directly to any of the Ontario SDR GoFundMe campaigns. Thank you so much for your generosity and for supporting Madison and the other children. We are forever grateful.
Toronto Sun Article:
http://m.torontosun.com/2017/02/23/madi-leads-the-charge
CTV News
http://www.ctvnews.ca/mobile/video?playlistId=1.3299108
Global News
http://globalnews.ca/video/3269560/fight-for-out-of-country-surgery-for-kids-with-cerebral-palsy-gains-momentum
CP24 video from Queens Park
http://www.cp24.com/mobile/news/ohip-to-fund-child-s-u-s-surgery-but-many-other-kids-left-stranded-1.3299273
CBC News
http://www.cbc.ca/beta/news/canada/toronto/madison-ambos-ohip-coverage-1.3995824
------------------------------------------------
HELP 3-YEAR OLD MADISON AMBOS GET LIFE  CHANGING SURGERY!
We're trying to raise $140,000 to help pay for a life-changing surgery that will help Madison learn to walk independently!
Meet Madison!
She is a typical, 3-year-old who loves playing with her baby brother Jack, going to pre-school with her friends, swimming, visiting the zoo and riding her therapeutic horse Sassy! She brings joy to everyone she meets with her infectious smile and easy going personality. Madison was also born with Cerebral Palsy: damage to the brain sometimes caused by lack of oxygen before or at birth which impacts muscle tone and impairs muscle coordination in both her legs and arms.

Madison's form of Cerebral Palsy is called Spastic Diplegia, and is something she'll live with her
whole life. She's worked diligently to improve her movement by focusing hard and building strength with her physiotherapists and other therapists, but she still relies on a walker to help her get around.
Recently we found out there is a way to help her walk independently and drastically improve her quality of life!

Why We Need Your Help
Madison is an excellent candidate for Selective Dorsal Rhizotomy (SDR) surgery and has been accepted by Dr. T.S. Park at St. Louis Children's hospital in the spring, 2017. 
Dr. Park's predictions for Madison are: better balance, transitions will be easier and faster, her spasticity will be permanently reduced, her level of comfort will improve, her sitting and standing postures will also improve.
Dr. Park feels that Madison will be able to walk independently in all environments.
This is such exciting and inspiring news! We're very excited about Madison's future but we're facing one barrier: OHIP won't pay for the surgery because no doctor in the province will sign a consent form to approve it. That's where you come in.
What We Need
Total costs are over $140,000. We're trying to raise funds to help pay for: the surgery, equipment for the home, physiotherapy both before and
after the surgery, accommodation in St. Louis, travel costs and other costs associated with Madison's journey.
About The Ambos Family
Giving back and paying it forward are very much a part of Madison's family. Her parents, Katherine and James Ambos have been very involved with the community through James' volunteer work with Police Services and Katherine's work coaching children with special needs.
In fact, they met working at Variety Village.
Shortly after, Katherine underwent surgery as a liver
donor for her mother and married James in October, 2012. A year and a half later, Madison was born prematurely and 13 months later was diagnosed with cerebral palsy, and while her diagnosis was unrelated to Katherine's organ donation, the news was heartbreaking.
It would be understandable that this devastating news might have hindered their volunteer activities but they have continued to contribute to their community and the causes they care about: Beadonor. ca, March of Dimes, Variety Village, and Grandview Children's Centre.
They actively support awareness and raise funds for programs and never hesitate to involve their family, including Madison, in these inspiring activities.

Giving Back
It is our hope that many others will join us in helping Madison and her family through this journey. Katherine and James have met many other parents in Ontario who are on a similar path and it is their wish to help these families if they can. It is our pledge that any funds
contributed beyond that which they need will be donated to another family who are on the same journey.
Your support will help this amazing little girl to achieve independence throughout her life and allow her to be everything she wants to be, and more.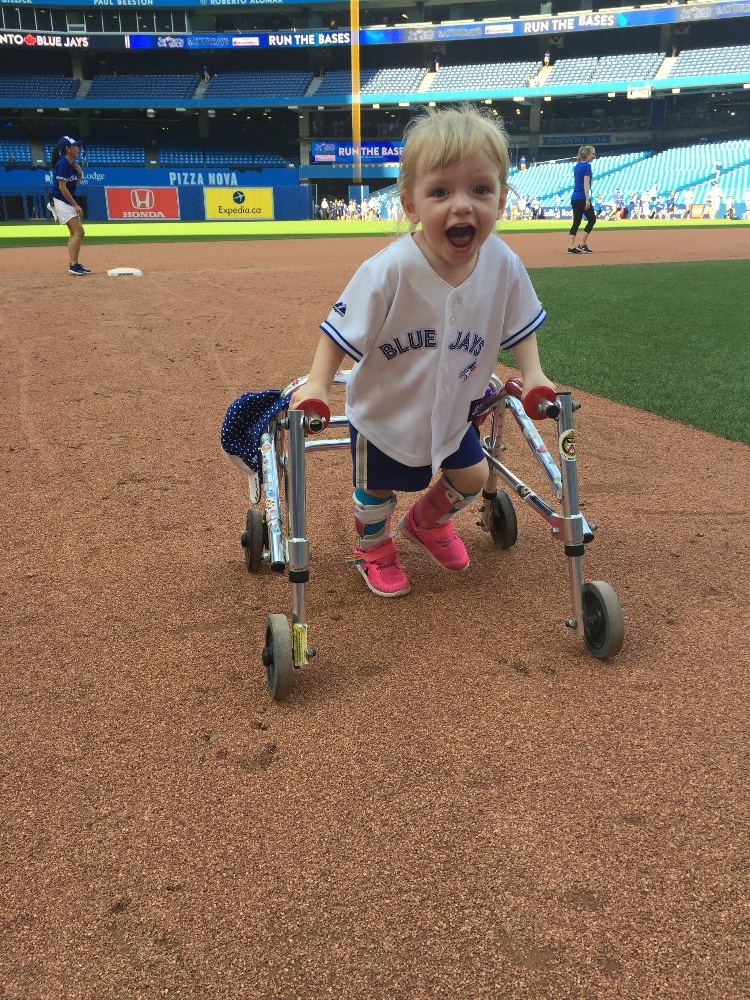 Thank you for your consideration and support and if you are interested in continuing to follow Madison in her adventures, please check out our daily blog:
www.madimoves.com
Madison's Families
More About SDR Surgery
SDR (Selective Dorsal Rhizotomy) surgery was pioneered by Dr. Park at the St. Louis Children's Hospital and he's the world leader in performing this procedure. It involves surgically entering the spine to remove a portion of one vertebrae and stimulating the nerves to determine which are causing the muscle tightness associated with Cerebral Palsy and cutting those nerves. The tightness is what can deform the bones as the child grows and this surgery will hopefully ensure that Madison avoids other painful and invasive surgeries down the road, along with giving her more independent movement.
For more information about St. Louis Children's Hospital and SDR surgery, please check out the following link:
http://www.stlouischildrens.org/sites/default/files/services/cerebral_spasticity/files/SDRbrochure_final.pdf
Global News has run stories trying to help families get the answers they need.
http://globalnews.ca/news/2170390/families-fighting-for-childrens-surgery-rejected-by-ohip/
For updates on Madison's journey and to spread the word:
#madimovesahead
#sdrchangeslives
Check out the different organizations that support Madison with her family and all her therapies.
http://www.varietyvillage.ca
http://grandviewkids.ca
https://www.marchofdimes.ca/EN/Pages/default.aspx
For those people interested in receiving a tax receipt for donations up to $10,000 please visit:
http://www.handicareintl.org/SDR/Registration.php
Connect with us on facebook:
https://www.facebook.com/madimovesahead/
Softball Tournament Organized By Malcolm Murchie 
Organizer