Our daughter's name is Madelyn Rose Miller. Maddie was born on February 21st 2015 @ 12:48am weighting 6lbs 5ozs at 19 3/4 inches long via emergency c section.
Both my husband and I have heart disease on both sides of our family, so naturally I told my OBGYN this and was expecting several tests to be done. But with all the tests I went through and all the sonograms nothing showed a heart defect. When our families were at the window viewing the nursery they saw a nurse give her oxygen and grew concered. A nurse came out and told our familes they were closing the window. At first they thought it was a lung issue but was not for sure so they called a specialist from another hospital in Dallas and he determined it was a heart issue rather than a lung issue. This was our families worst nightmare! Maddie was rushed to a nearby hospital in Dallas where she was placed in NICU within 4 hours after being born. I had to stay behind due to having a C section. I was discharged the very next day by my request, no matter the amount of pain I was in I was going to see my baby girl.
Maddie was born with Tricuspid Stenosis Pulmonary Stenosis Hypo plastic right ventricle. Which means her right ventricle did not develop and due to that her 2 valves to the right ventricle did not develop either causing several issues. Maddie has to have 3 surgeries to correct her heart.
Surgery #1 is for a BT shunt, Pulmontary band and PDA ligation. This diverts blood from the aortic branch to the pulmontary artery allowing blood to flow to the lungs to receive oxygen. This was done on February 24th 2015 just 3 days after she was born.
Surgery #2 is called the Glenn. This bi-directional shunt is connecting the right branch of the pulmonary artery so the blood from the head and upper limbs will pass directly to the lungs, bypassing the right ventricle. This was done on August 19th 2015 when Maddie was 6 months old. 
Surgery #3 is called the Fontan which diverts the blood from the right atrium to the pulmonary arteries without passing through the right ventricle. This will be done at the age of 3 years.
Since her first surgery Maddie went off the ventilator rather quickly on to high flow oxygen and then weened off to just breathing room air. Her chest tube, pacer wires and art line were removed days after..
We were always told the nutrition part of the recovery process was always hard for most babies due to losing the ability to suck, swallow and breathe all at the same time.  We started her on breast milk March 4th  by feeding tube. Maddie ended up refluxing the breast milk so, we tried another type of formula called Enfaport and still had a reflux problem. There were talks of another surgery called a Gtube with a Nissen Fundipication. This is a feeding tube that is sewed to the stomach where she can get direct formula and even medicines to her stomach. The Nissen is to be tied with the top part of the esphogas so no refluxing can occur. The surgeon decide to try Maddie on one more formula called Vivonex and her little system ended up handling it. So the Gtube/Nissen surgey was put on hold. Every day they upped her militers per hour on her formula as well as her calories and she still had no reflux. So now it was time to work with her on the bottle. Occupational therapy started with dips of taste and at first she seemed interested. So every day we worked with her trying to get her on the bottle, so we can lose the feeding tube. Babies are born with the ability to work a bottle but after surgery most babies lose this ability. This is what are goal was to get her on the bottle, gain some weight and then we can go home.
On February 16th 2015 Maddie's Eko showed some fluid around the heart and a small closing on her Atrial. So doctors said she needed an Atrial Septostomy. The hole between her 2 atriums was trying to close and in heart patients they need this open. This means they go through the groin into a main artery and use a balloon by the heart to open the hole back up for better circulation to her heart. This was totally unexpected and needed to be done immedietly. During the procedure the doctor tried 3 times and on the 4th time the balloon worked. We got so lucky on this because if this had not worked then she would have had to have another open heart surgery to get this done. The very next day Maddie was already off the ventalor and slowing getting weened off the high oxygen. Her arterial line was pulled and her Eko showed that her procedure worked great and it even made her oxygen levels for breathing even better.  A true fighter!!
Now that Maddie had recovered from the Artial Septostomy procedure we started again working on getting her on the bottle. Every day several times a day the nurses and I tried manipulation and stimulation along with dips of taste to get her on the bottle. Doctors told us that she is on the path to months of learning the bottle. So the Gtube/Nissen talk began again. Maddie's dad and I were honestly hoping and praying she didn't need this surgery that she will just latch on the bottle and we can get out of here. In reality this was not happening and as much as we hated for her to back to the operating room, this needed to be done. We were told when this surgery was done and she recovered from it that we could go home. We would still have to practice with her but we could do it from home and not in a hospital. Doctors also said the gtube is not permenant and can be removed as long as she was completeing eating from a bottle rather than the gtube. This gtube surgery was also beneifical for her next heart surgery the Glenn because she wont need a feeding tube in her nose and she will have less iv's in her arms because they can give her food and most medicines through her gtube. Maddie's gtube surgery was on March 24th just one month after heart surgery. The doctor was very happy with the surgery and how it all turned out, she was off the ventilator that night and her art line was pulled and feeding tube was gone!
On March 21st Maddie turned 1 month old her Nanny and Mimi bought her some outfits and bows to have a photo shoot but she had a rough night before with refluxing and was so tired and needed her beauty sleep so mommy and daddy decided to have her photo shoot later this week.
Maddie has already developed her own personality, she loves to wiggle and kick her legs and stretch to her pink mobile and loves holding hands and giving kisses. She likes to smile and pucker her lips up and even gives you the crazy eye look. She has this fake little cry down really well were mommy and daddy, Mimi, Nanny and Poppy jump to her every move, were already wrapped around her little fingers.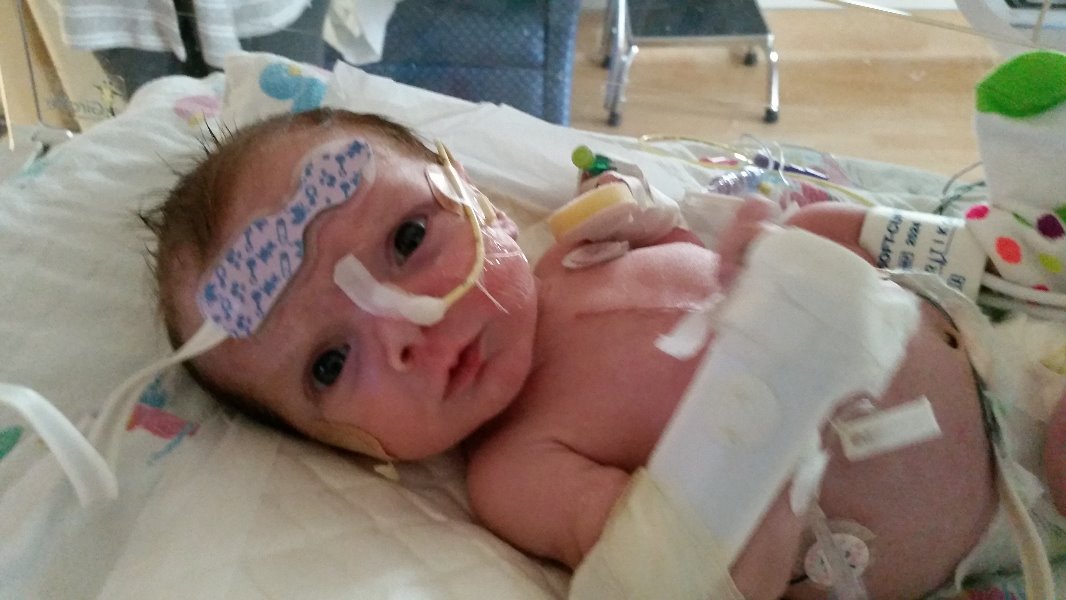 Organizer
#1 fundraising platform

More people start fundraisers on GoFundMe than on any other platform. Learn more

GoFundMe Guarantee

In the rare case something isn't right, we will work with you to determine if misuse occurred. Learn more

Expert advice, 24/7

Contact us with your questions and we'll answer, day or night. Learn more