Keygan Power, a young man that has fought so hard to stay alive and he's just 16.
A kind, gentle and brilliant boy, that I have the honour of calling my son.
Keygan, his little brother Quintin and I arrived home in the afternoon from a two day camping trip not far from home.  It was 3am when Keygan came into my room and woke me to complain of a headache, this was out of the ordinary, even with his medical history.
In  2017, on Keygans 14th birthday he was diagnosed with Non-Hodgkins Lymphoma and endured 6 rounds of chemotherapy. November 2020 will mark three years clear of Cancer and will continued to be monitored for years.
I tucked Keygan into bed with a glass of water, went to bed, it was only about 5 minutes and I had an overwhelming need to check on him. Keygan was on the floor beside his bed, unresponsive and appeared to be having a seizure. My heart began to raced and my adrenaline kicked into overdrive.
Keygan was rushed to Victoria General Hospital by ambulance, as I followed behind crying, shaking with fear and panic.  Keygan was rushed into a CT scan before I was allowed to see him again.  The results showed a major bleed was happening in Keygans brain and cutting off oxygen the oxygen supply. The Neurosurgeon on call told me over the phone, 'the bleed is far too extensive to have hope for survival, I'm sorry'.  He went on to explain even if he were to preform a craniotomy, Keygan would most likely not live to complete that surgery.
These words stirred a feeling like no other.  
I pushed for the surgery. Keygan underwent a five hour surgery, removing a major portion of his skull to access the artery that was flooding his brain with blood.
He survived and made it into the Pediatric Intensive Care Unit!!!
The neurosurgeon found nothing obvious to explain how or why this happened. The blood vessel was clamped and 57 stitches closed the skin and the 'bone flap' was left off to allow for swelling. Keygan was now in a medical induced coma, on a breath machine and being cooled to decrease swelling.
The doctors and neurosurgeon sat me down in the quiet room and said "Keygan was not out of the woods, the damage to his brain was extensive and he still may die as his brain swells." :'(
The danger window of three days later passed and then another three days and then another 3 days. I hear repeatedly that Keygan was not out of the woods yet as he may not be able to breath on his own, and he probably wont be able to hear, speak or walk ever again.
Another surgery to insert a feeding tube into his stomach, remove his braces (in preparation for an MRI) and to drained fluid that was pooling on the side of his skull where the flap would normally hold it in.  Keygans sedation was then lighted in preparation of extubation, the next day the team gathered to ensure Keygan would have back-up if he was unable to take in air on his own. He did it! He took breaths!!! As did I!
The fluid on the side of his head was back after a few days, so they drained it again in a procedure room with a local. 
Another hard part, withdrawal from the drugs that his body was now addicted to. Keygan was feed through his gtube and picked up out of bed in with an overhead lift.
Day by day he slept a little less and started making eye contact. Still unable to move or communicate, it had been 21 days and Keygan was stable enough to move out of Intensive Care and into acute care. As Keygan became less medicated, he tried to communicate and it was so hard! He was awake inside his mind, but unable to make his voice work. I had told Keygan a few times during his conscious moments about why he was in the hospital and what had happened inside his brain. He was pretty upset about all of his hair he had worked so hard to grow after chemo made him bald and now he was bald again. It was so painful to see his sadness and frustration when he had something to say or tried to communicate with medical staff. He was determined to eat and drink, so we worked on it together.  We watched YouTube videos about swallowing after a brain injury and he just kept at it and eventually he was eating muffins.There was a swallow test scheduled but it was weeks after Keygan was ready.
Soon after the test, he refused feeds by gTube, it was clear, it needed to be removed. 
The MRI results were promising and the brain surgeon was ready to operate and replace the bone flap.  The many many stitches were removed two weeks later. As days went on Keygan was just done with it all. He didn't want to participate in conversations with medical staff and was just so down. Rightly so. I had to get my baby home even if it was for a day. We worked at it and a few days later he was given an over night pass.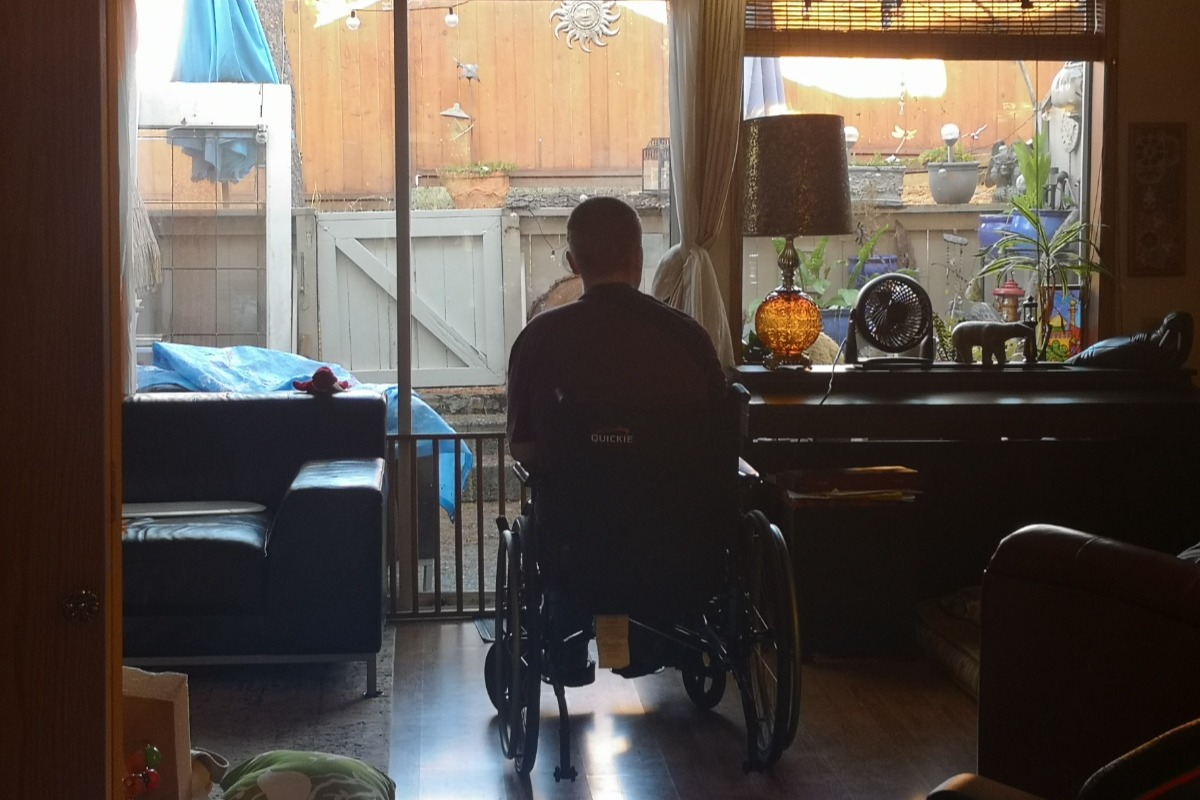 Really, our sights were set on Sunny Hill in Vancouver for intense rehabilitation.  After a few days with overnight passes, we were discharged for the weekend and Sunny Hill was ready to except us on Monday  September 21. 
Packing up to leave home again was challenging. It was hard for Keygan. It was hard for Quintin. I feel torn in two when I have to choose a child and this ugly feeling is familiar. When Keygan was an inpatient for chemotherapy I was unable to be with Quintin for a week at a time. It breaks my heart that I can't do it all.
These brothers really love one another!
Quintin is at home in Victoria with his 'Step-up Dad' Tim, a long time family friend that has stepped up to fill in where I can't.
Keygan and I are here at Sunny Hill in Vancouver Children's Hospital. Working on our third week of intense rehab and therapies.
Keygan is AMAZING. He wakes up at 7am and tries so hard to help get himself ready for the day. He puts his best foot forward while trying to learn to take steps. He practices his speech therapy even when that session is over. He is asked 10 times a day how he slept, how he's eating. He is repeatedly assessed and vitals taken, masked faces are in and out of his room all day long. Some people talk to him like he can't hear, some write things down and speak slowly. It's so hard as a mother to witness how upsetting it is for Keygan, I feel powerless most of the time. Keygan takes deep breaths all day and does everything he's asked to do. And handles it all with such grace and acceptance. 
Keygan is doing amazing with rehab. He thrives on standing up tall and when he started to take steps, the smile on his face brought tears to my eyes.
Keygan has been granted a pass to visit home over Thanksgiving weekend and couldn't be more thankful!! I'm so thankful we LIVE! And in such an amazing place and that Keygan is getting better, and that one day we'll all be home again and the bad days will be stories of perseverance and triumph!!! 
Why did I created this GoFundMe? For Keygan!!! For now and for his future. To give him freedom, small escapes, piece of mind and micro celebrations. To get Sushi out and pizza in. Long drives around Vancouver to get out of the hospital. Keygan loves Subway. He will need accessible clothing that he can put on more easily with his splints and brace, one handed. New apps to help him adapt and stay connected. Vitamins and healthy food and snacks to add to the hospital meals. Little can add up to lots. 
Thank you very much for reading our story and supporting us in any way you can. 
Keygan will need things in his future that will help him get back to his life and this money will go in Trust and be spent as his needs become more clear.
Again, thank you.

Organizer
#1 fundraising platform

More people start fundraisers on GoFundMe than on any other platform. Learn more

GoFundMe Guarantee

In the rare case something isn't right, we will work with you to determine if misuse occurred. Learn more

Expert advice

Contact us with your questions and we'll answer, day or night. Learn more