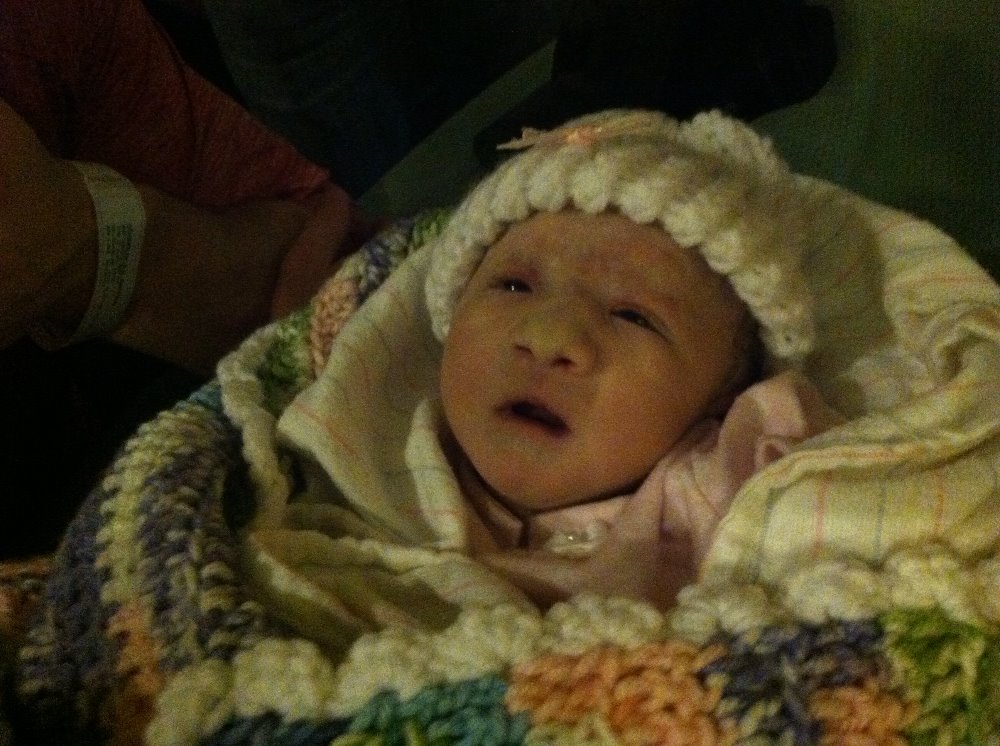 As I sit down to write my sisters story, I can't help but feel a knot in my stomach and tears in my eyes.  2014 was one of the hardest years for my family.  However, we know that we are still so blessed!  For one day we will no longer feel pain and suffering and we will get to see our beautiful babies again!  Though I contemplated having to actually write out this story, I knew there comes beauty from ashes.  This is my sisters story...
My sister Marissa Schindler and her husband Trenton found out they were expecting in April.  My family was ecstatic!  At 16 weeks they had a revealing party here in Arizona.  Once the first piece of cake was cut, it was confirmed that a baby girl was growing in her belly.  Again, ecstatic!  As the weeks went by, we found out that their baby girl was going to be named Payton Elizabeth.  Not only did we get to feel her move but we got to witness the joy and excitement that these new parents were experiencing.  Again time went by and as it did, Riss's belly didn't seem to be growing like it should.  Riss is very active so we thought she was just going to have a small baby.  At 33 weeks  an ultrasound confirmed that Payton had multiple heart issues and possibly a syndrome called DiGeorge Syndrome, which is a deletion syndrome caused by a defect in chromosome 22.  With the pain of this news, I completely trusted God that this was His plan and we would work through the open heart surgeries  and also the outcome of this syndrome.  Which was still not certain at this point nor did we fully know the severity of it.  We prayed and prayed that somehow the doctors were wrong and that Payton would be born healthy.  Waiting on pins and needles, Riss was back and forth to the doctors. They had to drive to Glenwood 2 hours away because they couldn't do it in Meeker were they live.  The doctors  became worried the further into pregnancy because now her amniotic fluid was extremely low.  At 35 weeks they sent them to Denver (4 hours away) to see a specialists.  At that ultrasound the doctor told Riss they were going to admit her to the hospital to see if they could increase her amniotic fluid and monitor her.  I remember that  being a Friday because my parents had driven out there the day before to be with Riss and Trenton during this appointment.  I got the call that afternoon around noon that they were admitting her.  This was a sisters intuition, as I call it, that I needed to be there for my sister, even though my dad urged me to wait, that everything was going to be fine.  I got on a flight that day at 5 o'clock  with my 13 month old son,  Colton.  Those next 2 days we waited to see the progress with her fluid.  Though we were extremely nervous, we did share some good memories and good laughs!  Then Monday came, March 3rd.  I remember waiting in the waiting room downstairs with Colton while my parents were on the 5th floor with my sister and Trenton.  As the time passed, my stomach grew weaker...what was taking so long?  As my parents rounded the corner to the waiting room, I recall seeing my mom with her hands in her face.  I couldn't really tell if she was laughing or crying because they were still pretty far away.  As they got closer, neither of my parents could speak and my mom literally fell to the ground.  In panic I asked what was going on.  My dad was unable to talk, so my mom barely got out the words, " Your sister is going to deliver within a couple days and Payton was not going to survive."  They were just told the news that Payton didn't have DiGeorge syndrome, but something worse, Trisomy 13.
            The next couple days were a blur.  We didn't sleep or eat much and every waking moment was spent with Riss and Trenton.  March 5, 2014, 36 weeks along, they induced Riss to start her labor.  The doctors said they didn't want to prolong the inevitable.   While being with Riss and Trenton during this time, most of what I can remember is the strength that they showed and their  love for one another.  This unbearable event that was about to take place, truly showed me that my little sister was my "hero!"   Then early that evening they checked Riss progress and discovered that her water had already broke and she was ready to push.  They prepared Riss and Trenton that Payton would most likely not be born alive, so they took her heart monitor off.  While my parents, Trenton's parents and grandparents, myself, and his brother waited in the waiting room, we all sat in silence.  What words were left to say?  Within a half hour, a little past 8 pm, Trenton came out and told us all to come back to the room.  With what felt like sand in my boots, I slowly walked to her room not knowing what was awaiting us.  There in this hospital were most people on this floor were celebrating the birth of their child, my sister sat in a room with a purple ribbon on it.  Which meant a child was either dead or was not going to make it.  As we went in, I can't even describe the love and beauty that was in that room.  Payton was absolutely beautiful and alive!  This was Riss and Trenton's biggest wish that they would get to meet their daughter, what a blessing!  Over the next 4 hours we all loved on that little girl.  Trenton's grandpa actually got to baptize her.  What a touching experience right there in that hospital room!  Payton was such a little fighter just like my sister!  Not only was she born alive but she beat so many odds.
Just a little after midnight, March 6th, in my dad's arms, Payton went to be with Jesus.  Though that day and night was the hardest in my life I felt extremely blessed to have been there  in that room, and got to meet my niece.  Those 4 hours I will cherish forever!
With a lot of unanswered questions, the scientist and genetic counselor in Denver confirmed Payton had Trisomy 13, which occurs in about 1/17000 babies.   Trisomy 13 is a chromosomal condition associated with severe intellectual disability and physical abnormalities in many parts of the body. Individuals with Trisomy 13 often have heart defects, brain or spinal cord abnormalities, very small or poorly developed eyes, extra fingers or toes, an opening in the lip (a cleft lip) with or without an opening in the roof of the mouth (a cleft palate), and weak muscle tone. Due to the presence of several life-threatening medical problems, many infants with Trisomy 13 die within their first days or weeks of life. Only five percent to 10 percent of children with this condition live past their first year.  Payton did have 3 chromosome 13's and parts of her 9 were missing.  They tested both Riss and Trenton and discovered that this is a defect that Riss passes down.  Though Riss is healthy and normal her chromosome 9 and 13 are balanced, therefore no indication she had this defect.  Afraid what could happen in the future, the doctors told them their future kids would have a 80/20 chance this would happen again.  As the weeks and months passed, my whole family and Trenton's dad got a tattoo in Payton's honor.
 Riss and Trenton decided that they wanted to start trying again and after a couple months they discovered in September they were expecting again!   Given what the doctors knew at this point, they wanted to test Riss between 10-12  weeks to see if this baby was a carrier as well.  Just before 12 weeks they took the drive to Denver once more and were tested 2 weeks before Thanksgiving.  It was a Friday and again we awaited the news.  That weekend seem to pass by so slow! Monday morning came and the genetic counselor called Riss and told her that baby only had 2 chromosome 13's.  Praise the Lord! And she was having a boy! Which no one knew except me, this was my sister's and I's vow to each other that we would tell each other first!  I felt honored and excited, but somehow still felt fearful.  Then came that Friday, the week before Thanksgiving.  We received a mass text from Riss that the final tests had come in.  These test revealed that baby boy did only have 2 chromosome 13's but parts of it were missing.  Not only that but he had 3 chromosome 9's.  I remember falling to my knees in my kitchen as I read that text.  I was so angry at God, how could this be happening again?  How much more could my sister and Trenton face?  That afternoon Riss and Trenton drove home to Arizona from Colorado so we could all be together.  This was a hard week because it was Thanksgiving and we felt like what do we have to be thankful for?  We felt empty.  While being in Arizona Riss and Trenton deiced to name their baby boy Gabriel Joseph.  Which means God is my strength.  I thought it was such a perfect name because during these trials both Trenton and Riss portrayed such strength, which clearly was not their own!  That following week after being back home they drove to Glenwood again to have an ultrasound.  At this ultrasound they were told that Gabriel would not survive.  The extra chromosome and severity of the missing 13 would bring no quality of life.  That following week, December 8th 2014, our precious Gabriel went home to be with his sister Payton.  Again with unbearable pain in our hearts, we joined as  a family and had to believe there was a bigger plan than what we saw. 
As Christmas came, we all drove 13 hours out to Meeker Colorado to be with my sister and Trenton.  We were going to spread both Payton and Gabriel's ashes down the river outside of their house, but in their hearts they weren't ready to do so.  We all wear a camo bracelet with Gabriel's name on it and have tattoos for him as well.  As you can see 2014 was definitely a struggle for my family .  Though our faith was tested it was not shattered!  My sister and Trenton are incredibly strong people and share such an astonishing love for one another!  They have decided that they cannot emotionally face these circumstances again and will be doing invitro this year.  Even though the doctors still stand by the 80/20 chance, the risk is far too great.  In the next couple months they will begin this process.  They are seeing a fertility specialist in Arizona and have also found a lab in New Jersey that will test for the specific defect with chromosome 9 and 13.  Since it's pretty rare, this process  will be emotionally and financially draining!  Since last year many people have asked what they could do to help. 
Most of all we are in need of prayer!  Prayer that this process works and my sister has good eggs.  This is never a guarantee,  but they will need strength and safe travels with coming and going between Colorado and Arizona.  The more people praying the better!  I am also asking for you to pass this along to friends and family through Facebook and email.   For someone out there may have some resources that would beneficial to them.  Lastly, any financial support would be much appreciated!  This will be an extremely costly process for them but will be completely worth it to ensure a healthy baby!  All money donated and raised will go 100% to the invitro process.  Any donation amount will help!  From the bottom of my heart I thank you in advance for any support you can give!  I know my sister and Trenton will be abundantly overwhelmed with support!  
Romans 8:18- I consider that our present sufferings are not worth comparing with the glory that will be revealed in us.
 Give this info. to family and friends: www.gofundme.com/m90d68
Nicole Lunsford