My name is Emilia Simonian. I am one of 3 students worldwide to have been offered the chance to study veterinary medicine at Churchill College, Cambridge. The university as a whole sends offers to only 60 students per year for my chosen course. I will be admitted in fall 2018. Tuition at Cambridge costs $83,500, per year. The veterinary medicine program lasts 6 years. This is where I need your help: AGBU, in cooperation with the My Step Foundation, is providing 65% of my tuition--that's $60,000. My family can find $6,000 per year to help me realize my dream. I have applied for a couple of other small grants. In order to start my studies this year, I have to show Cambridge I can find at least $10,000 per year. Will you help? 
I am a graduate of Ayb High School and my goals are to become a professional in the field of veterinary medicine and to organize
Armenia's (maybe even the world's) largest animal rescue project
. After I graduate from the University of Cambridge, which is one of the top 5 universities in the world, I am coming back to my country to contribute towards the
advancement of education, medicine, and agriculture in Armenia
. I am reaching out to you as I am seeking financial support in order to further my studies in the field of veterinary medicine at this world-renowned university. Your donation will go to my grandmother's bank account in the US and she will make sure your money gets to me. Go fund me doesn't yet deal directly with banks in Armenia.
How it all began

My journey towards receiving an offer from this world-renowned university has been a long but exciting one. It all started when my family and I repatriated to Armenia from the United States. At the time, one of my greatest joys was visiting Armenian villages and helping the farmers look after their livestock. However, in doing so, I came to realize the effects that the lack of veterinary professionals in the country has had on these farms. I vividly remember visiting a farm where the family said that their cows had tuberculosis, a very contagious disease that can be transmitted to humans. Because of the lack of veterinary professionals, they were unable to get a diagnosis--or a cure. They lost all their dairy cows. A terrible loss of life and financial ruin for the family. 
As I started studying science at school, my fascination for living creatures deepened and I no longer saw the rabbits, chickens, and turkeys on farms as just animals, but as complex organisms full of hidden biological secrets that I was eager to discover. My extreme curiosity about how these animals were living was what led me on a path that took me to Yale University, where I was selected for the
Yale Young Global Scholars Program
.
I also took part in the
MIT Global Teaching Labs
program in the fields of Genetics, Epigenetics and Cell Biology and received
certificates of distinction
for my work. Along with working on these projects, I worked on further educating myself through research and, in 2017, participated in the
National Biology Olympiad
in which I won 3rd place, competing against thousands of other participants from high schools across Armenia. This year, I also won 3rd in the
National Chemistry Olympiad
.
My biggest goals
My love of animals and my strong interest in animal science is what motivated me to choose veterinary medicine as my future career. I am confident that the education I receive will not only benefit me but also contribute towards the advancement of medicine and agriculture in Armenia and in the world. My goal is to one day found a specialist veterinary medicine school in Armenia. Certainly, I will share what I learn in Cambridge to benefit the care of large and small animals here in my homeland.
My goals for the future include not only becoming a veterinarian but also organizing
Armenia's largest animal rescue project
, thanks to which there will no longer be homeless animals on Armenia's streets. Organizations such as "Unigraph X" which are involved in slaughtering homeless and helpless animals will go out of business. Eradicating animal homelessness will also reduce Armenia's garbage problem--feral animals won't have to forage for food.
Here is a picture of one of the cats that I have rescued from the streets of Yerevan. His name is Spooky.
What I need

My path towards becoming a veterinary professional will begin with six years of undergraduate studies; through which I will become equipped with the necessary knowledge and skill set required for going into practice. Many years of research into the University of Cambridge and the veterinary medical course that they offer has driven me to believe that it is the best place for me to further my studies. Unfortunately, the university also has strict rules that will not allow me to work part-time during university terms. As a result,
I will need financial help
if I am to receive the higher education that I need to reach my goals.
I am reaching out to you for help in filling the financial gap that is keeping me from pursuing my studies. I will be endlessly grateful for any contribution that you may have.
Offer Letter from the University of Cambridge with evidence that I have met all the academic conditions of my offer


Below you will find some of the honors, awards, and certificates that I have received.
My Honors
2016 MIT Global Teaching Labs-Certificate of Distinction in the Cell Biology Lab
2016 MIT Global Teaching Labs-Certificate of Distinction in the Genetics and Epigenetics Lab
Participation in Programs
2017, 2018 Ayb High School Project-Based Learning Program
2016 Yale Young Global Scholars Program
2016 MIT Global Teaching Labs
2016 Noble days Yerevan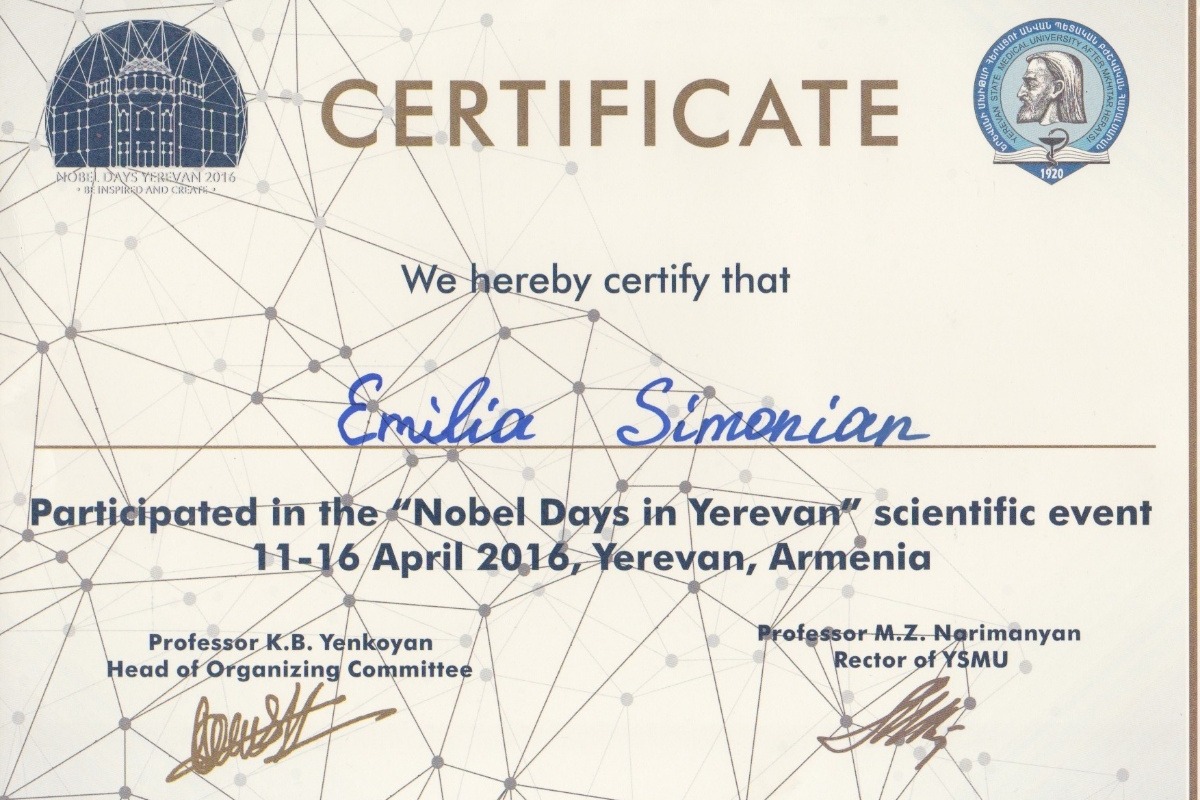 2015 Wikimedia Armenia (Wikicamp)
2014 Space Camp Turkey
Volunteer work
Volunteer at the reptile section of the Yerevan Zoo
Editor of the Armenian Wikipedia
Volunteer for the Distance Learning project
Volunteer at the Eco team at Ayb High school 
Awards
2018 National Chemistry Olympiad-3rd place
2018 Regional Chemistry Olympiad-2nd place
2018 National English Olympiad-2nd place
2018 Regional English Olympiad-2nd place
2018 National Poetry Recitation Contest-1st place
2018 Regional Poetry Recitation Contest-1st place
2017 National Biology Olympiad-3rd place
2017 Regional Biology Olympiad-2nd place
2017 National Poetry Recitation Contests-1st place
2017 Regional Poetry Recitation Contests-1st place
2017 "Write On!" Regional and National Creative Writing Competitions-1st place 
2016 Regional English Olympiad-1st place

2015 National Gyumri English Olympiad-1st place
Team Competitions, Projects, and Awards
1st place in 100 Ideas for Armenia competition (Bioplastics project)
Participation in the National Future Chemists Competition
Scents of Armenia soap making project