HAPPY BIRTHDAY MICHAEL!! (07/28/19)
Today is a big day!!  Happy Birthday Michael!  It all started off with a surprise birthday event on Friday evening (26th) organized by San Clemente community / friends.  A special thank you to Dana Lush for organizing and Justin for the amazing food at One-Eleven Coastal!
The financial burden continues and has escalated due to the necessity of home nursing care for Michael.  He is now at a stage that he requires assistance with all aspects of functioning.  If you can contribute again, please do.  In an effort to be fully transparent, this is where your dollars will be going to:
- Medical out-of-pocket expenses focused on in-home care and transportation to/from appointments, etc.
- The monthly cost-of-living expenses all families deal with due to Michael being unable to work.
-------------------------------------------------------------------------------------------------------------------------------

Medical Update from Lori (07/25/19)


Today was a long emotional day.  I brought all of the kids with us to UCLA.  Michael had an MRI this morning and then we were at the Neuro Oncologist for 3.5 hours.  Unfortunately, Michael's MRI looks worse.  He is showing a lot of decline both mentally and physically.  His oncologist ordered lots of extra home health care including respiratory therapy, speech therapy, and several other things.  His social worker met with all of us and we talked about a lot of the frustrating dynamics going on within our family during this difficult time.  I am glad I brought the kids with me and they were able to ask questions and hear everything from the doctor instead of me.  We are all struggling and so appreciate your prayers and words of encouragement.  Michael is a fighter and he wants to be here with us as long as possible in spite of all that he has lost.  He is amazing and the kids and I will stand behind him until he is ready to stop treatment.  This is such an evil cancer.  I can't imagine how hard it is for him!
-------------------------------------------------------------------------------------------------------------------------------
GoFundMe update from Friends & Family of the Coulson Clan (12/21/18)
Friends, Family and Community,
As friends and family of the Coulson Clan, we have been entrusted to convey messaging consistent with their thoughts and beliefs.  The news received in early-November has been devastating.  The outpouring of support has been overwhelming and appreciated.
As Michael has said, he is strong in his faith and he hopes this diagnosis serves a higher purpose.  Michael and Lori want this to be a learning experience for others.  Right now, Michael and Lori' s  priority is to spend time with each other and with Aidan, Courtney, Lindsay and Brady.  They also value time with friends and family from San Clemente, Seattle and elsewhere.  There will also be times when the six of them need to be alone as a unit.  Visits, video messages and texts are welcomed and appreciated.
As friends and family, we also want to help them financially so it's one less thing to worry about.  For those who have already given, regardless of the amount, your contribution is appreciated and means a lot.  We have exceeded our initial goal of $25,000.
The reality is that we knew the true financial burden would be well above that.  If you can contribute again, please do.  In an effort to be fully transparent, this is where your dollars will be going to:
- Medical out-of-pocket expenses for the next year for 2 brain surgeries in 3 days (November 2018), rehab, radiation, chemotherapy, in-home care, transportation to/from appointments, etc.
- The monthly  cost-of-living expenses all families deal with, although in this case Michael is unable to work.
We are setting a revised goal of $125,000 by July 28th, 2019 (Michael's next birthday).
Despite the alarming prognosis, the Coulson Clan wants everyone to keep doing what you have been doing.  Your messages and visits have been warmly received and they are often uplifting during times of worry.  Mike and Lori are strong in their faith and are open to going through this experience will all of us.
Continue to "attack each day with an enthusiasm unknown to mankind."  Better today than yesterday, better tomorrow than today, one day at time. (sent to Mike on 11/14/18 by Jim Harbaugh, Head Football Coach at Michigan.)
#liftingupthecoulsonclan
---------------------------------------------------------------------------------------------------------------------------------
Medical update from Lori (12/20/18)
Michael had surgery on November 27th to remove the brain tumor.  He had complications including bleeding in his brain and underwent another brain surgery on the 29th.  He was in the Neuro ICU until December 4th when he was transferred to the California Rehabilitation Institute (CRI).  He is working very hard to regain function of his left side, but it is a long difficult road ahead.  Michael is making steady progress, however his therapists are recommending for him to stay in a rehab facility until February 1st.  CRI is a short-term rehab institute (usually 3 – 4 week inpatient treatment), so we are working on finding alternative rehab facilities that will allow him to continue physical therapy during his cancer treatment.  Michael does have the most aggressive type of Glioma, known as grade 4.  He will start a 6-week radiation and chemo treatment plan on January 1st.  Thank you all for your generous donations. We are so blessed by you all!!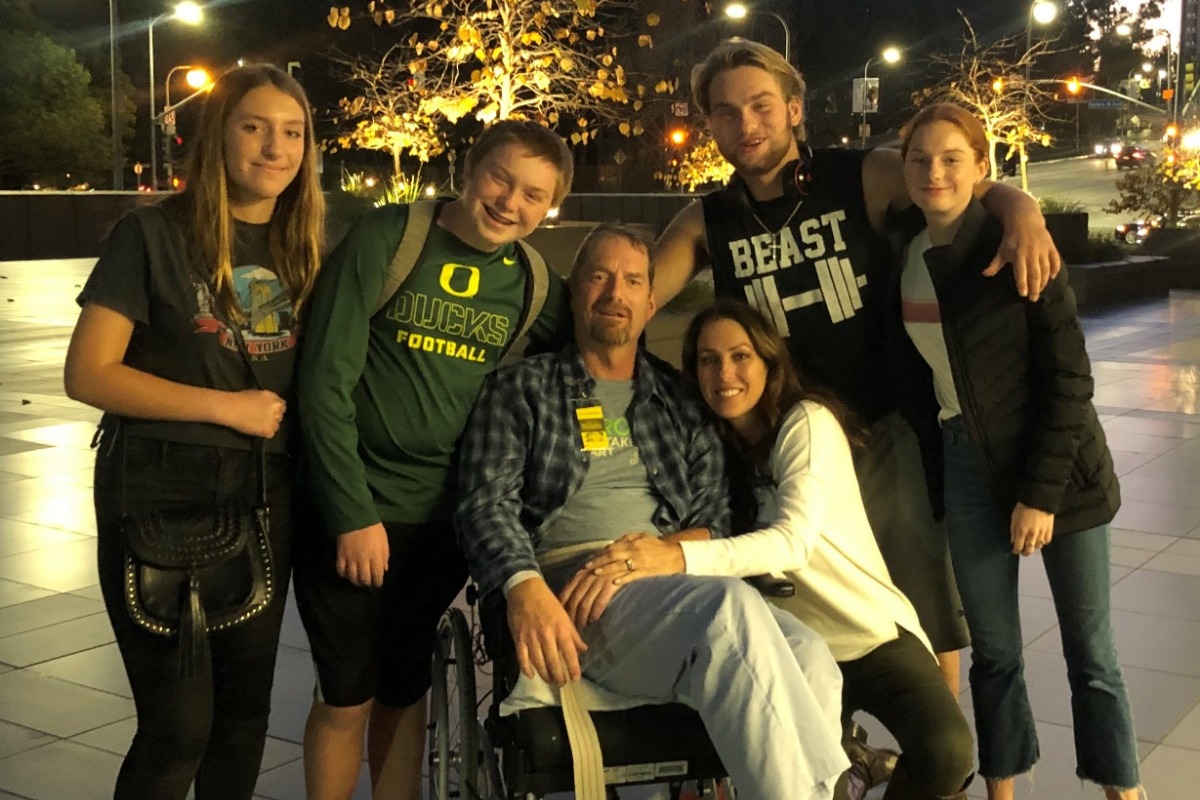 ---------------------------------------------------------------------------------------------------------------------------------
Original Post (11/20/2018)
Family and friends,
Life can change in a minute.  Michael learned this on November 14, 2018 as he was given the news that he had a large mass in his brain.  A further biopsy brought the devastating news that it was malignant, a brain cancer called Glioma.
As always, Michael's first concern was not for himself but for his wife, Lori, and their four children; Aidan (17), and the 13 year-old triplets, Lindsay, Courtney, and Brady.  We have the opportunity to come along side this awesome family.
For those of you that know Michael, you know that he has a strong Midwestern work ethic and has a pull yourself up by the boot straps mentality.  He went to the University of Michigan for undergraduate school, got a graduate degree from the University of San Diego and has had a successful career.  He is too proud to ask for help, but that's what friends and family are for.
In 2015 after working at Microsoft for 10 years and living in Seattle for 20 years, Michael and Lori decided it was time to move somewhere sunnier.  They made a short list of cities that included Orange County California.  In the summer of 2016 Michael got a new job at a start up in Newport Beach and the family moved to San Clemente.  Michael loved his time working at NextVR, but unfortunately lost his job there in February of this year.  He was able to quickly land another job a few weeks later at another start up, and while he has equity in the company, they haven't been able to pay him a salary or provide benefits so the family has has had to live off their life savings for the last nine months.  Michael had been interviewing for a VP of Marketing position at an established local company and had to miss the final interviews on the very day that he had his brain biopsy done.  
Michael wants to work and provide for his family, but now he has to face the possibility that he may not be able to after his brain surgery.  This is providing Michael with a lot of anxiety as the sole provider for a wife and four kids.  He has been in the midst of the "perfect storm" dealing with the loss of income over the last 9 months, at the same time as a devastating diagnosis.  We have the opportunity to help him find the "eye of the storm" where financial peace at least, can be found.  Asking for help, Michael said, is harder for him than the cancer itself.
In the 2 ½ years they have lived in San Clemente, both Michael and Lori have become an integral part of the community.  He has generously given his time taking a leadership role in the High School Football Booster Club while Lori has blessed the teams as their photographer.  He also teaches Sunday School and he and Lori are always available to extend love and support to those in need.  In return, the community has rallied behind the family with an outpouring of love and service.  He loves deeply and is loved deeply in return by all.
There is a long and difficult journey ahead for both Michael and his family.  It begins on November 27 with surgery at the UCLA Medical Center, to remove as much of the tumor as possible.  This will be followed with 6-weeks of radiation and chemotherapy.  Michael would love to share and experience this journey with his family, friends and community.  There will be good days and bad days, but they will be met with faith and determination.  He fully believes that everyone can benefit by going through this experience with him.
Whether you have known Michael for 53 years or one week, his presence in your life has been a gift.  We now have the opportunity to be a blessing to him and his family by relieving the financial burden of growing and ongoing expenses in the following areas:
·        Mortgage
·        Insurance
·        Medical Expenses
·        Lost income
On behalf of Michael and his family, thank you for your concern and your generosity.